Enjoy Busan
Hot spots to keep warm in winter
 After overcoming the past year's hardships, we can leave our homes with hope for a better year. However, it's still winter, so even if our mind is warm, the weather is not. If you don't want to spend the beginning of the new year at home, why not enjoy unique indoor attractions?
​
​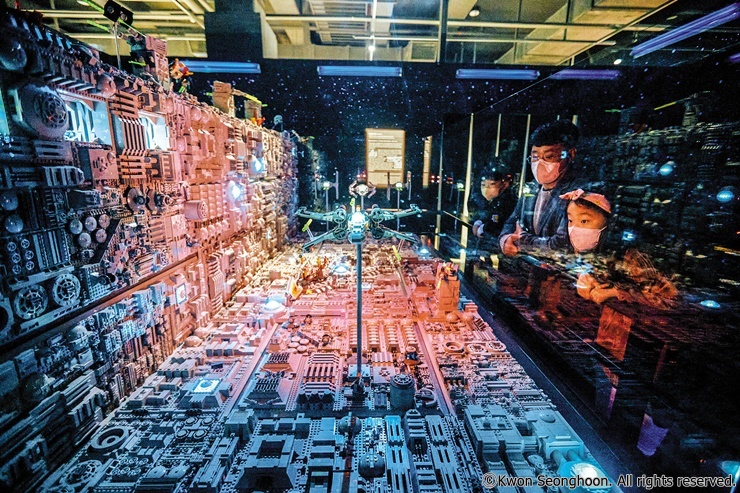 ▲ An exploded Y-Wing Starfighter is part of the "Death Star Trench Run" by "OliveSeon," a team led by Wani Kim, Korea's first LEGO-certified professional.
Brick art theme park, "Brick Campus Busan"
 Everything you can use to make plastic brick models can be found at Brick Campuses. After opening on Jeju Island in December 2017, chains in major Korean tourism cities such as Seoul, Changwon and Gangneung followed. The latest one, "Brick Campus Busan," opened in Osiria Tourism Complex, Gijang-gun (county). Spanning approximately 1,700 square meters, by mixing brick art artworks, space direction and media art, the campus has more advanced exhibitions than any other campus. The bountiful displays include brick artwork of the only two certified lego artists in Korea and Asia's largest diorama work.
​
▲ Brick Campus hopes to reach audiences spanning the globe and generations.​
 Brick Campus Busan, a paradise for brick lovers, is home to statues of Super Mario, the Marvel characters and animals of Korean mythology made out of plastic bricks. There are also reproductions of famous artworks such as "The Creation of Adam" by Michelangelo and the "Venus de Milo."
​
 Familiar movies are also reproduced in brick. Nestled within the campus walls lie the brightly lit King's Cross Station and darkened exhibition halls with Hogwarts Castle highlighting the juxtaposition between the real and magical worlds.
​
 More than 200 LED lights are installed in the castle, making the creation spooky. While peaking inside, visitors can find movie scenes, including one featuring a Quidditch match. For sci-fi fans, more than 80,000 bricks recreate some of the most famous genre-related scenes, such as the "Trench Run" of "Star Wars: Episode IV - A New Hope" with intricate details of the Death Star and the X-wing Starfighter fleeing from three TIE Fighters. In addition, replicas of Korean treasures, such as Gyeongju Bulguksa Temple and K-POP group SEVENTEEN's performance are displayed with additional brick sculptures and more. Upon exiting, a colorful brick-filled playground awaits. Create a design of your own or admire works by others.
▲ Experience zones follow Brick Campus' motto, "Everyone is an artist".
※ Brick Campus Busan
Address: 8, Dongbusangwangwang-ro, Gijang-eup, Gijang-gun, the first floor of Lotte Mall MAISON DONGBUSAN
Hours: 10:30 a.m. to 8 p.m. from Monday to Thursday (last admission 7 p.m.). 10:30 a.m. to 8:30 p.m. Fridays, weekends and holidays (last admission 7:30 p.m.).
How to get there: Osiria Station (Donghae line), exit 1. Walk for about 15 minutes toward Lotte Outlet.
Admission: 16,000 won for adults, teenagers and children. Free for those under three years old.
Website: brickcampus.com
▲Relax at the cafe, have a drink at the pub or explore the nooks and crannies of the giant bookstore inside F1963.

Cultural complex "F1963"
 There are two places people tend not to want to leave, under a warm blanket in winter and "F1963." Originally built as a wire production factory in 1963, which ceased operation in 2008, the space was transformed in 2016. Situated in Suyeong-gu (district), the cultural complex F1963 is named after the letter `F' from the word factory and the year it was built.
​
 Inside the free cultural space, there is plenty to enjoy. Korea's largest secondhand bookstore, "YES24@F1963," spanning 1,700 square meters, features a unique interior and a wide variety of books, including e-books. Props and other goods decorate the interior and facilitate an enticing atmosphere.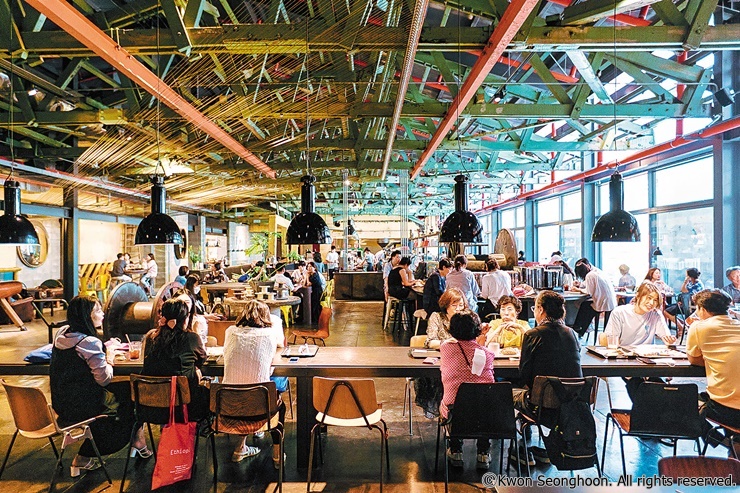 ▲ Cafe Terarosa's uniquely designed interior has plenty of seating alongside a wall of windows.
​
 Next to the bookstore is a cafe called "Terarosa." Factory materials, generators that powered the factory and bobbins that wound the wires are used as part of the interior decor and furnishings. Coffee from various regions, freshly baked naturally fermented bread and other treats are available.
▲ ​Praha 993's beer recipe closely resembles a 1,000-year-old Czech recipe.
​
 "Praha 993" is a craft beer pub between the bookstore and the cafe. As the name suggests, the beer is brewed similarly to the way it was first brewed in 993 A.D. at the Brevnov Monastery in the Czech Republic. Visitors can have similarly brewed beer and look around the neighboring contemporary art gallery.
​
 For those interested in design, we recommend visiting the on-site "Hyundai Motor Studio." Since April 2021, it has showcased designs based on the concept of "Design to live by." Seasonally themed exhibitions include works from around the world in addition to designs and concept cars from Hyundai Motor's design center.
​
 The studio is a rectangular four-story building. The first floor features a creative LED digital media art wall. On the second floor, there is an exhibition and related shop, which you can look down upon from the third floor. The fourth floor is host to a collection of design books and diverse programs such as workshops for children.
​
 Should being inside get a little stuffy, head to the middle of F1963, where "F1963 square" sits. The open-air design hosts various cultural events and multiple sides of the building feature large gardens. The factory's backyard was remodeled into a "moonlight garden," highlighting the country's four seasons' beauty. Beside the garden sits a glass greenhouse and a gardening shop called "Hwasumok." The store even holds classes on how to grow plants and tend gardens.
​
 A must-see outdoor spot at F1963 is "Sori Trail." The calming sound of swaying trees and crunching leaves of the bamboo give the trail its name. Repurposed machine parts create the path's structure and factory floor concrete was used to make the steppingstones.
​
※ F1963
Address: 20, Gurak-ro 123beon-gil, Suyeong-gu
Hours: 9 a.m. to 9 p.m. every day. Particular store hours may vary.
How to get there: Mangmi Station (metro line 3), exit 4. Take Suyeong-gu village bus 2 and get off at Sanjeong Apartment bus stop.
Website: f1963.org