Enjoy Busan
Dynamic display of global cooperation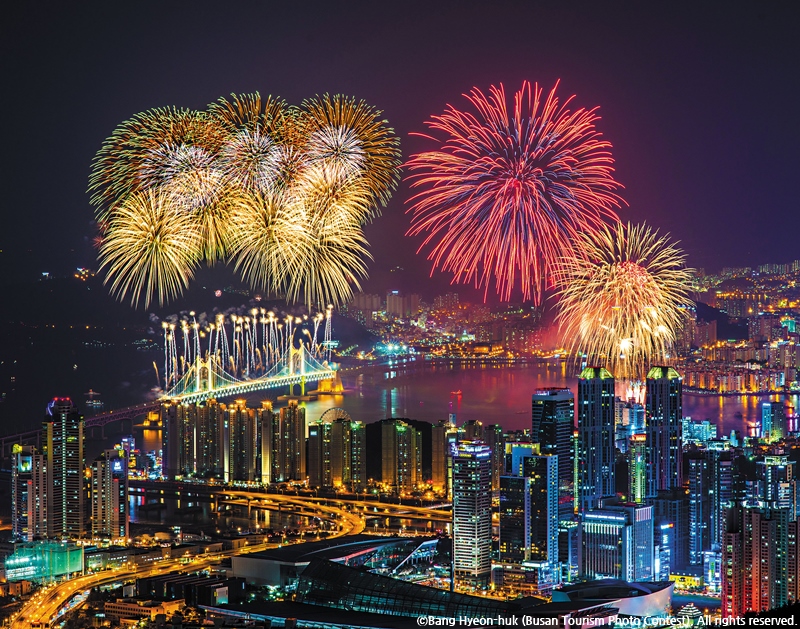 Sitting on the beach to watch the festival is great, but have you ever tried watching from one of Busan's mountains? Bang Hyeon-huk (Busan Tourism Photo Contest)

After three years, the Busan Fireworks Festival returns to Gwangalli Beach Saturday, Dec. 17. The show premiered 17 years ago as a commemorative event for the 2005 APEC Summit. The resumption comes after suspension and downsizing during the pandemic.

Busan City hopes the festival will comfort citizens and inspire well wishes for the upcoming World Expo presentations and votes. Diverse fireworks, including foreign invitee fireworks, will be shown for about an hour. Visitors can also participate in programs, such as a cheer for Busan's candidature.
Before the opening ceremony, the festival will operate events. Busking from 2 to 6 p.m. will be followed by a firework talk show, displays and stories from 6 to 7:00 p.m. The opening ceremony starts at 7:00 p.m. with a cheer, Busan to host the World Expo in 2030. Then, a 15-minute foreign invitee fireworks show will begin at 8 p.m. This year's theme is "Harmony of Busan," which aims to express the relationship that music and fireworks can share and a hopeful future for the city.
Tickets are available online (ticket.yes24.com) and at Busan Bank branches. Seats are 100,000 won with a table and 70,000 won without.
Website: bfo.or.kr/festival_Eng
Venues for a great view
There are also lots of perfect spots to watch the festival around the city for free.
Mipo
The Mipo area offers a broad view of the event spanning from Marine City skyscrapers all the way to the Gwangan bridge.
How to get there: Walk along Haeundae Beach toward Dalmajigogae Pass.
Jangsan Mountain
For one of the most dynamic points of view of Marine City Skyscrapers, Gwangan Bridge and the fireworks, Jangsan Mountain is the place to go. Even though it's a bit of a hike, you are greeted with a quieter viewing space.
How to get there: Dongbaek Station (metro line 2), exit 2. Walk straight toward Haeundae to find the mountain trail.
Hwangnyeongsan and Geumnyeonsan Mountain
Downtown atop, Hwangnyeongsan and Geumnyeonsan Mountain, visitors can enjoy the show and beautiful night views. Beloved by many, it provides a single spot to gaze upon Gwangan bridge and Gwangalli Beach, which are packed with festival goers.
How to get there: Get off at Geumnyeonsan Station (metro line 2), exit 6. Turn right and head straight to find multiple trails.
Samick Beach Town trail
Samick Beach Town trail, located on the right side of Gwangalli Beach, is a popular viewing locale. Typically, it gets crowded early with visitors claiming their area of sand.
How to get there: Namcheon Station (metro line 2), exit 1. Walk for about 10 to 15 minutes toward the beach.