Enjoy Busan
BIFF is fully back
The 27th Busan International Film Festival (BIFF) welcomes domestic and international film lovers to Busan from Oct. 5 to 14. The world-renowned event returns to normal for the first time in three years with the theme "face, again." All seats are open, without social distancing restrictions and all programs held during the pre-pandemic period, such as the opening ceremony, closing ceremony and more, resume. The festival will be held at six cinemas in Centum City, including Busan Cinema Center, Lotte Cinema Centum City, CGV Cinema Centum City, Megabox Haeundae, Sohyang Theater and Lotte Cinema Daeyoung in Nampo-dong (neighborhood).

BIFF closing ceremony, 2021.

This year, 243 films from 71 countries were invited. "Scent of Wind," Iranian director Hadi Mohaghegh's fourth feature and second at BIFF, was selected as the opening film. The Japanese film "A Man," directed by Kei Ishikawa, was chosen as the closing film. This mystery thriller, based on the 2018 Yomiuri award-winning novel by Keiichiro Hirano, stars famous Japanese actor Satoshi Tsumabuki.

Tony Leung in "In the Mood for Love (2000)."

One of the most talked about programs is In the Mood for Love of Tony Leung, featuring Hong Kong actor Tony Leung. Six films selected by the Asian Film Award-winning actor, including "Infernal Affairs," "Happy Together" and "The Longest Night," will be screened, including two that audiences can watch with him.
On Oct. 6, a 15-minute segment of "Avatar: The Way of Water" will premiere in Korea and producer Jon Landau will speak on this long-awaited sequel to "Avatar" and director James Cameron will join and meet with guests at BIFF virtually.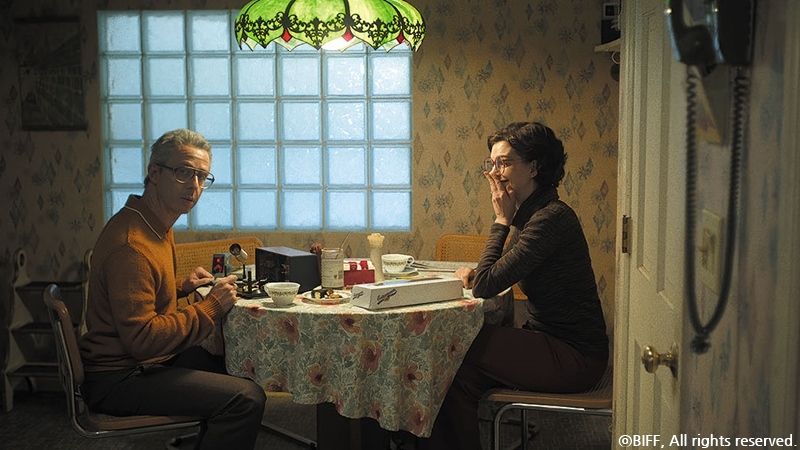 "Armageddon Time (2022)" directed by James Gray

Worldwide cinematic masterpieces are featured. Director James Gray's "Armageddon Time," starring Jeremy Strong, Anne Hathaway and Anthony Hopkins and "White Noise" by director Noah Baumbach are two new American releases. Additionally, Berlin International Film Festival winner "Alcarres" by Spanish director Carla Simon and rising maestro in the French film industry, Alain Guiraudie's "Nobody's Hero," are scheduled.

"White Noise (2022)" directed by Noah Baumbach

Other popular films include "Everything Everywhere All at Once," starring Jonathan Wang and "Prologos," directed by Lithuanian filmmaker and anthropologist Mantas Kvedaravicius who was killed in March by Russian Forces during the Siege of Mariupol. "Blind Willow, Sleeping Woman," based on Japanese writer Haruki Murakami's novel and "The Black Pharaoh, the Savage and the Princess" by Michel Ocelot are two highly anticipated animation films.
Following Korea's Cannes Film Festival and Academy Award wins, BIFF invited films highlighting the film industry's new trend of global collaboration. Pieces from foreign directors collaborating with Korean actors in Korea, such as "Broker" by Hirokazu Kore-eda will be screened. Additional collaborative efforts include French director Davy Chou's film "Return to Seoul" and "Ajoomma" by Singaporean screenwriter and director He Shuming are scheduled.

Han Ji-min in "Yonder (2022)"

Korean celebrities flock to Busan during the festival, such as "Alienoid" star Ryu Jun-yeol and "Vincenzo" actress Jeon Yeo-been, who will co-host the opening ceremony. A forum-style experience program, The Actor's House, will allow BIFF visitors to meet other actors. This year, Gang Dong-won, Lee Young-ae, Ha Jung-woo and Han Ji-min will participate and talk about their lifestyles and thoughts on life and work. On Oct. 9, another actor-audience communication program, Master Talk, will feature "Mr. Sunshine" and "Squid Game," actor Lee Byung-hun.
In-my-neighborhood, a well-received trial film project that started last year, is scheduled to be held around the city. Seventeen landmarks, including Beomeosa Temple, North Port waterfront park, Millac the Market and Dadaepo Beach park, were selected as screening areas, where the Busan Tourism Organization has additional events planned.
Reservations are available onsite, online (biff.kr) and via the official application "BIFF." For more detailed information, refer to the BIFF website.