Enjoy Busan
All aboard yacht tours
Ride Along To Explore Busan ⑦ Yacht Tours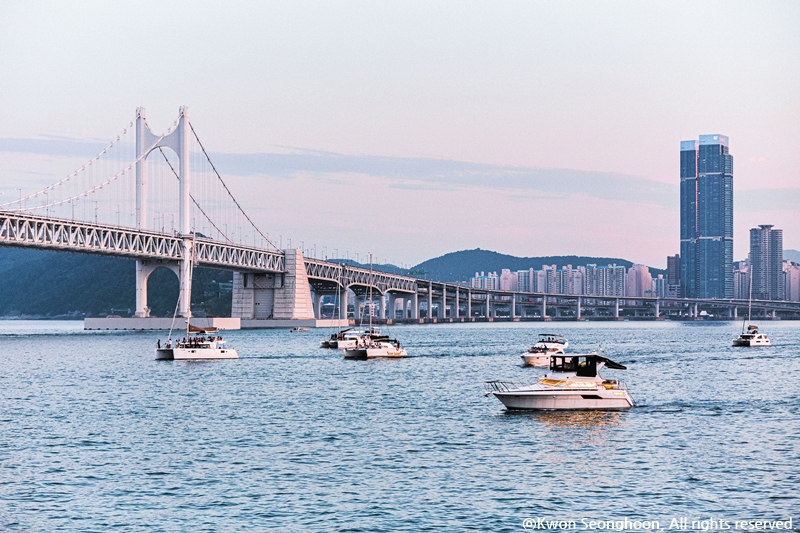 Smoothly sail or quickly zoom away on one of the many crafts and tours Busan's open waters has to offer.

From stern to bow, a sleek yacht glides in front of Gwangalli Beach and passes under the glistening Diamond Bridge toward the vast horizon. When passengers look back, they can gaze upon Marine City's skyscrapers and other Busan landmarks, such as Haeundae Beach and Dongbaekseom Island.
As if we're the main character in a movie, we can lounge atop a yacht while sipping sparkling wine and enjoying tasty snacks. These tours are a luxurious way to enjoy Busan's charms at a reasonable price.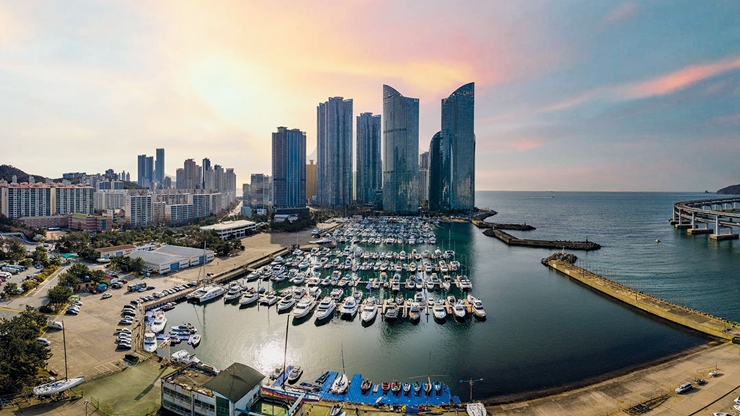 Yachts of all shapes and sizes dock at the Busan Yachting Center.

Tours from the Busan Yachting Center
There are many spots to enjoy yachting in Busan, the "Maritime City." In particular, around the developed Haeundae-gu (district) sit The Bay 101 at the Dongbaekseom Island gate, the Busan Yachting Center and Yonghoman Ferry Terminal.

Approximately 50 businesses provide maritime leisure sports equipment rental and classes. There are countless options with reasonable prices, from 20,000 to 40,000 won per adult. As prices vary on weekends and during peak season, checking online in advance is a good idea. While a tour of the yacht itself is allowed, it is only available when it is unoccupied. Most passengers search "Busan Yachting Tour" and reserve one online, including the number of passengers.


Wave at fishing boats as while venturing beyond the famous Diamond Bridge.

After reaching to Busan Yachting Center and meeting the captain and guide, passengers can board the vessel. For those who would like to feel the wind but might want to catch some shade, prepare a pair of sunglasses and a hat. Before boarding, safety rules are taught and passengers are registered by name and ID number for safety.
After boarding, you must sit while the yacht is in motion out of the main center area. When it is out at sea, you may roam freely. The vessel goes around Busan, next to Gwangan Bridge, Haeundae Beach front and Marine City, for about an hour. Finger foods and other refreshments are available. Some companies even provide alcohol, such as beer or wine. An optional package offers fishing rods and baits for a more interactive activity aboard the vessel.
Enjoy a leisurely day and night aboard a Yacht Stay vessel.

Yacht Stay - a unique overnight trip
Typically yachts have a variety of areas, rooms and spaces. Larger yachts have accommodations such as living rooms and bedrooms. A new touring program, "Yacht Stay," allows passengers to try these amenities and more.

"Yachttale," a local business, in collaboration with the Korea Tourism Organization, created the travel program to allow passengers to experience general tour activities and a whole night aboard. The vessel is set up utilizing a hotel-like infrastructure with more than two rooms and a bathroom. Additional amenities include a TV, table and chairs, air conditioning, speakers, kitchen utensils, appliances, and toiletries. Some packages include fishing rods, karaoke and board games.
November to April is the program's off-season, and stays range from 250,000 won to about 350,000 won, with the most expensive nights being Friday and Saturday. During semi-peak season, May to June and September to October, each night costs an additional 20,000 won. During peak season, from July to August, it's 100,000 won more for two passengers; 20,000 won is added for each additional person over two.
Yacht Stay also offers public tours for 30,000 won per person over three years old and complimentary services such as seasickness remedies to all passengers. Reservation steps and detailed price information can be found on the company's website (yachtstay.co.kr).
Night tours allow passengers to see the dark ocean waters set aglow by the city lights.

Types of tours
Tours are divided into public and private. On "public tours," passengers attend with people they might not know. Passengers must attend the tour at the designated time, but it is the cheapest for a yacht tour. Even though the schedule depends on the program and business, it usually takes an hour.

On "private tours," groups are made and applied in advance for an exclusive personalized experience. When there are more than 10 people in a group, they can rent the yacht exclusively. Aboard these tours, departure time and course can be adjusted. Subsequently, the yacht's size and type might need to be adjusted, which may change the price.
There are two types of departure, day and night. Day tours occur at varying intervals throughout the day, while night tours start from sunset. The former typically have more passengers and costs less, while the latter has fewer passengers, as the sailing time is limited and can range from 10,000 won to 20,000 won.
How to get to the Busan Yachting Center: Dongbaek Station (metro line 2), exit 3. Go straight for 100 meters, turn left, cross the street and continue straight for 260 meters to the four-way intersection. At the junction, turn right, go straight for 280 meters and cross the street.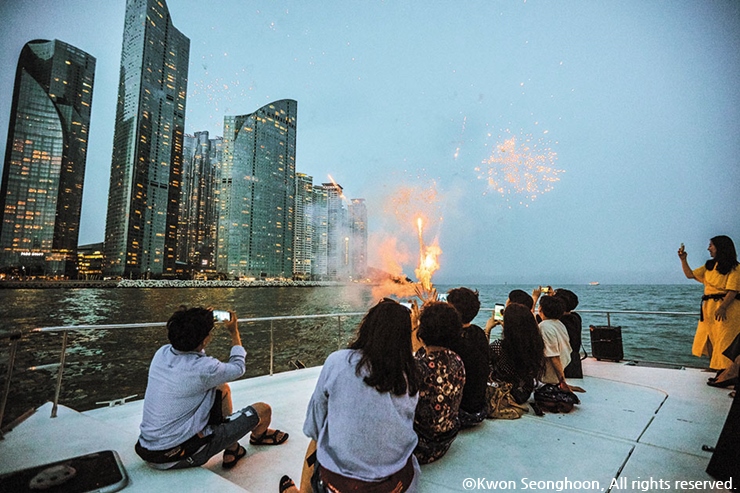 As the sun begins to set, many public tours offer guests a small fireworks show.

Popular travel agencies
· Yachtbay (yachtbay.co.kr)
· Yachttaja (yachttaja.com)
· Busan Yacht Tour (byt.itrocks.kr)
· Wowyacht (wowyacht.com)
Yacht Tour Tips
· For safety, passengers should pay close attention to the staff and captain's instructions before and during the tour. One such protocol is the mandatory life jackets on night tours.
· Public tours depart on schedule. Make sure to arrive before departure time to ensure a successful reservation.
· On the day of the tour, be aware of UV rays and take proper preventative measures. Apply sunscreen thoroughly and bring a long sleeve garment and sunglasses just in case.
· In case of heavy rain or strong winds, tours may be canceled.