Enjoy Busan
Climb aboard the Donghae Line to reach new heights
Ride Along To Explore Busan ③ Donghae Line
In December, the Donghae line, which runs through downtown Busan, opened a service to Taehwagang in Ulsan, the city adjacent to Busan. From Bujeon Station, it's 67.5 kilometers to Taehwagang Station, the last stop of the line. This addition has improved and revitalized local tourism. Seomyeon is only 30 minutes to Osiria Station and 76 minutes to Taehwagang Station, the main area of Ulsan, the adjacent metropolitan city.
A journey along the newly elongated railway comes with a reasonable fare of just 1,300 won within 10 kilometers and 200 won added for each additional 10 kilometers. Therefore, a trip from Bujeon to Taehwagang Station would be just 2,500 won. Trains are dispatched at 30-minute intervals and 15-minute intervals during peak hours of 9 to 10 a.m. and 6 to 7 p.m. Transfers between the Donghae Line and other metro stations are free of charge within 30 minutes.

△Hop aboard a luge car at Skyline Luge's seventh international location and weave through the Gijang hillside while catching glimpses of the growing tourism complex.
Osiria Station for outlet shopping and theme park hopping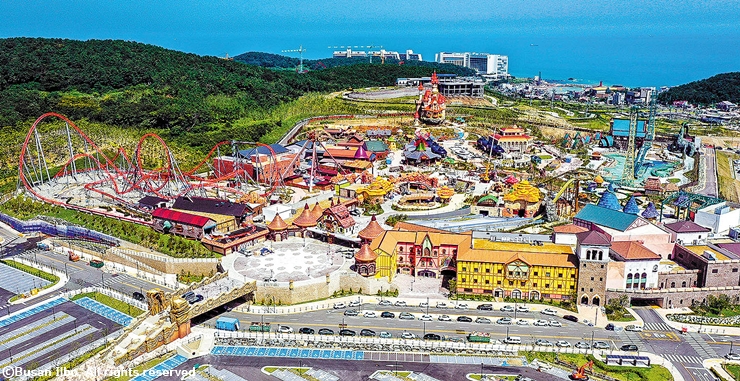 △"Lotte World Adventure Busan," the city's largest theme park, opens later this month.
Only 180 meters away from exit 1 of Bujeon Station (metro line 1) is Donghae Line's station with the same name, Bujeon Station. After going up the escalator and through the entrance, platforms 1 and 2 are easily accessible. Tickets can be purchased from vending machines (currently only cash) or passengers can use their transportation cards.
The first destination on our trip up the Donghae Line is Osiria Station, which is growing in popularity with the opening of the Osiria Tourism Complex. Busan's Osiria Tourism Complex is a "stay-type" tourism area encompassing shops, eateries, accommodation and attractions. Many destinations lie in this one complex, such as Lotte Premium Outlet East Busan, IKEA and the "Skyline Luge" attraction. That's not all; the complex also hosts the National Busan Science Museum, a golf course, the Haedong Yonggungsa Temple and the Hilton Busan.
For travelers who want to explore Gijang-gun (county) beyond the complex, an electric car rental service called "TOURZY" is available by the south side of the public parking lots in front of the stat-ion. The mini-vehicles are called "TWIZYs" and cost 7,200 won with insurance per hour on weekdays. Those older than 21 who have had a driver's license for more than a year ago are eligible. Further information can be found online (tourzy.kr).
Gijang Station for snow crab and lakeside strolls

△With so many options available, make sure to choose wisely in Gijang Market.
Gijang Station, right after Osiria Station, is filled with many enjoyable activities. After exiting exit 1 and walking for about 200 meters, the bustling Gijang Traditional Market, famous for its snow crabs, awaits. Subsequently, the best time to visit is from November to May because the crabs are the biggest and heaviest then. Customers can choose their own crab that is then steamed and served with at least eight side dishes. Add your crab to fried rice or boiling broth. The large amounts of food are enough to satiate any seafood lover.
For those who don't eat any kind of meat, the market holds true to its traditional roots, with fruit, vegetables and more. Freshly-made rice cakes and tofu sit side by side with organic seaweed and roasted nuts. Not hungry? Feel free to solely promenade through the lively lanes for a unique visual and olfactory experience.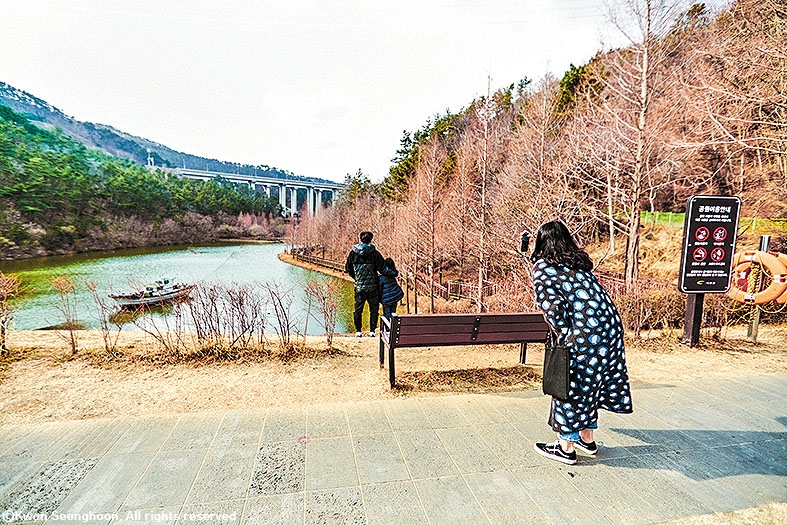 △At the right angle, capture the area's mountainous backdrop.
If or when you feel full, a short stroll might help. About a 15-minute walk from the market sits a social media hotspot, Yongso Well-being Park and lake. The area is uniquely home to an exotic landscape of calm waters and metaseq-uoia trees, particularly as an appealing dating spot full of couples taking pictures together. It takes about 30 minutes for an entire trip around the park. Snap away at the spot's floating landmark ship from the bordering pasture or the peaceful metasequoia-filled paths.
Ilgwang Station for a leisurely cup of coffee on a secluded beach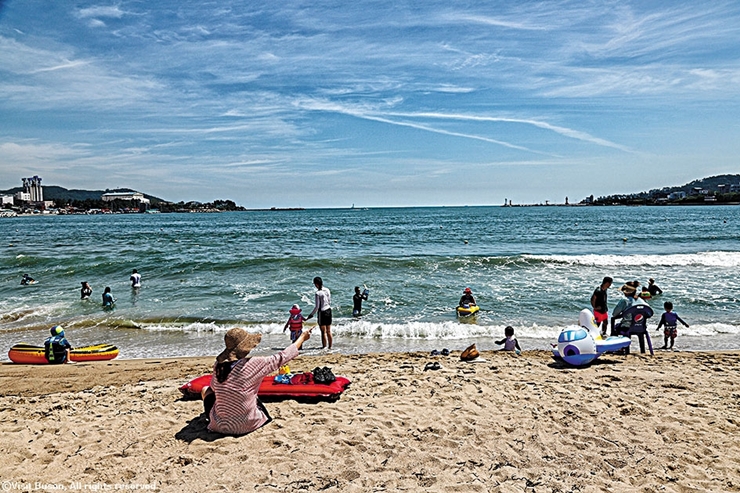 △Avoid boisterous crowds at the secluded Ilgwang beach.
The next stop on our tour is Ilgwang Station, located along the country's east coast. The nearby neighborhood bearing the same name is reminiscent of a tranquil fishing village. If you exit the station and cross the roundabout, there lies a small river. Visitors traveling along the river will be able to find Ilgwang Beach.
Small shops are lined up on the edge of the 1.8 kilometer-long white sandy beach. Accommodation and convenience facilities, including bed and breakfasts and a fishing port, are located at the northern end of the shore among raw fish restaurants. The boat-shaped stage in the middle of the beach is usually used as an observatory and resting area, transforming into a venue for the Seaside Village Madangguk Festival every summer.

△Blowfish soup is a popular seaside delicacy.
Due to the recent growth of charming cafes and restaurants, the area has correspondingly increased in popularity. Jjinbbang (sweet bread filled with red bean paste) and mandu (dumplings) specialty stores are just some of the booming treats. To try some, head between the station and the beach, then cross the bridge. Not only will you find these locales, but you may happen upon the themed "Nangman Street." Or you may choose one of Il-gwang's specialty dishes of bokguk (blowfish soup) or abalone porridge, available at "Ilgwang Dae-bokjib (일광대복집)" by the station and "Eoneu Meosjin Nal (어느멋진날)" close to the beach.
Taehwagang Station for a tour around Ulsan and its attractions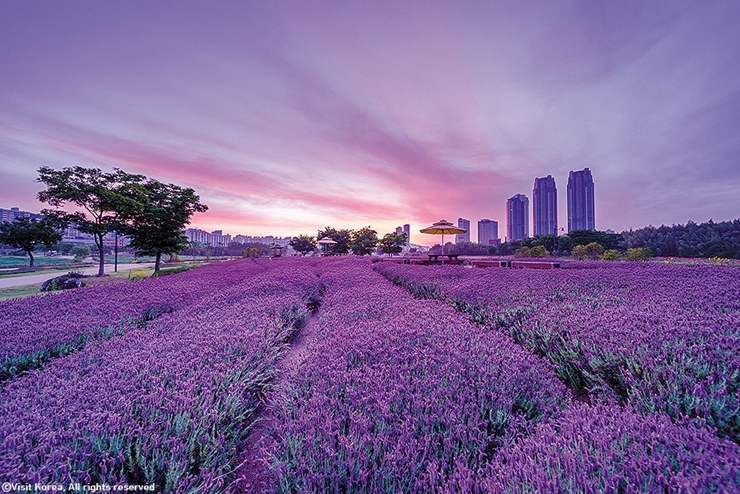 △Taehwagang National Garden's majestic hues paint the sky.
The stations from Seosaeng are in Ulsan. Each stop offers plenty of sightseeing. However, for a short fun-filled visit, it's best to depart from Taehwagang Station. Here, visitors can easily venture around Ulsan via the city tour bus.
The "Tourist Information Center" lies at the corner of the square in front of the station. On the other side of the plaza sits the tour bus platform 3. Currently, there are two routes departing from Taehwagang Station. One is "Taehwagang National Garden" and the other is "Jangsaengpo Dae-wangam Park." The wristband tickets cost 6,000 won for adults and can be purchased using a credit or debit card at the time of boarding. Upon purchase, riders can freely use both courses for the entire day.
On the first course, Taehwagang National Garden, Travelers can visit places such as the Taehwagang Observatory, the Samho Bamboo Grove (a migratory bird information center), the Taehwaru Pavilion and the Jungang Traditional Market. In particular, the national garden is an urban water-friendly 835,452-square-meter park filled with countless flora and fauna. Currently, the course operates three buses, two trolleybuses and one regular bus, beginning at 9:30 a.m. and running at 50-minute intervals.
Ulsan is known as the best place to spot whales and dolphins, and for those who enjoy marine history, the Jangsaengpo Daewangam Park course is ideal. This route operates once every two hours and brings passengers to Jangsaengpo, a historic port now the home of "Jangsaengpo Whale Museum" and "Daewangam Park," famous for its unusual rock formations and suspension bridge.
Thanks to the opening of the Donghae line, we are closer than ever to Gijang and Ulsan. Now, when planning a trip around Busan, you can effortlessly add Gijang and Ulsan to your itinerary.
The Ulsan City Tour Bus operates every Tuesday through Sunday. For further information, visit the website (ulsancitytour.co.kr), available in English, Chinese and Japanese.