Enjoy Busan
Treasure trove of societal sophistication
Ride Along To Explore Busan ② Metro Line 2
Last month, we traversed the oldest metro line in Busan; this month, let's journey along the longest, Metro Line 2. Running from northwestern Yangsan Station through the west of the city and along the coast to Jangsan Station in the east. Seomyeon, Gwangan and Haeundae are well-known tourist destinations along the route, but other less-frequented spots are beginning to bloom.

△Noteworthy private cafes and bistros each with unique menu items can be found all along Metro Line 2.
■ Hopo Station for eco-friendly floral filled riverside roams
Due to distance and necessity, Metro Line 2 has two routes, one from Jangsan Station to Yangsan Station and the other which stops short, of the end of the line, at Hopo Station. The number of passengers utilizing this station is only seven percent as busy as the city's most popular, Seomyeon Station. Lack of congestion on public transportation illustrates the area's secluded nature, making it ideal for maintaining social distancing.
"Hopo Flower Market" sits between Hopo Station and the Nakdong River. Stroll across the overpass for all your topiary needs or follow the road to reach Yangsancheon Stream. Venture past the complex toward the river to find a path filled with aromatic flowers and people enjoying a serene bike ride. After following the trail, cross the Hopogyo Bridge to Hwangsan Park, complete with multiple fitness facilities.

△Paved trails make ease the strain of pedaling.
■ Sujeong Station for scenic sports and leisure activities
Next up is Sujeong Station, a residential area with skyscrapers and the closest station to Hwamyeong Eco Park. The underpass leading to the park is approximately 240 meters from exit 3. Measuring about 1.41 square kilometers, this locale boasts sports amenities like a soccer field, a basketball court and even an inline skating rink.
If cycling is more your speed, rent a bike in front of Hwamyeong Playground or at the north end of the park by leaving your ID card. For adults, the one-hour 3,000 won cycling service operates from 9 a.m. to 6 p.m. from March to October and till 5 p.m. from November to February.
Marine leisure sports are also available at the Hwamyeong Marine Leisure Sports Tow-n, near the Yacht Mooring area at the center of the park. There, visitors can choose to learn water-skiing and wakeboarding and ride on banana boats or peanut boats.
· Hwamyeong Marine Leisure Sports Town: edskischool.qrsvc.kr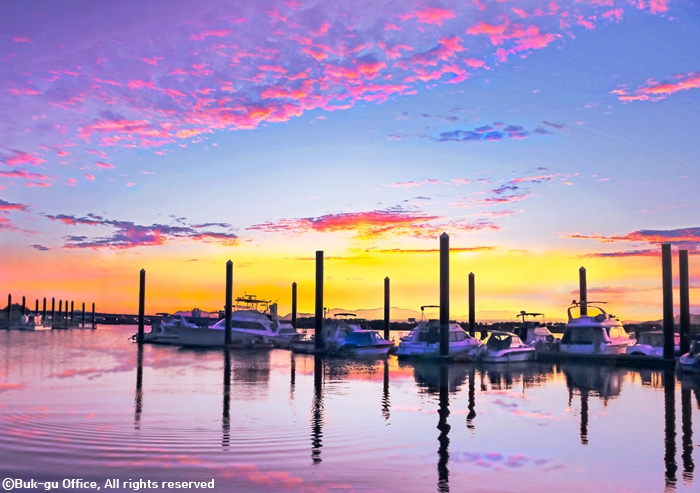 △Multi-colored majestic skies will warm any heart.
■ Jeonpo Station for distinctive dining at calm cafes
On the way to our next locale is Seomyeon Stat-ion, home of the crowded nightlife scene. For the opposite experience, journey on to Jeonpo Station. This once hardware store-filled area, turned cozy place to rest and converse, is easy to enjoy and navigate.
This station is home to "Jeonpo-dong Cafe Street," awarded one of the New York Times' 52 World Destinations of the Year, in 2017. Visiting this site, with more than 30 cafes, each with its own personality, is the ultimate way to try something new. To get there, leave Jeonpo Station exit 7. Then, go straight for about 100 meters and turn left. A must-see locale off the main cafe street is Jeollidangil Street complete with multi-colored alleys. Here, the mix of homemade good stores and craft coffee shops create a one-of-a-kind visual and olfactory exper-ience.
Outside the nearby Norimaru, talented vendors set up booths to sell their wares. A hop and skip away, quaint shops fill spaces between strategically sized cafes, making this area a one-stop dating spot.

△Glowing lights of the cozy cafes illuminate the street.
■ Busan Int' l Finance Center·Busan Bank Station for fun and finance
A two-minute subway ride from Jeonpo is Busan Int'l Finance Center·Busan Bank Station, the city's financial district. Some even compare Busan Int'l Finance Center (BIFC), located near exit 3, to the United States' Wall Street. The 63-story skyscraper, full of 29 financial institutions such as the Korea Exchange, together with finance-related institutions including Busan Bank and Korea Technology Finance Corporation, forms a financial complex. Not just about economics, but the free finance museums, including the Currency Museum at Busan Regional Bank of Korea and the Capital Market History Museum at the Korea Exchange building, provide guests with history and education.
The Dream Theater, next to BFIC, is the nation's largest musical theater. With more than 1,700 seats, it has hosted many internationally acclaimed musicals such as Cats, Wicked, The Lion King, Phantom of the Opera, Chicago and Mamma Mia. Also, it provides places for children such as Canyon Park Busan on the first basement level and Securities Museum on the second floor.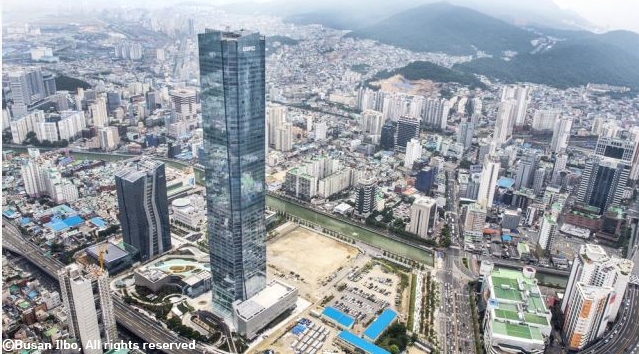 △The 289-meter-tall Finance Center is hard to miss.
■ Kyungsung Univ.·Pukyong Nat' l Univ. Station for youthful cultural energy
This station sits smack dab in the middle of one of Busan's busiest college towns, home to Kyungsung University (KSU) with approximately 12,000 students and Pukyong Nat'l University (PKNU). KSU is situated near exits 4 and 6 and the Daeyeon Campus of PKNU is located a short walk from exits 3 and 5.
A variety of restaurants, bars and clubs in the area make it convenient for university students to let off some steam. Recently, this area has been growing in both size and visitor traffic. The renovated streets and bus stops provide a comfortable place to stroll.
To catch a break from your busy workday, head to "Culture Alley," an eclectic art space tucked away located just south of the station. This foliage-filled alley is composed of small theaters, wine bars, rustic souveniers and galleries featuring work from local artists. A promenade from one end to another allows sightseers to experience multiple cultural activities and bask in nostalgia, on a single trip. Travel back in time through this walkway of wonders. To get there, walk out exit 1, turn right and walk for two blocks. Then, turn right again and it will be on your left.

△Day or night venture through Culture Alley.
■ Namcheon Station for bountiful whiffs of breads and blossoms
As spring winds begin to pick up, couples, friend groups and foodies journey to Namcheon Station to grab a memorable photo and a bite to eat. Namcheon is not only a station but also an area encompassing Busan Metro Line 2's next station, Geumnyeonsan Station.
In spring, the aroma mixes with the scent of sweet cherry blossoms because of its proximity to the retro Namcheon Samick Beach Town Apartment. About 800 meters away from the station, the road passing through the complex is known as "Namcheon Cherry Blossom Street," creating a paradise of bread and cherry blossoms.
Nicknamed "BBangcheon-dong," Namcheon-dong (neighborhood) is hard to miss due to the fragrance of fresh bread that fills the bakery-lined alleys. There are more than 25 local and chain bakeries. One such spot is the famous "OPS," established right here in 1989. The mix of modern patisseries and traditional baked goods, like the red bean buns from "Hongokdang," make this station a quintessential stop for bread lovers to roll on in.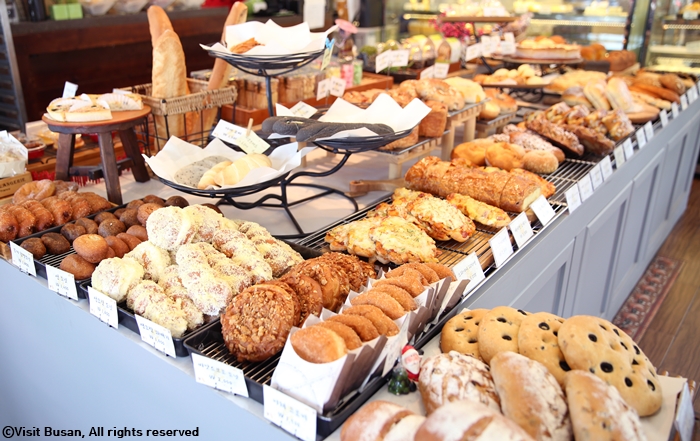 △Stacks of assorted treats fill Namcheon boulangeries.
■ Jangsan Station for planned parks and peaceful promenades
Jangsan Station is the last stop just past the tourist frequented stations, from Centum City to Haeundae Station. Even though it's not well known among tourists, the locally called "Haeundae New Town" is Busan's first planned residential area. Established in 1996, to facilitate better transportation and standard of living, the newly renamed "Hae-undae Green City" surrounds the station. The wide roads, divided apartment areas, businesses, parks, shopping centers and even pipelines were factored in when planning the city.
About 1.3 kilometers from the station is Daecheon Park, an urban park covering 78,117 square meters. The Daecheoncheon Stream, leading from the Daecheon Lake, past the edge of the park, stretches north into Jangsan Mountain. The brook flows right past Pokposa Temple to Jangsan mountain's Yangun Falls, where the water gathers in a pool surrounded by gray boulders. To get to Daecheon Park, go out exit 12 and walk straight approximately 30 minutes or take bus 115-1 outside exit 13, till Daerim 1 Apartment stop and walk for about 13 minutes.

△From Daecheon Lake visitors can see a panoramic of the area.