Enjoy Busan
Hidden gems that connect the city
Ride Along To Explore Busan ① Metro Line 1
Passing glances can become in-depth explorations through our new public transportation travel series. A multitude of attractions lie within a 15-minute walk from subway stations and adventures abroad aren't always possible. So, why not give a new local destination a chance? Let's start where most things begin at 1, Metro Line 1, which runs horizontally through Busan.

△Journey around the city and into the past to embrace shows, clothing, buildings and landmarks, like the Provisional Capital Memorial Hall.
Guseo Station for cultural experiences
Disembark at Guseo Station, to absorb some culture. Just a quick walk from exit 3, lie painted murals and quiet seating areas along the Oncheoncheon trail. If you're in the mood for more variety, walk out exit 2 and straight for about 90 meters, then cross the crosswalk and the overpass to arrive at Geumjeong Cultural Center.
Since opening in 1993, the center has consistently held diverse exhibitions and concerts. Performances are held each month and many are free to attend.
Geumjeong Cultural Center: Closed on Mondays.
Website: art.geumjeong.go.kr

△The Ballet Festival held at the Geumjeong Cultural Center.
City Hall Station for reasonable restaurants
After soaking in an exhibition, it's time to have lunch at the next stop, City Hall Station. Appreciated by local office workers for the close proximity to an abundance of reasonable restaurants, this area is home to many public institutions such as Busan City Hall and Busan Foundation for International Cooperation (BFIC).
Approximately 3,600 people work at City Hall, so it's no coincidence that a var-iety of diverse cuisine options are spread throughout the area. Just throw a stone to find and grab a treat from one of over 30 close cafes. Nearby, BFIC provides Korean classes and assitance for Busan expats.
BFIC: Counseling available online or by phone from 9:30 a.m. to 6:30 p.m. Monday through Friday.
Website: bfic.kr/ Phone: 1577-7716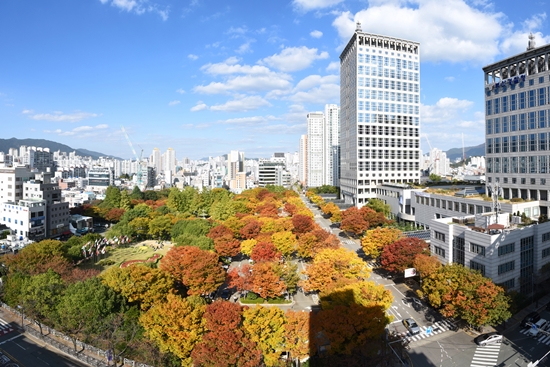 △Enjoy some greenery just opposite the municipal buildings.
Beomil Station for shopping and walking
After lunch, venture on to Beomil Station. Busanjin Market, the must-go shopping spot, boasts three floors of delights, including 1,350 stores, just 280 meters in front of exit 1. For specialized items, head over to Busan Pyeonghwa Market next to exit 10, Beomcheon-dong Gold Theme Street by exit 12 or Jayu Market, close to exit 8.
A short stroll from exit 2 is the Jinseong Fortress Park, previously known as Jaesungdae Park, atop the small hill. At the foot of the mound is the History Museum of Joseon Tongsinsa, which shows the exchanges between Korea and Japan during the Joseon Dynasty.
Busanjin Market: Open from 9 a.m. to 6 p.m. Monday through Saturday. Closed on Sundays and most national holidays.
Website: busanjinmart.co.kr
History Museum of Joseon Tongsinsa: Open from 9 a.m. to 6 p.m. Tuesday through Sunday. Closed on Mondays and New Year's Day.

△Jayu Market hosts many shops but is known for its flower stores.
Jungang Station for movie lovers
One-stop in front of Nampo Station is Jungang Station. The previous home of the Busan International Film Festival, this area is recommended for K-movie lovers. Now, the Busan Museum of Movies sits, just a short stroll from exit 5.
The museum gifts visitors with displays related to Korean cinema. The exhibition hall is on the third and fourth floors and filled with materials related to the film industry. Also, the newly added "Trickeye Museum," can also be found on the third floor.
On the fourth floor, guests can act, dub characters or look at celebrities' hand-prints. Lucky for international guests, instructions are available in English, Chinese and Japanese. Anyone can download their video onto a USB, provided by the museum and take it home for an extra fee. Museum tickets are 10,000 won and an additional 8,000 won for the Trickeye Museum.
Busan Museum of Movies: Open from 10 a.m. to 6 p.m. Closed on Mondays.
Website: busanbom.kr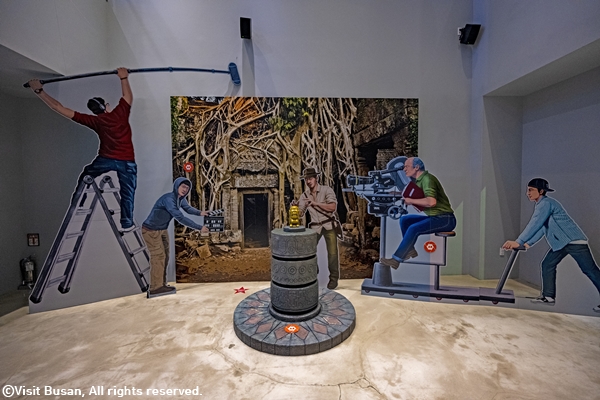 △Record yourself as an adventurer on one of the faux sets.
Toseong Station for modern Korean history
Modern history museums and exhibition halls belong to Toseong Station, past Nampo Station and Jagalchi Station, famous tourist spots. About 330 meters from exit 2, Dong-A University Bumin Campus is positioned on the left. There, you'll find the Seokdang Museum, home to 25,000 collections, including two national treasures and multiple displays from Prehistoric Korea to the Joseon Dynasty.
Three minutes from the South Gate of Dong-A University rests the former "Oval Office," now the "Provisional Capital Memorial Hall." Both in and outside the hall, guests can visit an array of relics.
Seokdang Museum: Open from 9 a.m. to 4:30 p.m. Tuesday through Saturday. Closed on Mondays, Sundays and national holidays.
Website: museum.donga.ac.kr
Provisional Capital Memorial Hall: Open from 9 a.m. to 6 p.m. Tuesday through Sunday. Closed on Mondays.
Website: museum.Busan.go.kr/monument

△Step back in time where the president lived during the Korean War.
Dadaepo Beach Station for sea, sky and sand
The last stop of Metro line 1 is Dadaepo Beach Station, also known as one of the best areas to enjoy the ocean breeze. Stroll a few steps from exit 4 and the beach will be in sight, with just 100 meters to walk before reaching the park and onward till you'll be able to feel the sand beneath your feet.
At the Dadaepo Beach Park, Dadaepo Sunset Fountain of Dreams awaits and every April to October, you can behold a water show complete with music and lights. Past the fountain sits a park composed of over 50,000 trees and a stream with large stepping stones. As you exit the park, BTS's Jimin recommended, Dadaepo Beach rests, known for silky sands and inspiring sunsets. Conversely, saunter on down the Nakdong River Estuary trail, built atop years of soil and sand accum-ulation, or journey further west to visit the Amisan Observatory.
Amisan Observatory: Open from 9 a.m. to 6 p.m. Tuesday through Sunday. Closed on Mondays and national holidays.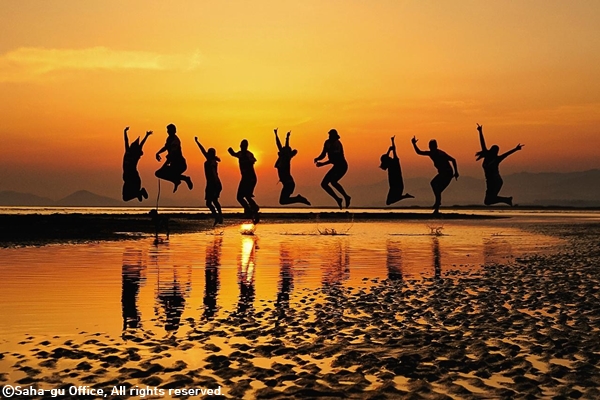 △Plateaued shallow shores are ideal for the whole family.