Enjoy Busan
Experience and connect with nature
A little prince from the planet Asteroid B-612 stared at the sun and said
"I would like to see a sunset … Do me a favor … Order the sun to lie down."
Unfortunately, sunsets don't work that way and just as Antoine de Saint-Exupery's character has to wait, so to have we. This year wasn't easy, by any definition of the word and the end of its approaches. In Korea, a common way to leave a year behind and begin a new one is by watching the sun set. Along the new Nakdong River Ha-Good Trail is a perfect spot to do just that.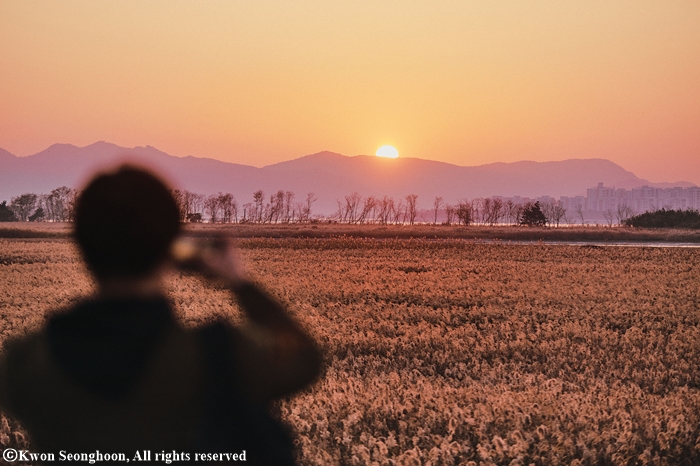 △Interact with and embrace the newest part of Saha-gu's natural environment, with a promenade along the Nakdong River Ha-Good Baengnigil Trail.
Nakdong River Ha-Good Trail: The ecopark linchpin
Nakdong River Estuary, where the river and the sea meet, is considered a biodiverse treasure trove of ecosystems. Flowing river water and fertile sediment are deposited in the nearby delta, ensuring rapidly growing reeds and seaweed. Since the water is full of plants that make it lush with nutrients and perfectly pint-sized pieces of food, inadvertently making it the largest migratory bird sanctuary in Korea.
The 40-kilometer, "Nakdong River Ha-Good Baengnigil Trail" has been created to connect the city's five ecological parks Samnak, Hwamyeong, Daejeo, Maekdo and Eulsukdo, along the local estuary. The onomatopoeia "ha" was added to the trail's name to encourage laughter and smiles along the path. The course circulates through the Daedong Hwamyeongdaegyo Bridge pedestrian trail, Daejeo and Maekdo Eco Parks, Nakdong River Estuary Em-bankment, Eulsukdo Island, Samnak Eco Park and Hwamyeong Eco Park. Some parks are visited for flora like Daejeo for Korea's most extensive canola flower collection, reed fields and pink muhly filled areas. Others for their winged fauna, such as Maekdo and Eulsukdo Eco Parks.
How to get there: The course is accessible from Hwamyeong Station (metro line 2), Deokcheon Station (metro line 2 and 3) and Gangseo-gu Office Station (metro line 3).

△Bring or rent a bike to glide through the air without a care.
Eulsukdo Eco Park
The Nakdong River Ha-Good Trail's walkways make it accessible for everyone to enjoy. In particular, the route from Daedong Hwamyeongdaegyo Bridge to Eulsukdo Eco Park is home to swaying reeds, sounds of flapping wings and a scenic backdrop ideal for those grammable sunset shots. Along the way you can find Eulsukdo Migratory Bird Park, which gifts guests with the opportunity to watch and learn about different species from a safe distance.
At the enterance of Eulsukdo Eco Park sits Nakdong River Estuary Eco Center, whose main attraction is the window-filled observatory. To get a closer look at the migratory birds, hop on one of the small electric shuttle buses departing from the parking lot. Journey among the wildlife while checking out places like Memorial Park and Eulsukdodaegyo Bridge. Each trip takes about 20 to 25 minutes. On weekdays, you can get off and on again at various points of the tour. However, on weekends reboard-ing isn't allowed.

△Free conveyance makes the journey safe and accessible for all.
Distance between humans and birds
Not in the mood for a stroll? Or feeling a bit chilly? Traverse the entirety of the trail on a free city-sponsored electric shuttle. While aboard, the sound of footsteps and bird calls can clearly be heard, with only the faint sound of the bus tires detracting from the natural ambience. En route, you can decide which way to go.
Be aware of the "No Entry" signs placed throughout the park. They are there to keep people from disturbing specific bird habitats. Observing them from outside of the area is welcome and encouraged; just make sure to keep quiet. If we respect one another, human and nature coexistence possible.
Gaze upon the horizon as night falls, interact with your organic surroundings or keep your distance. However you decide to enjoy the last month of the year, Nakdong River Ha-Good Trail awaits. Just as the end of the day is time for many people and birds to return to their nests. The end of the year brings about a return to a clean slate.
Free bike rentals are available across from the Nakdong Estuary Eco Center overpass. Bicycles are available on a first come first served basis. In order to borrow one, you must exchange your ID card for the period of use-two hours on weekdays and an hour and a half on weekends.
Operation hours are from 9 a.m. to 4 p.m. They are closed on Mondays, holidays and rainy days.

△The Nakdong River Estuary Eco Center makes watching and learning about the area comfortable and convenient.
Nakdong River Estuary Eco Center
The electric shuttle bus operates from 10 a.m. to 4 p.m. and runs every 30 to 60 minutes based on the date.
Service is suspended between noon and 1 p.m. for lunch and unavailable on Mondays and rainy days.
Address: 1240, Nakdongnam-ro, Saha-gu
Hours: 9 a.m. to 6 p.m. Mondays closed
How to get there: Hadan Station (metro line 1), exit 3. Take bus 58, 58-1 or 58-2 and get off at Eulsukdo Rest Area.