Enjoy Busan
Movies everywhere and plenty left to spare

▲ For a picture-perfect night view, take a trip on the cinematic side with a stroll, past themed photo zones, down Haeundae's frequented Cine Road. (Source: Kwon Seonghoon)

▲ Compare your hand size to your favorite stars at the Busan Museum of Movies. (Source: Busan Museum of Movies)

▲ Situated between Shinsegae Department Store and Content Korea Lab Busan, the Busan Cinema Center is in the center of it all. (Source: Michael Kazemi)
 Thanks to the country's first film production company and Busan International Film Festival, it's safe to say that Busan is the birthplace of Korean film. Every year, numerous movies are shot and edited in Busan. One of UNESCO's Creative Cities of Film, various places to enjoy movies and learn about cinema. Jump into a sea of cinema with a few Dynamic Busan-approved locales.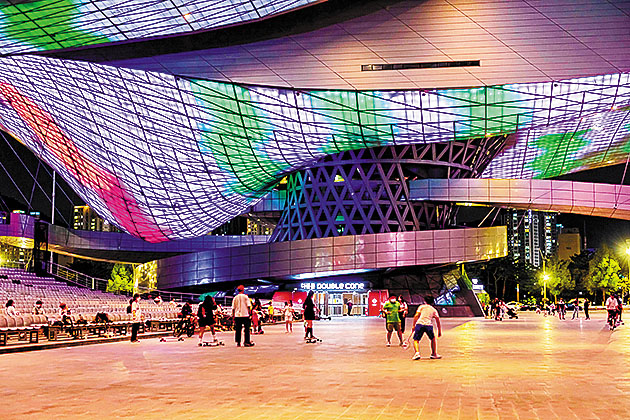 ▲ The LED light show is every night from sunset to 11 p.m. (Source: Michael Kazemi)
Busan Cinema Center
 Centum City, the local film and visual industry hub, is home to the Busan Cinema Center. The famous landmark hosts a wide variety of events, including the world-renowned Busan International Film Festival (BIFF), the Busan International Short Film Festival (BISFF), the Busan International Kids and Youth Film Festival (BIKY) and the Barrier-free Film Festival. Opened in 2011, the site also serves as a multicultural space for locals and tourists.
 The center, which spans 54,335 square meters, consists of a collection of uniquely designed buildings. The Guinness World Record-holding, over 162 meters long, "Big Roof" is reminiscent of a graduation cap. Beneath the roof is an open-air theater, where visitors can enjoy cinema in a whole new way or be entranced by the LED light show just above their heads.
 The cutting-edge architectural "Double Cone" structure, named for its resemblance to an ice cream cone, supports the 4,000-ton weight of the world's longest cantilever roof. The edifice, amid the spiraling walkway, is located between the eight-floor Cine-mountain and the three-floor BIFF Hill, which acts as a theater, a BIFF committee meeting office, archive and editing area.
■ Film and performances
 Unlike other commercial theaters, various classic, artistic and independent films are screened in the three-theater Cinemountain. A unique music program entitled "Matinee Concert"takes place here every month. This year's overall theme, "Cinema Music Paradise," showcases art-themed movies and music that speaks to film.
■ Film library
 If newly released BIFF films or Korean classics are more your speed, the Busan Cinema Center Library is ideal. Located on the fourth floor of the Double Cone, the athenaeum is filled with cinematic materials, including over 4,000 BIFF films, books and periodicals related to movies. In the "Cinema streaming room," approximately 400 films are available via QR codes by simply scanning a card. There is also a separate "Video material reading room" where you can view high-definition works. The best news is that the library follows the same rules as an average library, in that it's free to use; just leave your ID at the front counter, pop your belongings in a locker and start watching.
◎ Address: 120, Suyeonggangbyeon-daero, Haeundae-gu
◎ Hours: 11 a.m. to 8 p.m. on weekdays. 9 a.m. to 6 p.m. on weekends and holidays.
◎ Website: dureraum.org
◎ How to get there: Centum City Station (metro line 2), exit 6 or 12. Walk about five minutes.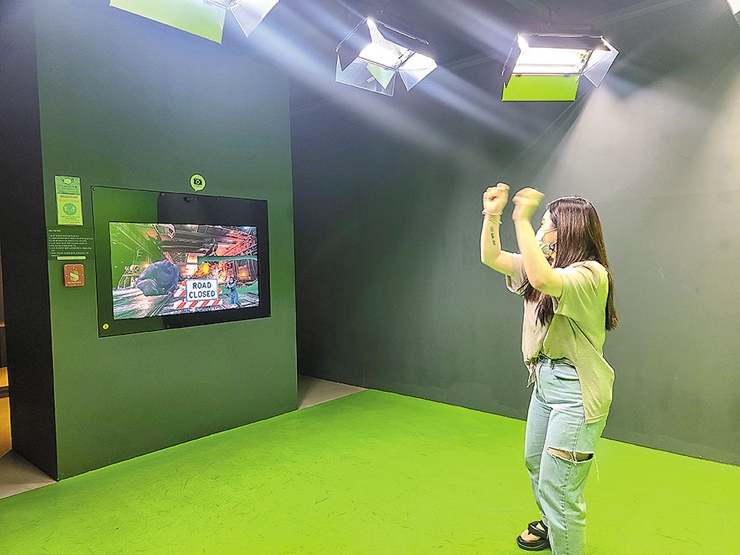 ▲ Jump right into action with the green screens. (Source: Busan Museum of Movies)
Busan Museum of Movies
 In 1996, the first BIFF was held in Nampo-dong(neighborhood), Jung-gu (district), and it became a popular gathering spot for celebrities after the film festival. Since the opening of the center, festivals and the accompanying merriment have moved to the Centum City area. To commemorate the humble origins of the City of Cinema, the Busan Museum of Movies opened in Daegwang-dong in 2017. The museum isn't an ordinary museum; it's a playg-roundesque museum with interactive exhibits for visitors of all ages.
 Guests can preview what lies ahead while walking through the first floor to the elevators. Unique scannable cards act as sort of tickets to interact with exhibits within. The very first attraction, for example, is a virtual train ride through time and the history of cinema in Korea, for entry just scan the card. Admission to the museum is 10,000 won for adults and 7,000 won for children.
 The third floor is filled with historical photographs and memorabilia. The main goal of this area is learning about and hopefully appreciating where and how far cinema has come. Specially designed areas, like "the street of film history," "masterpiece square," "cinema academy," and "cinema studio" are laid out to educate guests about the film industry and practices in Korea, and more specifically in Busan. Close to the exit are green screen areas, where production enthusiasts can make their own short films or storyboards.
 On the fourth floor, people can do many things such as dubbing characters, from classic films, using studio microphones. Each space is unique, interactive and provides a guide in English, Chinese and Japanese. Throughout the museum journey, the various experiences are stored on the card. If you want to take your videos or pictures home, they are available for sale at the exit.
◎ Address: 12, Daecheong-ro 126beon-gil, Jung-gu
◎ Hours: 10 a.m. to 6 p.m. Tuesday through Sunday. Closed on Mondays.
◎ Website: busanbom.kr
◎ How to get there: Jungang Station (metro line 1), exit 5. Walk about 10 minutes.
▲ Take a walk, stroll or jog along Cine Road. (Source: Kwon Seonghoon)
Cine Road
 Nearby the Busan Cinema Center is another soug-ht-after spot related to films, Haeundae's famed Cine Road. The 800-meter-long coastal trail is perfect for strolling while soaking in scenes from popular films.
 The street is composed of four themes: Santorini Square, Movie Zone filmed in Haeundae, Animation Zone and 10 Million Movie Zone. Exhibits such as a photo area and hand prints of Korean movie stars line the way, so visitors can fully immerse themselves in the world of cinema. The wall, along the water, is full of murals reminiscent of movie posters. The nearby bridge and surrounding area provide a rem-arkabley memorable backdrop for an evening walk.
◎ How to get there: Dongbaek Station (metro line 2), exit 3. Cross the crosswalk and go straight for about 800 meters.