Enjoy Busan
Commune with nature by city rivers, this fall

▲ The APEC Naru Park offers lush greenery and calm walkways in complete juxtaposition with the skyscrapers and bustling streets of the Centum City area.

▲ Take a ride along the riverside or utilize the exercise equipment at one of the city's most popular parks. (source: Michael Kazemi)
 The leaves have begun to change colors and the summer sun has gone away. But that doesn't mean that it's not time to play. The cool autumn breeze makes it ideal for outdoor activities, a nighttime stroll or a river cruise. City locals and visitors are in luck because fall in Busan lasts much longer than in other areas like Seoul and Daegu, making it the best time to break out those sneakers.
 There are many ways to enjoy the peak seasonal shift. Taking a bike ride or promenade down one of the city's rivers or through one of the many parks is a perfect way to spend or end the day. Each autumn route we introduce is full of fun and fall foliage for all.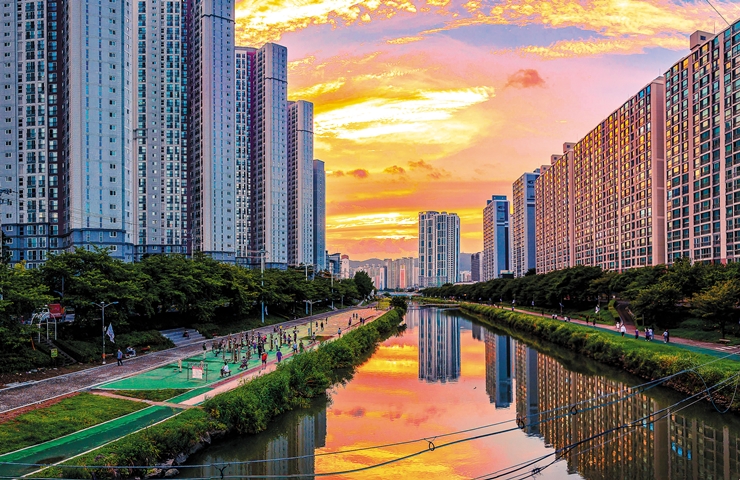 ▲ Exercise areas, bike paths and walkways aren't the only reasons people gather by this serene stream. (source: Michael Kazemi)
Oncheoncheon Park
 Oncheoncheon River, which starts at Geum-jeongsan Mountain and flows into Geumjeong-gu (district), Dongnae-gu and Yeonje-gu, is a tributary of Suyeong River. Until the 1980s, it was a polluted river, but the river and surrounding ecosystem have been restored since the 1995 River Recovery Project. Various birds, including ducks and herons, can easily be found alongside amphibians such as salamanders and toads. Occasionally, an endangered species of otters can be spotted floating around in the water.
 In 2005, the accessible Oncheoncheon Park was built along its namesake river. The park stretches over four kilometers and hosts an assortment of paths and areas for countless pastimes. For those who prefer to travel, dirt roads, rubber walkways and coated bike trails are available. Additionally, various sports facilities such as a skating rink, basketball court, badminton court and a water play area welcome guests who visit the park.
 Not only do residents of Geumjeong-gu, Dongnae-gu and Yeonje-gu love visiting the park for an afternoon stroll, but Busanites and tourists alike also enjoy the chance for scenic exercise and leisure. Don't worry, just because the park is frequented doesn't mean it's crowded. The wide trails and long bike paths afford everyone an opportunity and enough space to enjoy their time safely and comfortably.
 Aquatic plants, which are home to various creatures, grow luxuriantly between the trails and the river. As the sun sets, cicadas can be heard in the bushes along the paths. Looking down the river, from the walkway and iconic stepping stones, visitors can see fish swimming around, trying to avoid the flocks of birds that visit the park.
 During the spring, the park transforms as the cherry blossom flowers begin to bloom. In the fall, parkgoers can walk one of the many paths of color-changing trees while feeling a cool breeze packed with river mist. While the park is a regular destination for visitors of all ages, it is frequented by pet owners out walking their dogs and university students looking to grab some fresh air. For those looking to enhance their visit, bicycles are available to rent.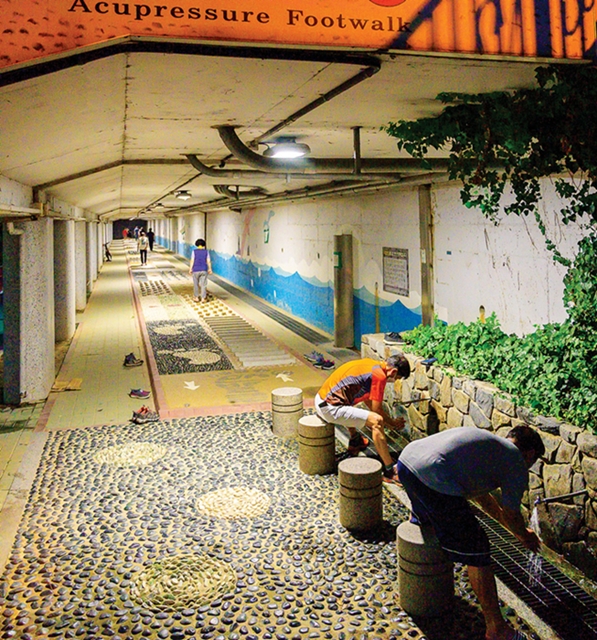 ▲ De-stress at Oncheoncheon Park's free acupressure walkway. (Source: Michael Kazemi)
◎ How to get there: Allak Station (Donghae line), exit 3. Walk about 20 minutes, passing by Yeonsan Bridge.
◎ Yeonje-gu Bicycle Rental: Below Yeonan Bridge and above the stairs to 101 Hwashin Town in Oncheoncheon Park.
APEC Naru Park
 Two main rivers flow through the city, one is the Suyeong River and the other is the Nakdong River. APEC Naru Park, situated on the former, was built to commemorate the APEC Summit in 2005. Though initially named APEC Theme Park, the park opened as APEC Naru Park due to the area's nickname "gangnaru," in October 2005.  The park is a landmark in Centum City, with over 3,000 meters of trails and a 700-meter jogging course. It is also home to an outdoor stage, a memorial plaza and sculptures from the 2006 Busan Biennale Sculpture Project.
 If Oncheoncheon Park is known for aquatic plants, then APEC Naru Park is acknowledged by its tree-lined shore. Roam through the changing greenery and stop by two 500-year-old trees transplanted from Gadeokdo Island; they are a sight to behold. Among the natural scenery are picnic tables and benches, making it the ultimate place to bring a book, have a snack or both.
 The well-organized park offers lush walkways and large areas of grass. Bright green hues fill the park during the warmer seasons, but autumn brings a new color palette of reds, yellows and oranges. Leaves have begun to fall and pile up, while the pets who frequent the park are looking forward to crunching them.
 The environment surrounding APEC Naru Park is dazzling. Skyscrapers boasting a beautiful skyline look down on the river like benevolent giants. At night, colorful lights create an enchanting picturesque view that complements the peaceful atmosphere of the park.
 The Busan Cinema Center, home to the Busan International Film Festival, is a short walk or even shorter bike ride from the park. So, before or after catching a flick, head over and enjoy nature with a stroll, a cycle or a relaxing river cruise. Unlike Oncheoncheon Park, it is far from residential areas. Luckily, the parks are similar in that they both offer flora, fauna and bicycle rentals.
◎ How to get there: Centum City Station (metro line 2), exit 12. Walk for about 13 minutes past Centum City Intersection.
◎ Free Haeundae-gu Bicycle Rental: Below Jwa-suyeong Bridge, Across Centum Middle School, through the tunnel, go right 70 more meters.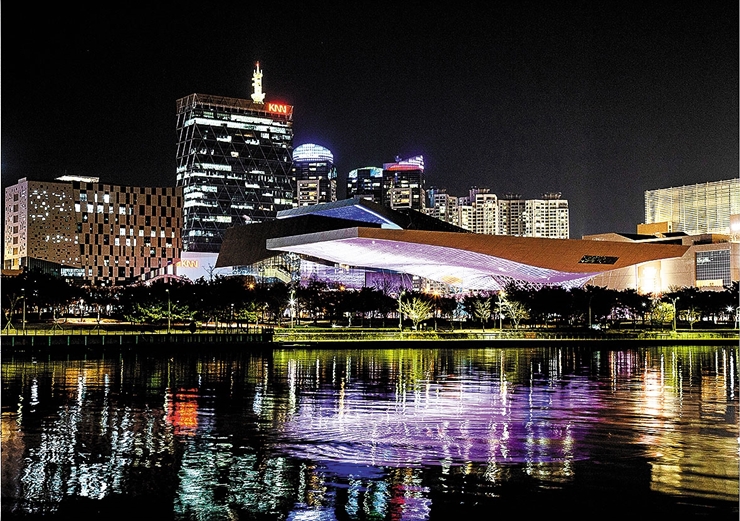 ▲ A panoramic view of the Busan Cinema Center from the park.