Enjoy Busan
A different beach for every day of the week
 Since the onset of the pandemic, safety protocols have been part of daily life. These rules and regulations have made some forget about how fulfilling a day at the beach can be. From the well-known Haeundae and Gwangalli Beaches to the more secluded beaches like Ilwgang, the diversity of the coast is perfect. Especially for those looking to enjoy the summer season. So, join us as we tell you all you need to know to have a fun and safe
summer at one of Busan's seven beaches.
Haeundae and Gwangalli Beach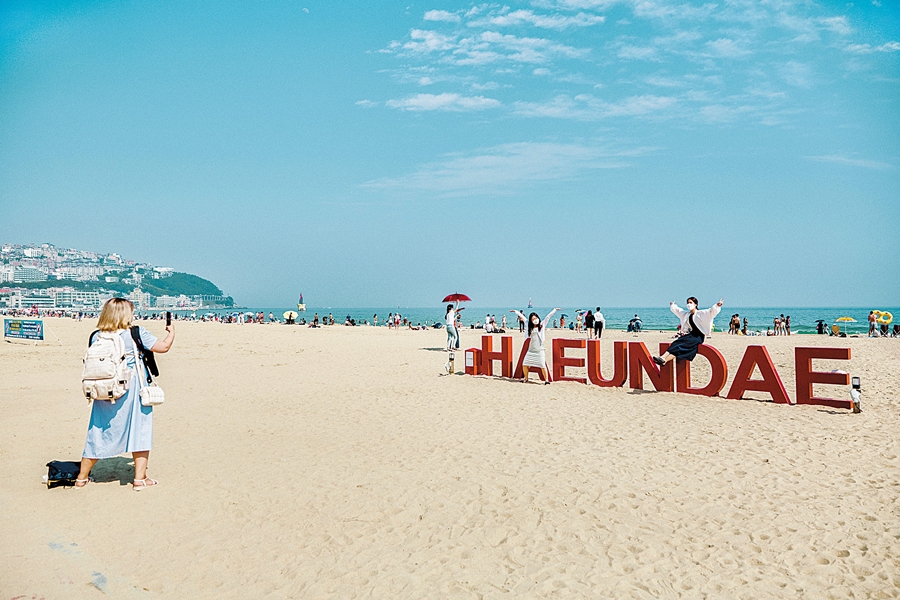 ▲ Haeundae Beach, one of Korea's longest and largest beaches, is the perfect place to spend some quality time with friends and family. (source: Kwon Seonghoon)

 Haeundae Beach, likely the first beach people think of when they think of Busan, has a new addition to its memorable skyline. The 101-floor Haeundae LCT The Sharp, built last year, joins the ranks of six other luxury hotels on the beach, Lotte Signiel, Grand Josun Busan, Josun Beach Hotel and Paradise Hotel. Nearby tourist attractions, such as the SeaLife Aquarium, TheBay101 yacht port and traditional market are also popular among the locals. So, whether it's sunbathing on the sand, floating on a tube along the shore, learning about local marine life or lounging by an infinity pool, Haeundae beach is the place to be for beachgoers of all ages.
◎ How to get there:
Haeundae Beach: Haeundae Station (metro line 2), exit 3 or 5. Go straight for 10 minutes.

▲ There's nothing like stand-up paddleboarding around the one of the city's most notable landmarks. (source: Suyeong-gu Office)

 A shorter beach, Gwangalli Beach is definitely not short on any attractions. Close to the city center and packed with marine sports facilities, this area is popular among young beachgoers. As the sun goes down, the LED lights on the famous Diamond Bridge light up to create a glittering backdrop for a romantic date, a friendly stroll or a nighttime ride. The restaurants, cafes, pubs and shore fill with locals and tourists for the Busan Fireworks Festival every October. Of course, you can check out the local area anytime, though summer is the peak of seafood season. So, head to Millak Fresh Fish Center to pick your favorite or simply take a load off at Millak Waterside Park.
◎ How to get there:
Gwanganlli Beach: Gwangan Station (metro line 2), exit 3 or 5. Go straight for 15 minutes.
Songdo and Dadaepo Beach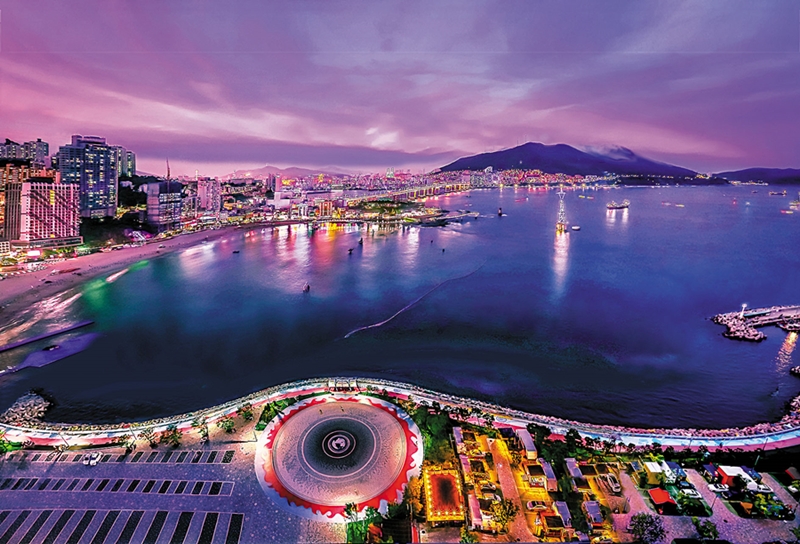 ▲ Songdo Beach's bright lights and long trails add to its resplendent skyline.
 On the west side of the city are two of the most picturesque beaches, Songdo and Dadaepo Beach. Songdo Beach, the first public beach in the country, has something for everyone to enjoy. A popular place for couples to capture memories through film, this area became even more popular with the opening of the newest local hot-spot Songdo Yonggung Suspension Bridge, last year. The 127-meter-long skywalk bridge, in front of the beach, connects Amnam Park to Dongseom Island. It is open every day from 9 a.m. to 6 p.m. and costs 1,000 won to traverse. Other popular locales include the Songdo Cloud Trail, the Busan Air Cruise and the Songdo Coastal Trail.
◎ How to get there:
Songdo Beach: Jagalchi Station (metro line 1), exit 2. Take bus 26, 30 or 71 and get off at Songdo Beach stop.

▲ Gaze upon the horizon as the sunsets, on Dadaepo Beach, for a memory you won't soon forget.
 The most western beach, Dadaepo, is a popular place for children because of the shallow water and soft mud-like sand. The area is ideal for observing local sea and plant life by taking a stroll along the long wooden deck trail lining the sand. Nearby the beach is the mesmerizing Sunset Fountain of Dreams, the scenic Gowooni Ecological Trail, the designated national geopark Morundae and the flora-filled Dadaepo Beach Park. Catch a golden sunset, where Nakdonggang River and the South Sea meet, at Dadaepo Beach.
※ Dadaepo's "Sunset Fountain of Dream" will be suspended for the time being.
◎ How to get there:
Dadaepo Beach: Dadaepo Beach Station (metro line 1), exit 1.
Songjeong, Imnang and Ilgwang Beach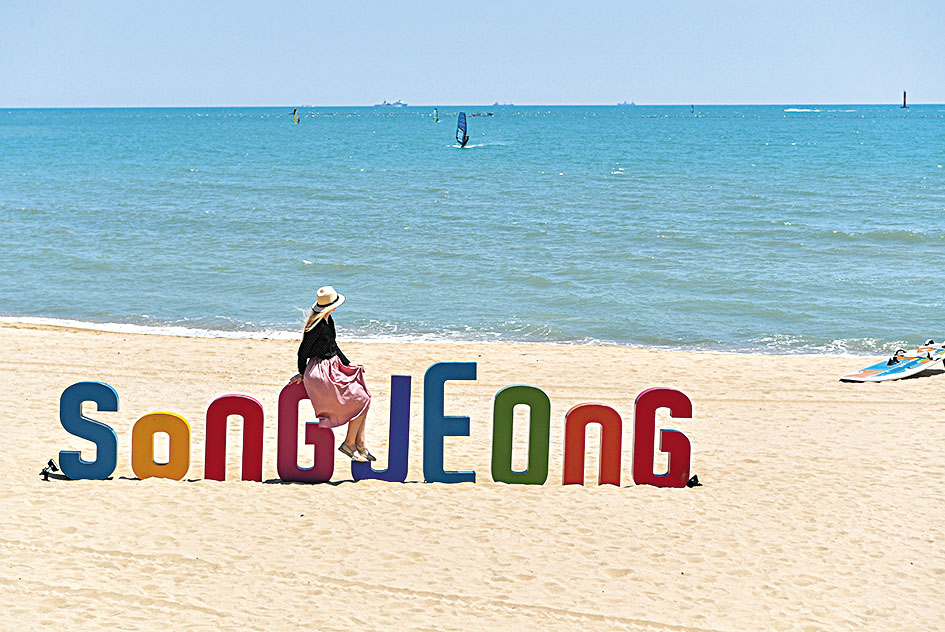 ▲ Surf along picture-perfect Songjeong Beach. (source: Haeundae-gu Office)
▲ Ride the waves of Ilgwang Beach on an inflatable raft.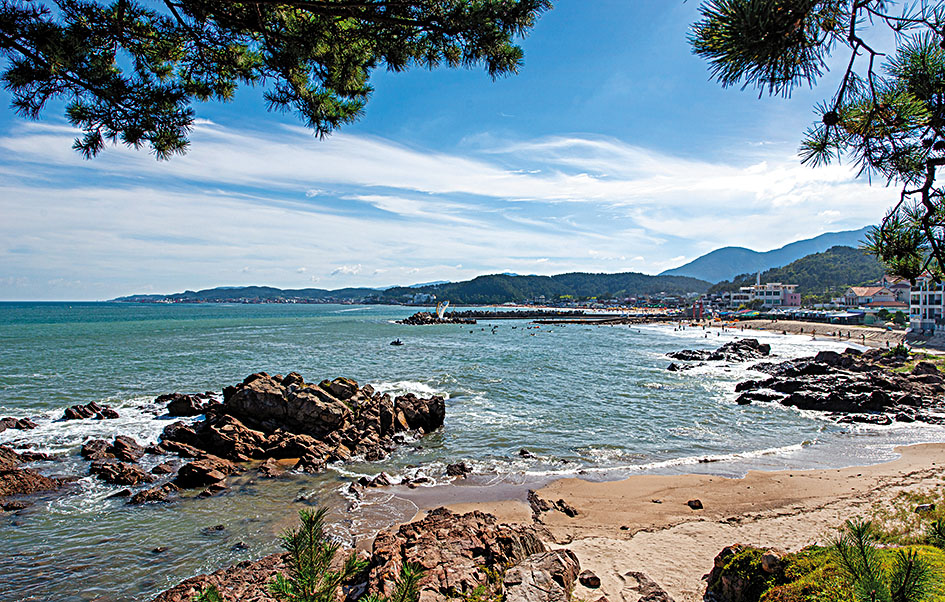 ▲ The rocky shores of Imnang Beach provide a beautiful getaway.
 As we move to the east side of Busan, there are more secluded beaches, Songjeong, Imnang and Ilgwang Beach. Surf enthusiasts head to Songjeong as their ideal spot to ride the waves. The area is awash with surf shops and schools, perfect for experts and beginners to buy their gear or learn some moves. For shallow waters and smaller waves, check out Ilgwang Beach, home of the "Gijang Village of an Estuary Performance Festival," this beach is the perfect place to pitch up a tent and try out some new marine leisure sports. Imnang Beach, the city's most eastern beach, is also its most secluded beach. Far from downtown, this area is a peaceful place to rest or visit one of the two nearby temples.
◎ How to get there:
▲ Songjeong Beach: Centum City Station (metro line 2), exit 1. Take bus 38, 63, 100, 139, 141, 1001 or 1003 and get off at Songjeong Beach stop.
▲ Ilgwang Beach: Jangsan Station (metro line 2), exit 7. Take bus 182 and get off at Ilgwang Beach stop.
▲ Imnang Beach: Jangsan Station (metro line 2), exit 9. Take bus 139 and get off at Cheonggang Crossroad. Take bus 188 and get off at Imnang Beach stop. For departure from Dongnae, catch metro line 4 from Dongnae Station and get off at Anpyeong Station (exit 4). Take bus 188 and get off at Imnang Crossroad stop.