Enjoy Busan
Busan Metropolitan Library is old, new, traditional and innovative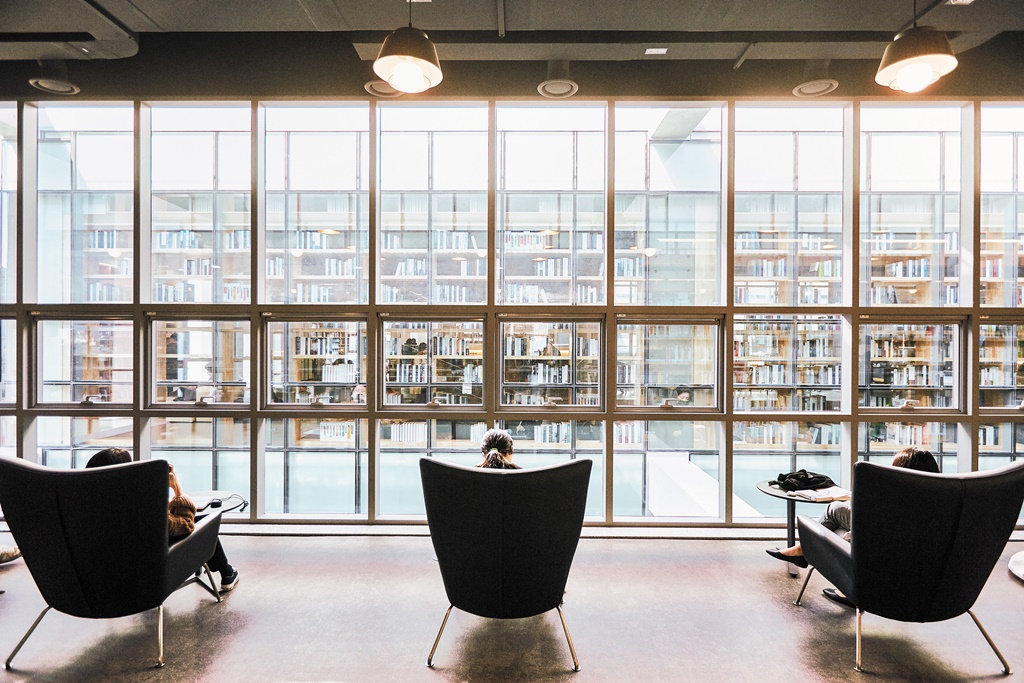 ▲ The Busan Metropolitan Library is a state-of-the-art library that is warm, cozy and inviting. It features thousands upon thousands of books on paper and electronically, as well as movies and additional media. (Source: Kwon Seonghoon)
The classic image of a library is one of quiet study: Long lines of desks filled with students and readers that lie in the foreground amid innumerable shelves filled with old classics. A space so quiet you can hear the faintest of sounds.
 While that is the traditional library, the Busan Metropolitan Library near Samnak Ecological Park turns the usual on its head. Opening last November, the library puts its focus into creating an open space, one replete with windows and access to the outdoors. This library is not exclusively for reading or studying. In addition to providing the traditional library experience with thousands of books and pieces of digital content, it also serves as a community space complete with an outdoor performance area.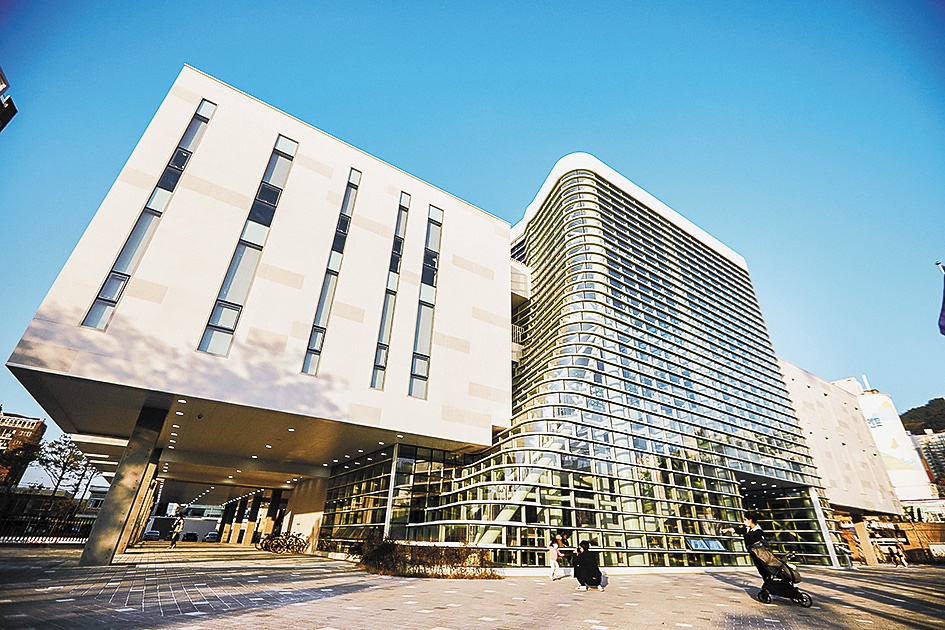 ◎ How to get there: Deokpo Station (metro line 2, exit 2). Walk about five minutes to the library.
◎ Hours: Hours vary from 9 a.m. to 10 p.m. depending on day and section of library, Tuesday through Sunday. Closed on holidays.
■ The exhibition hall
 To begin, we visit a small exhibition hall on the second floor. The hall changes exhibitions quar-terly, so there's always something new to see. There is no fee to pay, and it makes for a lovely calm stroll before moving on to the rest of the library.
 Running until May 9 is "Gomgomi Boda," a gallery of bear-themed art. Right away, it is evident that the Busan Metropolitan Library is no ordinary place.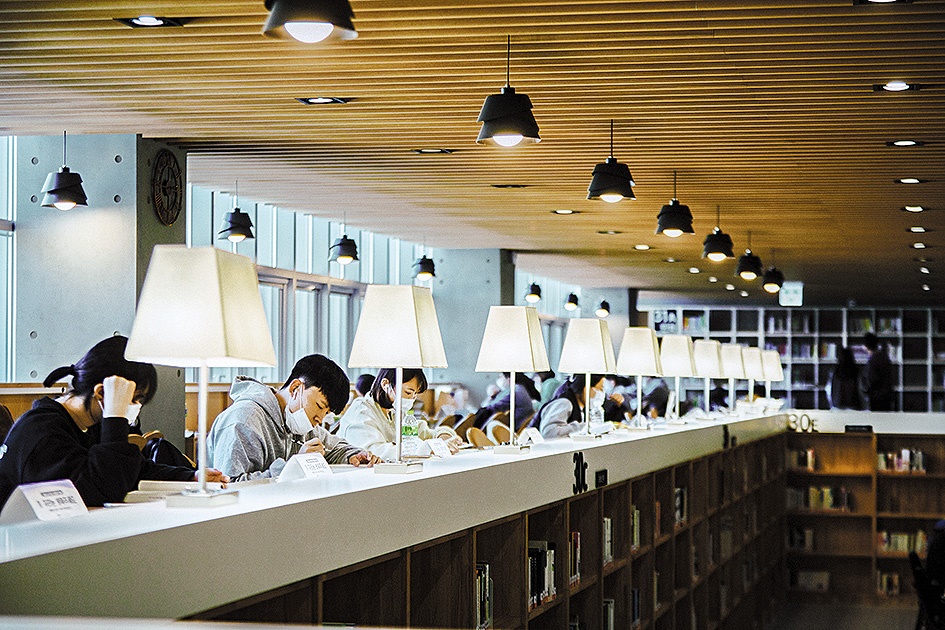 ▲ Visitors get work and reading done at Chaekmaru.
■ Chaekmaru
 When getting out of the exhibition hall and passing through the lobby, you'll come upon Chaekmaru, an area filled with bookshelves that are packed with things to read. In fact, the shelves present library visitors with over 40,000 books in world and domestic literature and history to peruse at their leisure.
 The center of Chakemaru, called the Sea of Wisdom, goes up through the third floor to climax with a fabulous glass window that lets natural sunlight in. Here is the traditional library complete with a warm interior, soft lighting and desks for reading and studying.
 Whether you're looking for a classic novel, a young adult work of fiction, a centuries-old Korean poem or a transcript of a political speech, you're likely to find it at Chaekmaru. But, Chaekmaru also houses much more than paperback and hardcover books. Explore the area's collection of cartoons, newspapers and magazines at your own pace.
■ Digital Zone
 Whereas Chaekmaru is a traditional section of the library, Digital Zone is where its modern aspect really shines. Also located on the second floor, Digital Zone provides over 43,000 e-books, audiobooks and DVDs for visitors to use as they please.
 Digital Zone is also an area useful for students and anyone seeking a little peace to get their daily tasks done. Computers are available for anyone wishing to work, print and scan materials or just enjoy a little quiet while taking a break.
 The movies that the Busan Metropolitan Library has on offer aren't limited to a small computer screen. To watch the DVDs, Digital Zone provides a theater available for up to four people at once for up to three hours a day. Reservations should be made prior to its use.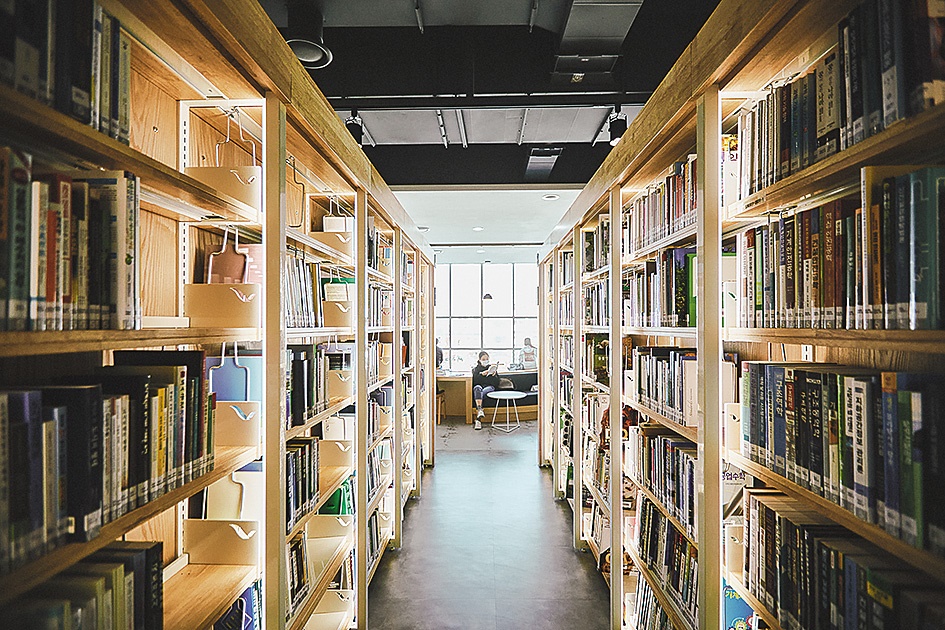 ▲ Shelves filled with books line Chaeknuriteo's halls.
■ Chaeknuriteo
 On the library's third floor, Chaeknuriteo may appear to be the same as Chaekmaru. It is, however, a different experience. Despite the similar atmosphere and surface-level appearance of bookshelves with almost 60,000 books, Chaeknuriteo specializes in more scholarly matters.
 Those seeking books in religion, philosophy, art or science may find what they're seeking thoughout the packed shelves. Books that deal in practical matters related to hobbies and foreign languages also call Chaeknuriteo home. Chaek-nuriteo is also a bit more spacious than its neighbor Chaekmaru, and it shares the same Sea of Wisdom space to make the experience of the library's patrons as comfortable, warm and inviting as possible.
■ Busanaetteul
 Linked to Chaeknuriteo, Busanaetteul is where you can find all things related to our city. Indeed, it feels as much like a museum as it does a library. Look through Busanaetteul to get a complete picture on Busan's history. Old books, posters and even past administration data are available across over 4,000 items waiting to be discovered and delved into.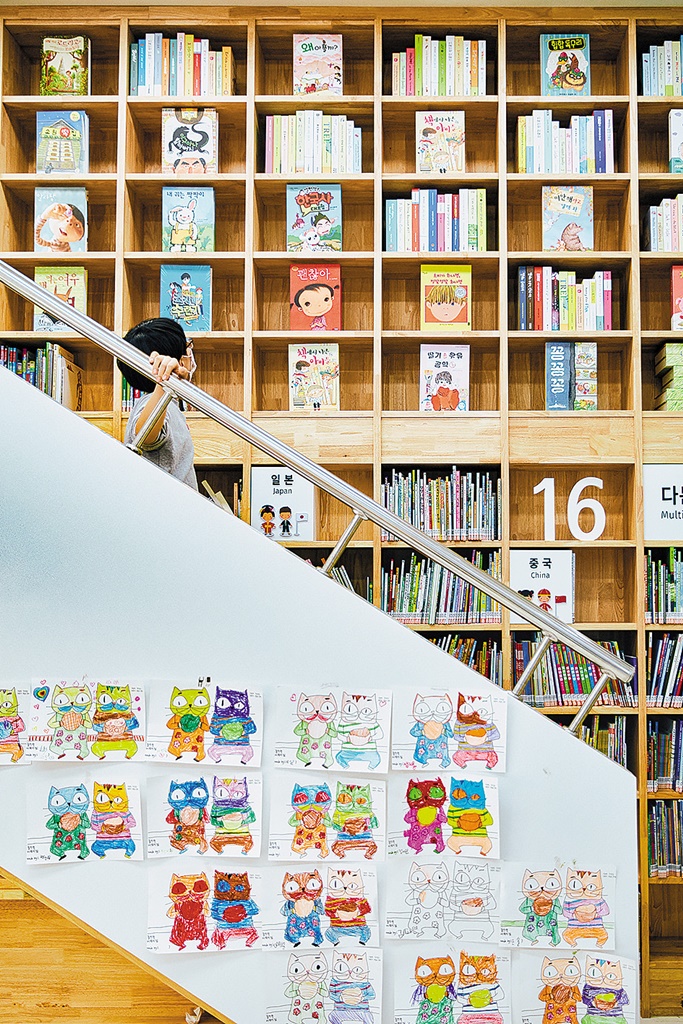 ▲ A child climbs a staircase looking for a great book to read.
■ Kkumtteurak Children's Library
 But, the Busan Metropolitan Library isn't limited to adults. The Kkumtteurak Children's Library provides everything kids need: over 23,000 books and encouragment to play and be curious. At the children's library, kids are able to dive into stories, fairy tales, and materials in many languages that help them learn to read, improve their skills and play with pictures and sounds. Those just young enough to enjoy colors and those looking to find a book in a foreign language are perfectly suited to enjoy Kkumtteurak. This is also one part of the library that doesn't have to be quiet; playing and reading aloud are encouraged to give children a fun and healthy learning environment.

▲ The Busan Metropolitan Library is a busy place filled with those looking to better themselves and get some work done.