Enjoy Busan
A Trip to the Moon in Busan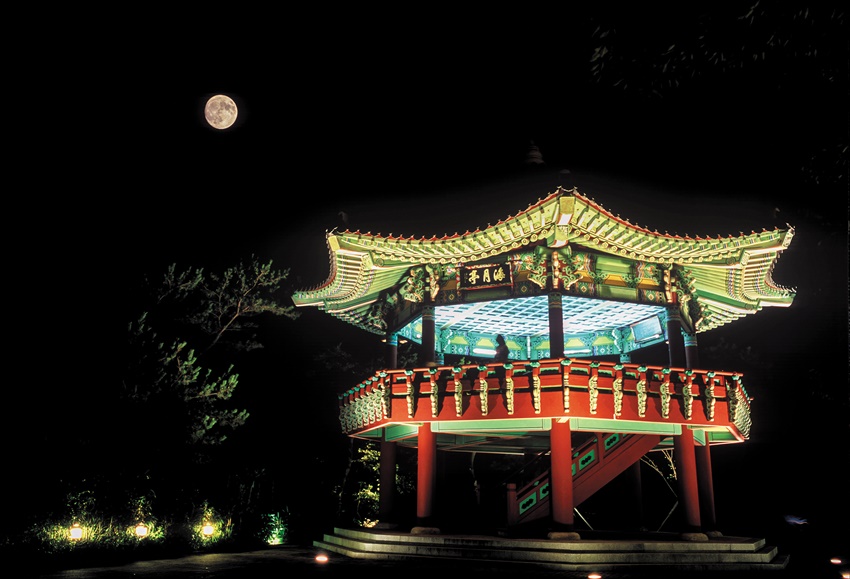 ▲ Haewoljeong pavilion in Haeundae is one of Busan's best spots for moon viewing. (Source: Haeundae-gu office)
The full moon might be a spooky symbol in Western culture, but in Asia it's a symbol of prosperity. The first full moon of the lunar new year is a holiday in Korea called Daeboreum. In the past, before adopting the solar calendar, Koreans celebrated for 15 days between Lunar New Year's and the first full moon, when resolutions were made and people tried traditional ways to attract good fortune in the new year. One tradition we can all enjoy is finding a spot to admire the full moon, not just in the clear winter sky, but reflected in the scenic water of the sea that surrounds our coastal city. Let Dynamic Busan introduce you to some of the best spots for viewing the moon in Busan.
▲ A visitor to Haeundae's Dalmaji-gil road enjoys the sweeping sea view.
● Dalmajigil Road
 Dalmajigil is a scenic road that climbs Wausan Hill under a canopy of cherry blossoms, pine trees and camellia from the eastern end of Haeundae Beach. Walking is the perfect way to take in the scenery while reaching the top. The route is especially good for nighttime walks. Stop at Haewoljeong Pavilion, halfway along the road, to take in a moonrise that is considered one of the seven best night views in Haeundae. From Haewoljeong, you can see the moon shining above the white sand and blue water of Haeundae beach. It seems so close you can reach out and touch it.
How to get there: Haeundae Station (metro line 2), exit 4. Take bus 100, 141, and 200 and get off at Mipo Moontan Road stop.
▲ A woman stands in front of the glowing moon statue near Songdo beach. (Source: Seo-gu office)
● Songdo beach
 Songdo is the oldest public swimming beach in Busan and one of the city's best places to view the moon while hearing the calm crashing of waves. It opened in 1913 and was Busan's most popular vacation spot before Haeundae and Gwangalli surged in popularity in the early 2000s. Now new attractions are bringing vacationers back. Songdo Marine Cablecar was Korea's first when it opened in 1964 but sadly closed after decades of operation in 1988. In 2017 it reopened. Now called Busan Air Cruise, it now travels four times as long as the original and features glass floors for unparalleled sightseeing. Also not to be missed are the beach's restored pedestrian suspension bridge, auto-camping site and coastal walking trail. Get extra close to the moon and take some signature Songdo pictures at the glowing moon statue in Songdo Ocean Park which lights up each night at 8 p.m.
How to get there: Busan Station (metro line 1), exit 7. Take bus 26 and get off at Songdo beach stop.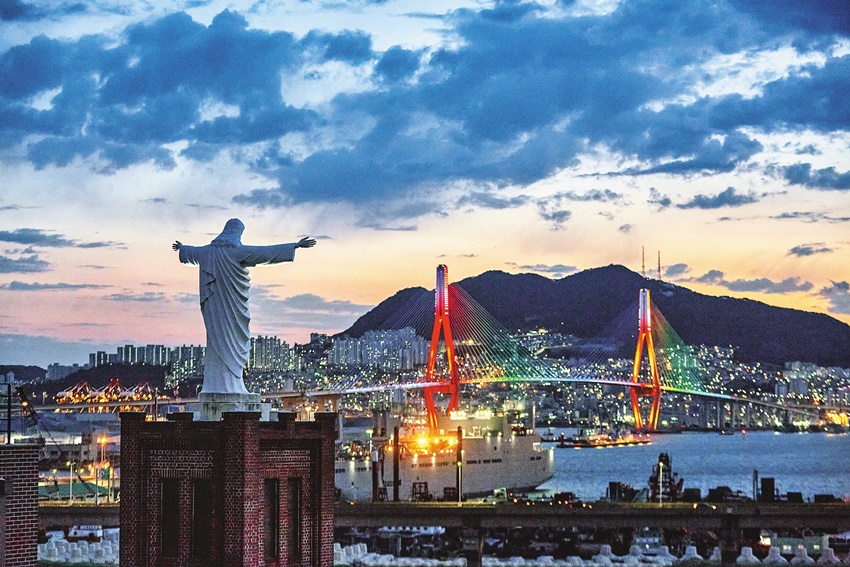 ▲ The colorful Busan Harbor bridge and the statue of Jesus atop Donghyang Catholic Church make Uam-dong Urban forest feel like a romantic movie set.
(Source: Kwon Seonghoon)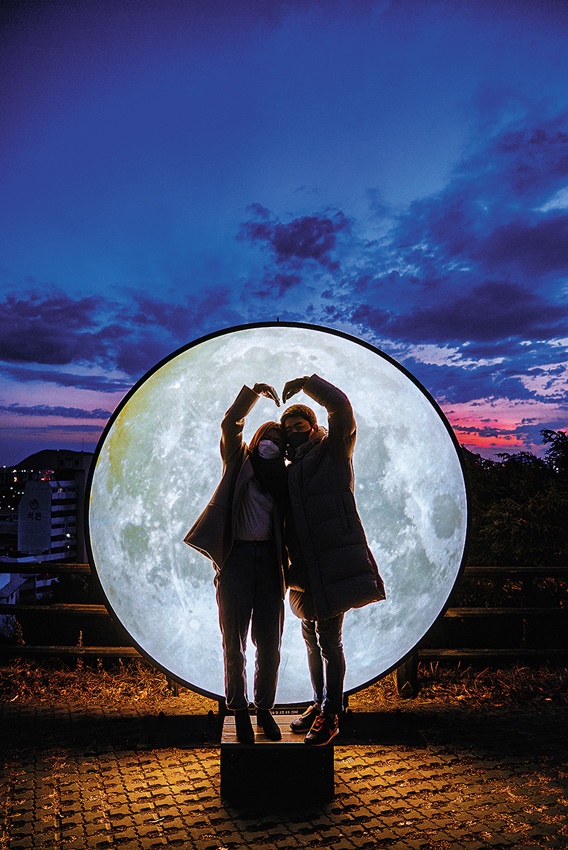 ▲ A couple takes a perfect silhouette photo at Uam-dong Urban Forest. (Source: Kwon Seonghoon)
● Uam-dong Urban Forest
 Uam-dong's Urban Forest is a moon-viewing spot that is trending on social media. Overlooking Busan Port, it was picked as one of the 100 best non-face-to-face fall tourist attractions by Korea Tourism Organization. The colorful lights of the Busan Harbor Bridge and the statue of Jesus at Donghyang Catholic church, which resembles the one in Rio de Janeiro, make the area feel like the set of a romantic movie. Find the glowing moon statue near the scenic viewpoint in Uam-dong's Urban Forest to take a perfect silhouette photo.
How to get there: Beomil Station (metro line 1), exit 8. Take Nam-gu village bus 3 and get off at Asan Apartment stop.