Enjoy Busan
Adios·Sayonara·Aloha 2020, Bonjour·Selam Alaykum·Ciao 2021
△ As the sun sets on what has been a difficult year for Busan, Korea and the world, celebrate the coming year by watching 2020's final sunset or by catching the first sunrise of 2021. (Source: Moon Jinwoo)
It's been a hard year, but 2020 is on its way out. And, while we have no way of knowing what's in store for 2021, it is still with optimism that we look upon the upcoming 365 days. So, how can we celebrate the end of this year and the beginning of the next?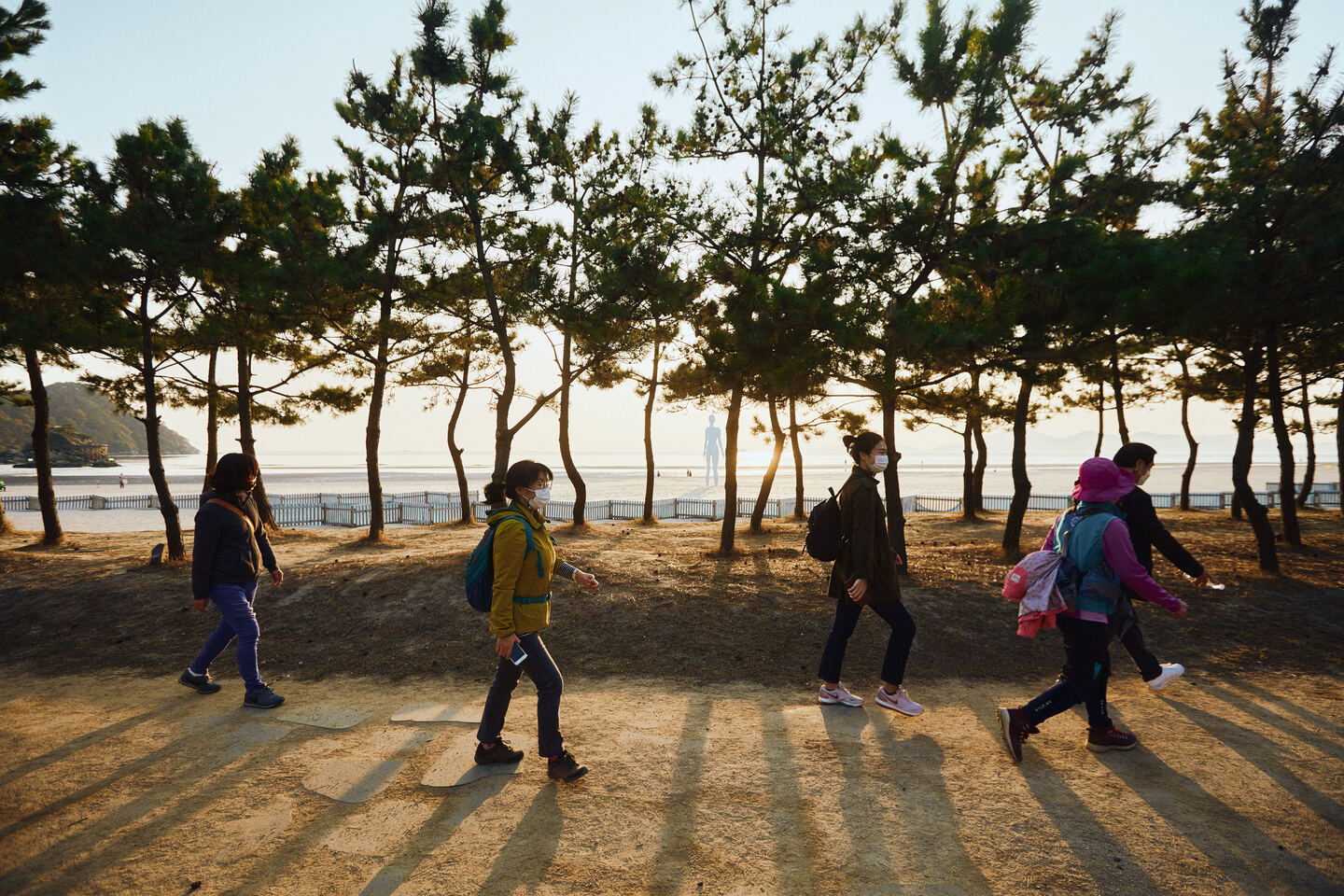 △ Visitors to Dadaepo walk along Sunset Road. (Source: Kwon Seonghoon)
Dadaepo Beach (다대포해수욕장)
As the sun sets on 2020, begin by visiting Dadaepo for Busan's best sunsets. Once out of the way beyond the reaches of the city's subway line, the orange line was extended to Dadaepo Beach in 2017. This improved access has brought a larger number of visitors to the area in recent years, many of whom go specifically to see the sun set.
Morundae (몰운대)
Of course, Dadaepo Beach is hardly the only place of note out west. Within walking distance of the beach are the cliffs of Morundae. The park may be lesser known than sites like Taejoengdae or Haeundae, but it's no less beautiful.
The cliffs were named "Morun" because of how hard they are to see on foggy or cloudy days. Over the years, soil and sand from the Nakdonggang River connected what was once an island to the mainland and made the geographical shape resemble a crane spreading its wings. With mythology attached to cranes since ancient times, it's no wonder Morundae is so important to Busanites.

△ Dadaepo is home to some of the city's best views of the sun. (Source: Kwon Seonghoon)
Dadaepo Beach Park (다대포해변공원)
Dadaepo Beach Park opened in 2015 and is home to the most scenic spots for picture-taking. With a wide tidal flat, the beach is quite different from Haeundae or Gwangalli Beach, giving Dadaepo Beach its own unique charm and setting.
Permanent fixtures from a previous Sea Art Festival and a swing among the park's pine trees give Dadaepo added character and an even more beautiful backdrop to take in a breathtaking sunset.
The park is also home to Gowooni Ecological Trail, a wooden deck built on a wetland spanning about 650 meters. Walk the trail and see what amazing plants and animals you can spot!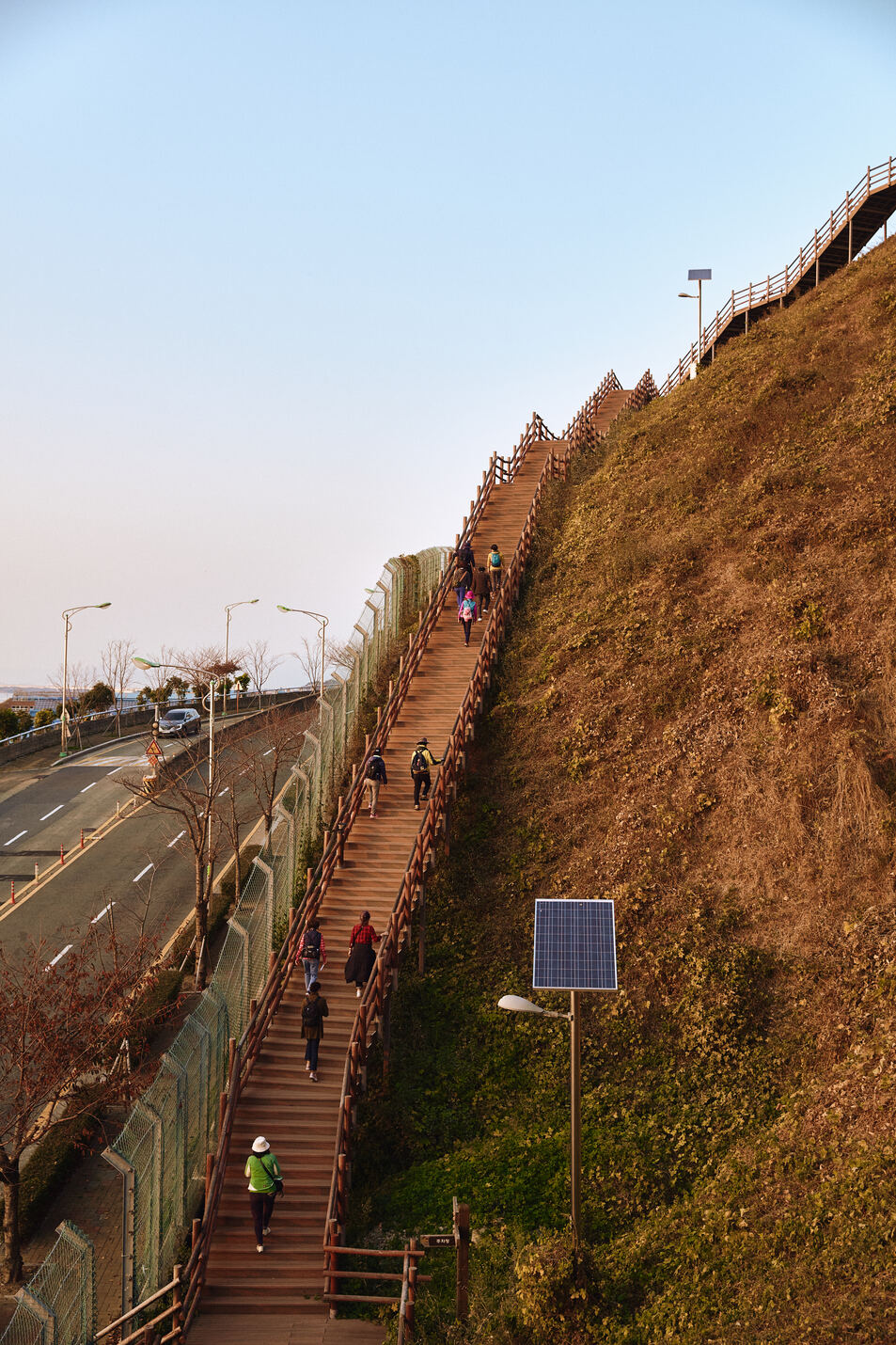 △ People all over Busan try to find the best sunset spots. (Source: Kwon Seonghoon)
Amisan Observatory (아미산전망대)
For one of the city's best sunset views, visit Amisan Observatory. Stretching three stories, you'll find art exhibitions on the second floor and a cafeteria and gift shop on the third. Have a coffee, and then head outside to a beautiful outdoor deck and walkway for a stunning sight.
Hours: 9 a.m. to 6 p.m. (The observatory cafeteria operates until 9 p.m.). Closed on New Year's Day and Mondays.
How to get there: Dadaepo Beach: Dadaepo Beach Station (metro line 1), exit 4. Amisan Observatory: Dadaepo Harbor Station (metro line 1), exit 1. Take Saha-gu village bus 15, and get off at Morundae Church stop.
Due to COVID-19, events may be altered or canceled at any time. Please consult the website of Busan City Hall for updates.

△ A picturesque sun sets over the calm of Imnang Beach. (Source: Jung Hanwook)
Imnang Beach (임랑해수욕장)
Despite its eastern setting, the sunset on Imnang Beach is also gorgeous. Located in the easternmost part of the city, it's one of the most popular attractions that Gijang-gun (county) has to offer. Famous for its green pine trees and calming waves, the beach is also the starting point of the Galattgil Trail.
The best time for sunset at Imnang Beach is between 4 and 5 p.m. Sip on a coffee or take in a satisfying meal at a nearby cafe or restaurant and enjoy the lovely view to your heart's content!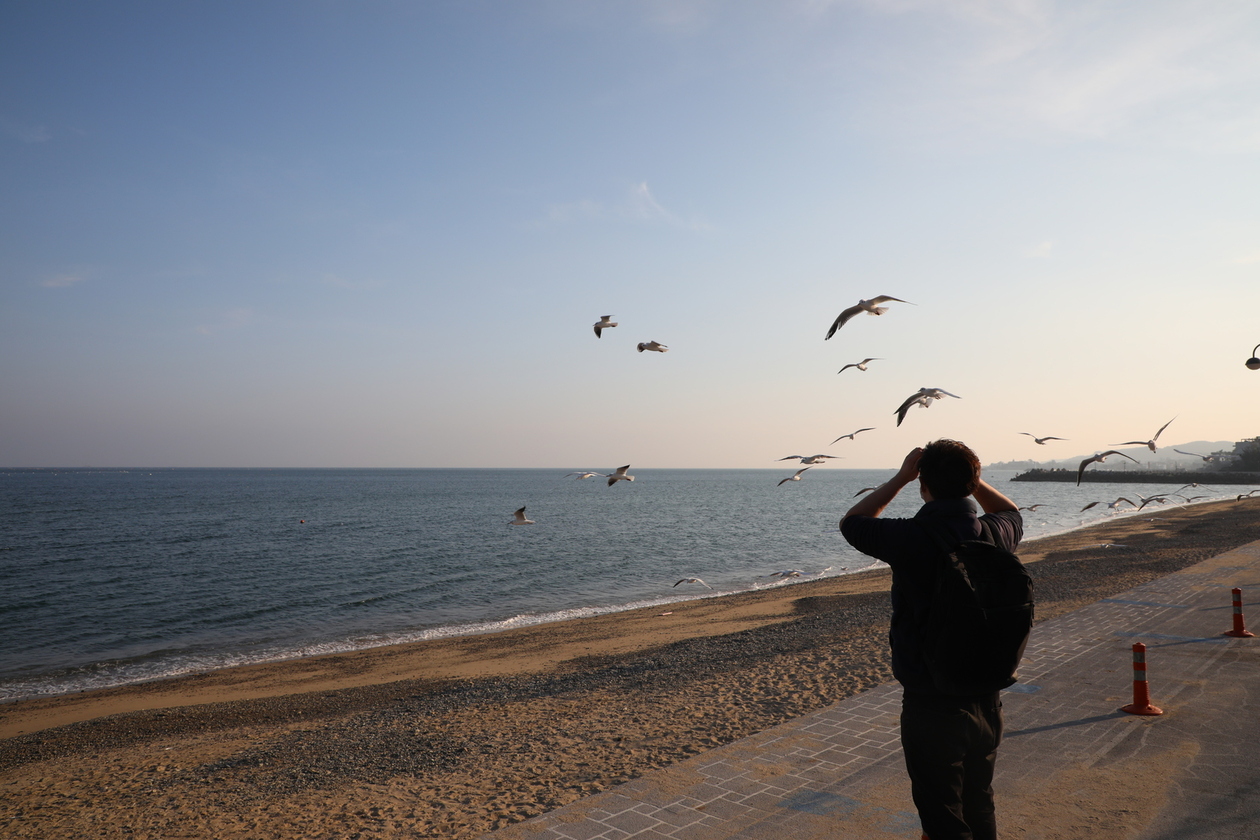 △ Imnang Beach is a quiet part of the city perfect for sightseeing. (Source: Jung hanwook)
Address: Imnang-ri, Jangan-eup, Gijang-gun
Phone: 051-709-5448 (Administrative Service Office)
How to get there: Ilgwang Station (Donghae Line), exit 1. Cross the street and take bus 180, 188 or Gijang-gun village bus 3. Get off at the Imnang Intersection stop.
Ring in the new year, literally
New Year's Eve is full of events to go to, but the city's most popular one is Yongdusan Park's bell tolling ceremony. The bell came to be via donations from generous citizens, and it is rung at the stroke of midnight on New Year's Day by a select group of people from all circles. The ceremony, however, begins at 11 p.m., and crowds begin to show up even before 10 p.m. to catch some of the pre-ceremony entertainment.
The plan at present is for a year-end concert to begin at 11 p.m. and for the big countdown to begin as the clock turns toward midnight.
How to get there: Nampo Station (metro line 1), exit 1. Take the escalator to Yongdusan Park.
The first sun of '21
Busan is famous for its sunrise, in large part because there are so many places to see it. Whether you're on the sands of Songjeong or Songdo or on Geum-jeongsan or Jangsan Mountain, it's easy to catch the sun as it makes its first appearance of the day. But, the two most traditional spots for the Jan. 1 sunrise are Haeundae and Gwangalli Beach.
More than 200,000 people visit Haeundae Beach on the morning of every New Year's Day. Usually, scores of Busanites and visitors greet the year on the beach by 7:30 a.m., when the Jan. 1 sun typically rises. In Gwangalli, Gwangandaegyo Bridge has a tradition of opening itself up to pedestrians who like to ring in the new year in truly unique fashion.
How to get there: Haeundae Beach: Haeundae Beach Station (metro line 2), exit 5 or 6. Go straight for five minutes. Gwangalli Beach: Gwangan Station (metro line 2), Exit 3 or 5. Walk 10 minutes down Gwangan-ro to the beach.