Enjoy Busan
Seek out that amazing autumn grass
As urban as Busan can be, the city is strewn over innumerable mountains and parks available to the public at any time. A walk in nature can do any Busanite a world of good, and given the current state of the world, is an activity that will give you peace of mind. Whether you live in the western reaches of town, by the eastern beaches or in the center of the city, you're bound to be near a mountain or park no matter where you are!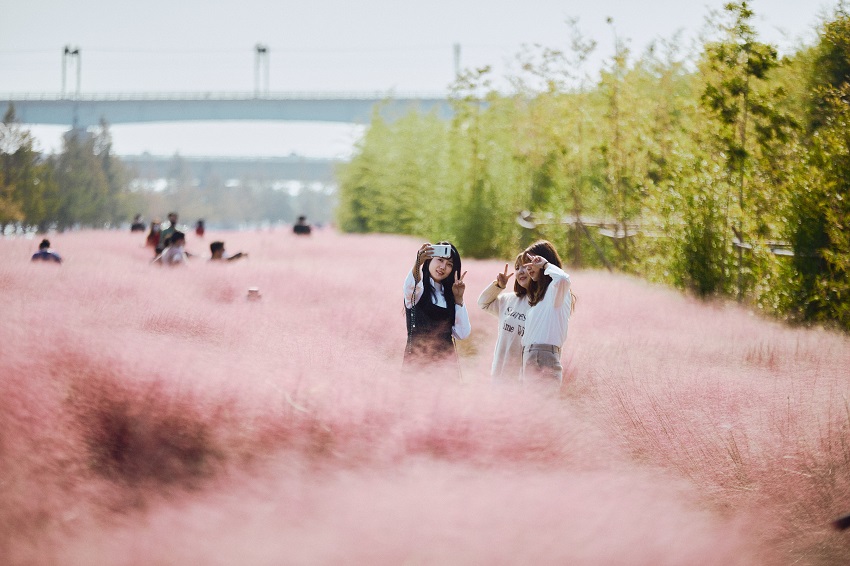 △ Vast fields of pink muhly grass are iconic parts of an autumn in Busan and provide great opportunities for pictures. (Source: Kwon Seonghoon)
One of the highlights of autumn in Busan is the foliage. Trees of orange, brown, yellow and red delight your eyes everywhere you look. While the trees are beautiful, silver and pink are also defining colors of a Korean fall. Silver grass and pink muhly can be found in locations all over town and will be some of the prettiest things you'll see all year!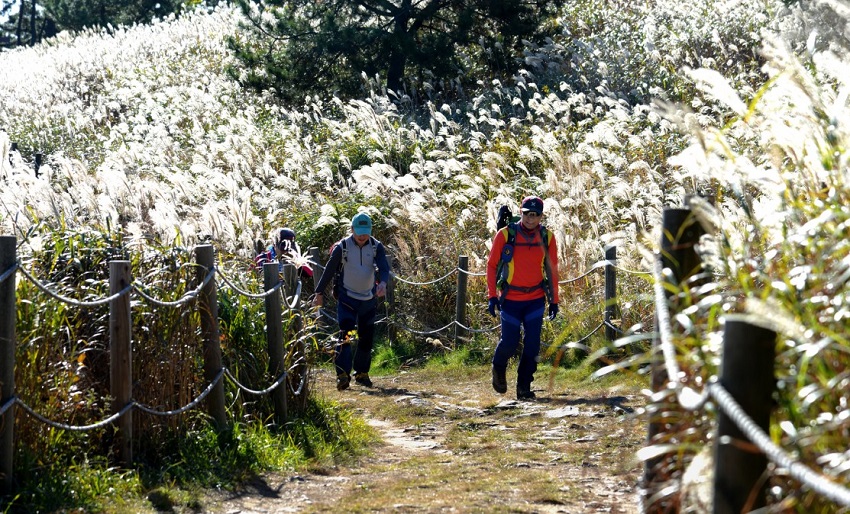 △ Jangsan Mountain's silver grass may grow taller than you. (Source: Haeundae-gu)
◆ Jangsan Mountain
Mountain is the city's third highest after Geum-jeongsan and Baegyangsan Mountain. It's also one of Busan's most popular destinations for a walk. Boasting gorgeous forests and waterfalls, it's easy to see why.
Jangsan Mountain is particularly popular with hikers on the weekends, due to its convenient location in the east. It's easily accessible from exit 10 of Jangsan Station (metro line 2), but visitors can also reach it via Jaesong, Banyeo and U-dong (neighborhood) and Gijang. Jangsan Mountain has a wide range of hiking trails, including one that goes around the mountain that's perfect for a stunning autumn day.
Among the many trails available to you throughout Jangsan Mountain, Dynamic Busan's number one recommendation is the one where you can easily see the silver grass fields and valleys famous to local residents. Walk 15 minutes from Jangsan Station through Daecheon Park to enter the mountain. It's a slightly uphill walk, but the park is beautiful and serves as an appetizer of sorts before you reach the main course of the Jangsan Mountain trails you're searching for.
Follow the signs conveniently placed and pay attention to the incredible sights along the way. On the trails and from the summit, you'll be able to see some of Busan's most iconic locales: Songjeong, Haeundae and Gwangalli Beach, the peaks of Hwangnyeongsan and Geumnyeonsan Mountain, and, on really clear days, Japan's Tsushima Island 50 kilometers away! You'll also have access to Marine City's skyscrapers and Gwang-andaegyo Bridge, and it's with this view of the bridge that many often enjoy the annual Busan Fireworks Festival. But, one of the highlights is a gorgeous field of silver grass that glistens in the afternoon hours.
On the way back down to Daecheon Park, enjoy Jangsan Falls and Pokposa Temple. Once you reach Daecheon Park, it will become clear that it's a really lovely spot, especially for families. You'll likely see parents and their children taking a walk, or kids and their friends enjoying themselves on bicycles and scooters.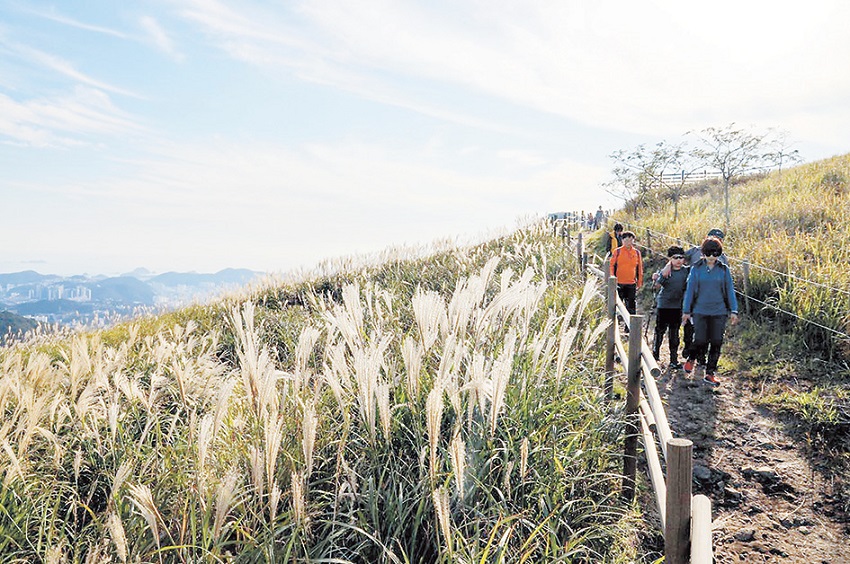 △ Seunghaksan is one of Busan's most beautiful mountains. (Source: Saha-gu)
◆ Seunghaksan Mountain
own from Jangsan Mountain and forms the boundary between Saha-gu (district) and Sasang-gu. It's home to one of Busan's most scenic hikes.
The name, according to legend, is derived from the mountain's shape, which resembles a crane soaring to the sky. But, this isn't its only connection with birds. At almost 500 meters high, it's possible to catch a glimpse of innumerable migratory birds flying around the mountain and the Nakdonggang River. And, like Jangsan Mountain, there's a great abundance of beautiful silver grass fields near the summit.
Our pick for the best trail on Seunghaksan Mountain is the also the easiest one: Take the village bus from Dangni Station (metro line 1), exit 1, and get off at Dongwon Benest Apartment. Here, hikers can easily access the trail, which is paved and well maintained.
On the way up, both Gadeokdo and Geojedo Islands will be visible. You'll also see the Nakdonggang Estuary and Dadaepo Beach Park. Cypress Trees will fill your senses and give you peace along the way. If you get tired, take advantage of the benches that lie along the trail for a quick break and a drink of water. Follow the signs to the silver grass fields. It'll take about 40 minutes to reach.
There's an observatory near the summit that's worth viewing. From there, you'll have an amazing view of Busanhangdaegyo Bridge, Taejongdae Park and Oryukdo Island. The descent is an easy one, and you can stop by the Openarts Flower Village in Seo-gu on the way back down. All in all, you're looking at a three-hour experience from start to finish.
△ Red, yellow, orange and brown aren't the only fall colors. (Source: Kwon Seonghoon)
◆ Busan Daejeo Ecological Park
There are five ecological parks along the Nakdonggang River in Busan. Among them, Dynamic Busan recommends Daejeo Ecological Park and Eulsukdo Eco Park, which are good for enjoying silver grass, pink muhly and other animal and plant life.
Daejeo Ecological Park was constructed in 2009 and is over seven kilometers long. There are exercise and recreation facilities as well as natural wet and grasslands. Notably, the park is where visitors can enjoy scenery that changes with every season and a wide variety of flora. Daejeo Ecological Park is most famous for its large collection of canola flowers that blossom in the spring, but it offers beautiful pink muhly and silver grass in the fall. No matter the season, the park is one of the best spot in town to take pictures.
How to get there: Gangseo-gu Office Station (metro line 3), exit 1. Go straight for 10 minutes.

△ Enjoy a beautiful fall sunset in the western part of town. (Source: Saha-gu)
◆ Eulsukdo Eco Park
Eulsukdo Eco Park, famous for its migratory birds, is four-and-a-half kilometers of beautiful nature. Restored from farmland in 2012, the area is now renowned for its bird watching, especially in winter when exotic birds make the banks of the Nakdonggang River their seasonal home. The park is also the centerpiece of the Nakdong Estuary Ecotourism Site and a host of other invaluable nature facilities that operate there, including the Nakdong Estuary Eco Center and the Wildlife Treatment Center.
The park usually contains silver grass and pink muhly, but the city is concerned about the number of visitors they draw during the autumn season. As a result, City Hall has determined that it will not display its annual field of pink muhly grass fields this year.
That being said, there are still some natural beauties to experience at Eulsukdo Eco Park. The venue's current highlight is the reed forest that runs along the Nakdonggang River. Around 4 or 5 p.m., the colors of the sky and the reeds make a moment perfect for taking pictures. And with an abundance of trails available, you can choose the one that's best suited to you. Bring your camera, because there's a lot to see!
How to get there: Hadan Station (metro line 1), exit 3. Take bus 3, 55, 58 or 168. Get off at Eulsukdo Island stop.