Enjoy Busan
Explore the majesty of Taejongdae Park
Busan has long been one of Korea's most popular tourist destinations. Whether for families going to the beach, old pals enjoying a hike or honeymoon couples strolling along the coast, the city has everything going for it. Its rocky cliffs and vast sea view is at its best at Taejongdae Park, which has been one of the nation's best spots to visit for decades.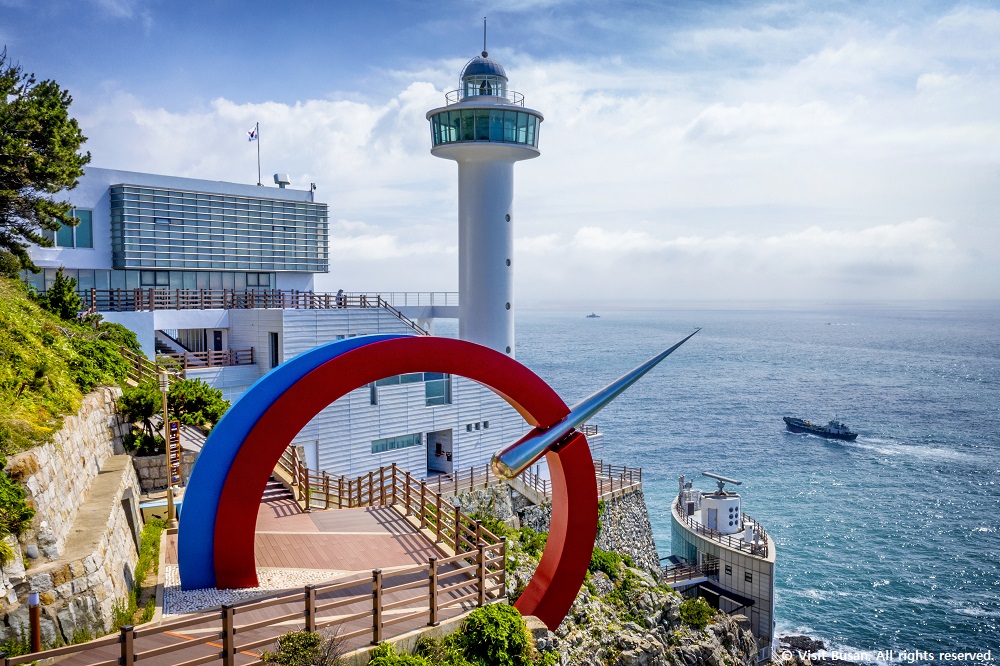 △ Yeongdo Lighthouse
Located along the coast of Yeongdo-gu (district), Taejongdae Park is covered with over 100 species of trees and is home to amazing views of Korea's gorgeous nature. On a clear day, visitors can see Japan's Tsushima Island, located more than 50 kilometers away.
Taejongdae Park was once used as a military base, and access for citizens was restricted until 1969, when the area was turned into a tourist destination. The park was designated by the state as cultural property in 2005 and was recognized as a national geological park in 2013. Overall, the park has been beloved by Busanites for years.
Hours: 4 a.m to midnight
The circular road is open to visitors until midnight, but access to coastal areas
such as the lighthouse pebble beach is restricted after 8 p.m. for military operations.
How to get there:
1. Busan Station (metro line 1), exit 7. Take bus 66, 88 or 101, and get off at Taejongdae stop.
2. Nampo Station (metro line 1), exit 6. Take buses 8, 30 or 186, and get off at Taejongdae stop.
Origin
The history of Taejongdae dates back to the Silla Dynasty, which ruled the peninsula from 57 BCE to 935 CE. It is said that King Taejong Muyeol, the 29th ruler of the historical kingdom, came to the area to take part in archery and was also present to defeat invading Japanese forces. King Taejong of the Joseon Dynasty is also known to have visited Taejongdae in 1419 to wish for rain. Since then, Taejongdae Park has become a symbolic location for folks to make the same wish; the rain that falls in the spring is even known as Taejong Rain.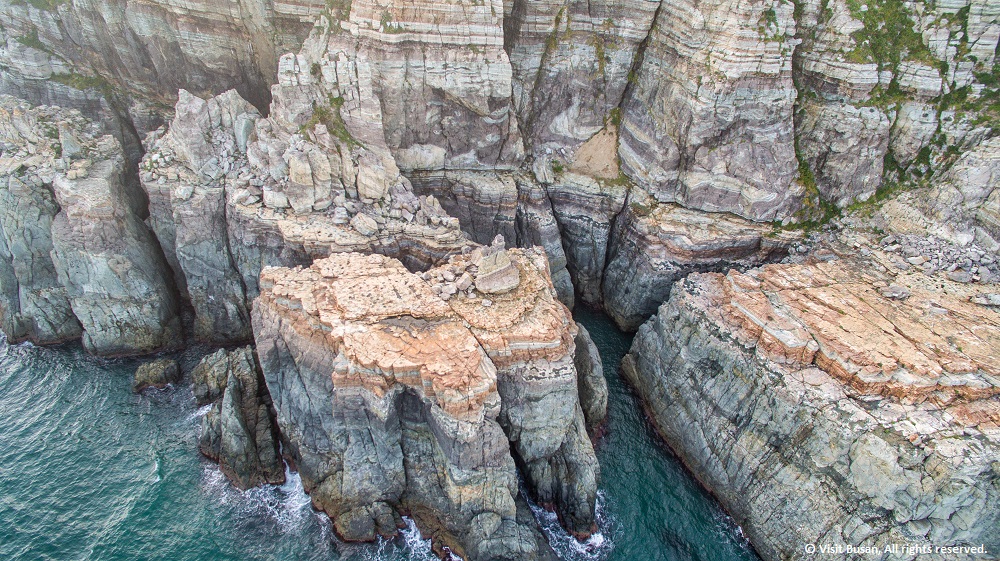 △ Sinseondae Terrace and Mangbuseok Rock
Sinseondae Terrace and Mangbuseok Rock
About 30 meters away from Taejongdae's lighthouse, there are two rocks pointing toward the sea. The wider one on the right is Sinseondae Terrace. In the past, Taejongdae was known as Sinseondae, because it had beautiful scenery where sinseon (mystical Taoist hermits) would stay. There is also a legend that fairies would come to earth to play and bear children. Because of this, legend has it that pregnant women can pray to the great kings of the past and bring fortune upon their children.
Another myth surrounds Mang-buseok Rock, which is the sharp standing formation next to Sinseondae Terrace. Long ago, a faithful wife began waiting for the return of her husband, who was captured by the Japanese. Turning into the stone, she forever sits in anticipation for her husband's return. Unfortunately, access to Sinseondae is currently restricted to visitors, due to risk of falling rocks.
South Port Viewing Point
Another great area for views lies along the circular road located between the observatory and the park's boat quay. The South Port Viewing Point is a fantastic place to see a panorama of the famous Busan Namhang Port. Wooden decks and stone benches were installed specifically to take in the stunning night view. So, bring a blanket, take a seat, and enjoy an incredible view in some even better autumn weather.
Yeongdo Lighthouse
ory spanning more than 100 years. It was built in 1906 for the safety of Japanese military and transport ships. In 2004, the lighthouse was converted into a marine culture space that contains a natural history museum, a library, a cinema, a gallery and an outdoor theater. The structure is also next to an impressive red circular structure that juts out to the sea and makes for a great backdrop for photos.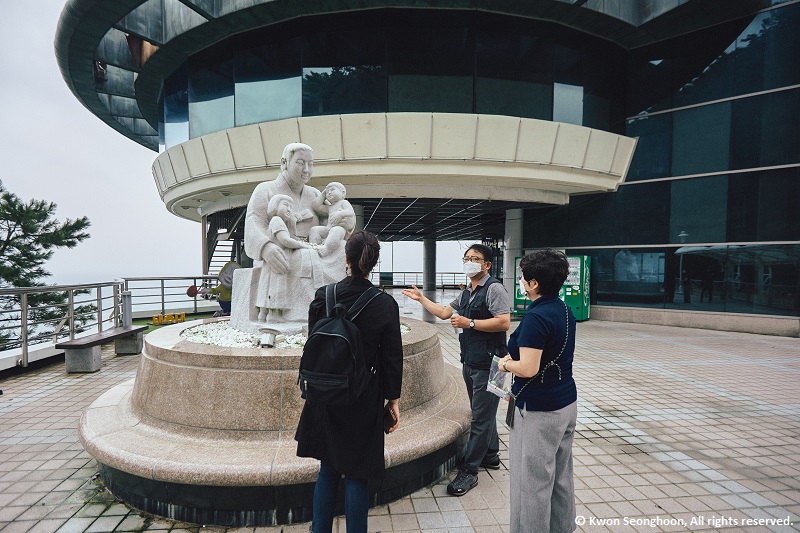 △ Mojasang located next to the view
The view
The view from Taejongdae is the park's pride and joy. From an observatory looking east, you'll see Busan's Oryukdo Island and Japan's Tsushima Island. You'll also find the morbidly-named Suicide Rock as well as "Mojasang," a statue of a mother and her child installed to discourage would-be jumpers from ending it all.
Jagalmadang (pebble beach)
Taejongdae Park is home to three pebble beaches that are free for visitors to enjoy and gorgeous to look at. Those who go to Taejongdae can go to any of the beaches to enjoy seafood sold by local merchants, appreciate the scenic view, take selfies and other fun pictures and to release as much stress as they possibly can. You can find the first pebble beach at the bottom of Yeongdo Lighthouse, but there are also two more. One is named Taewon, and it's located near the boat quay. One final pebble beach, named Gamji, is found at the bottom of Taejongdae Park's main gate.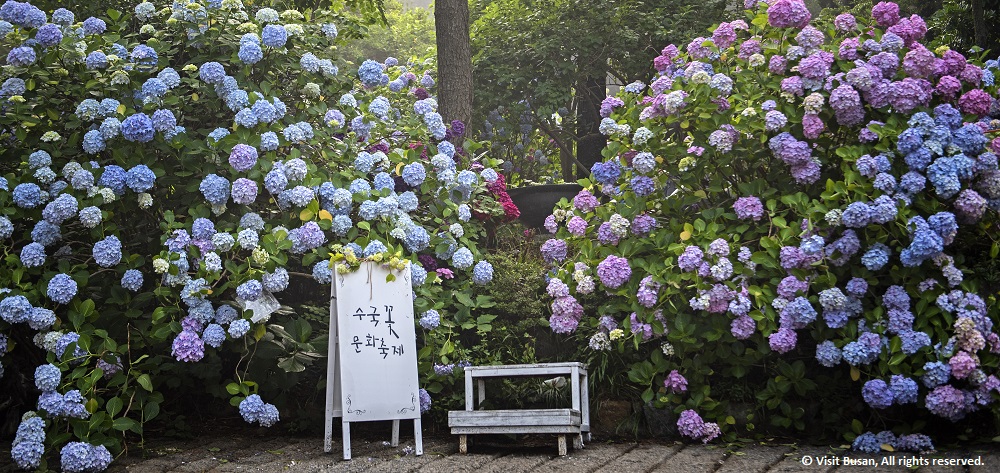 △ Hydrangeas blooming in Taejongsa
Taejongsa and Gumyeongsa
There are two temples in Taejongdae. Taejongsa Temple, famous for its hydrangeas, was built in 1976. About 3,000 hydrangeas are in full bloom from June to September, and there is an annual festival devoted to the flower every July. A monk who likes to grow flowers has been collecting and planting them for over 40 years. Gumyeongsa Temple was constructed in 1976 to discourage people from jumping off the cliffs. In 1983, the temple received a donation from the Sri Lankan government that included sacred Buddhist items.
Monument Dedicated to the Medical Assistance Units in the Korean War
The Monument Dedicated to the Medical Assistance Units in the Korean War was built to celebrate Denmark, India, Italy, Norway and Sweden for their medical assistance to the country during the Korean War. This monument is also visited by veterans of the conflict whenever they come to Busan.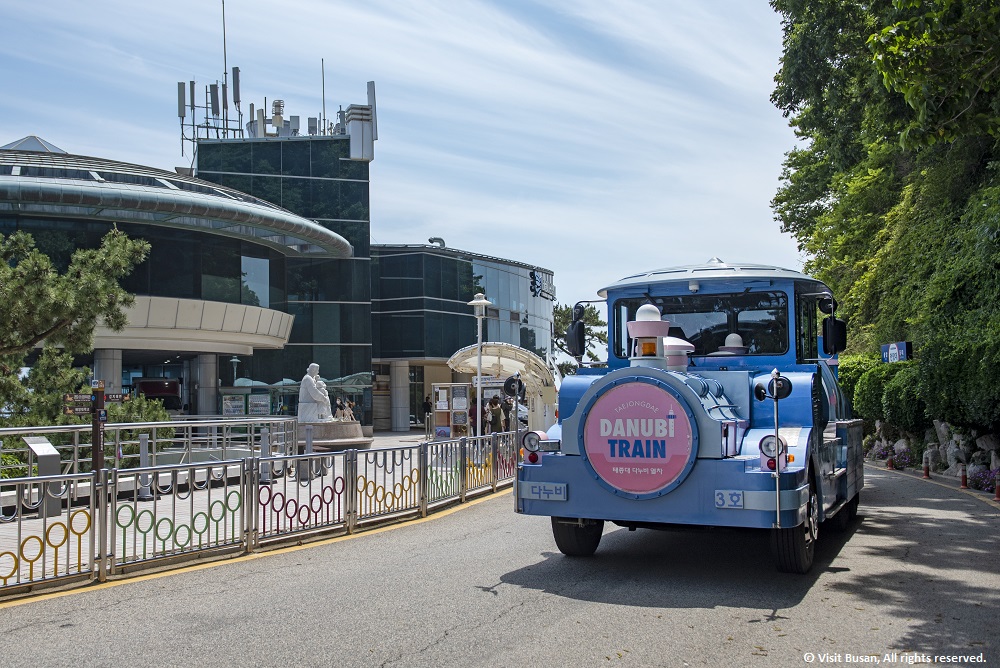 △ Taejongdae Danubi Train
Taejongdae Danubi Train
If it's difficult to walk for whatever reason, catch the Taejongdae Danubi Train that runs along the circular road. The small bus-like vehicle takes park visitors to every stop worth seeing and lets riders enjoy the scenery along the way.
Service hours are from 9 a.m. to 5:30 p.m. The fare is 3,000 won for adults, 2,000 won for teenagers and 1,500 won for children. In the event of bad weather, train service will be suspended.
Taejongdae Ferry
There are four marinas in Taejongdae, and boats are available for tours. The vessels depart from the dock and take about 40 minutes to circle a course ecnompassing the observatory, Jujeonja Island, Mangbuseok Rock, Sinseondae Terrace, Yeongdo Lighthouse and the Oryukdo Islets.
Lighthouse Cruise: 051-405-3434
Taewon Cruise: 051-403-9098
Gonpo Cruise: 051-405-2900
Milky Way Cruise: 051-405-3989