Enjoy Busan
Say goodbye to people at these crowd-free destinations
Enjoy Busan - Untact Travel
Tourism industries around the globe are facing a new paradigm in a world engulfed by the COVID-19 pandemic, and Korea is no exception. This new model includes people's preferences for quiet, often rural, relaxation far away from others.
In line with this trend, the Busan Tourism Organization is finding new destinations in the city for visitors to safely spend time with their friends and families. In July, the organization selected 10 places including Daejeo Ecological Park, Jangsan Mountain and Dadaepo Beach. And while those locations are great to visit, they are a bit on the crowded side these days. With that in mind, here are five natural and remote areas that form part of Busan's road less traveled. Best of all, every destination on this list is free of charge.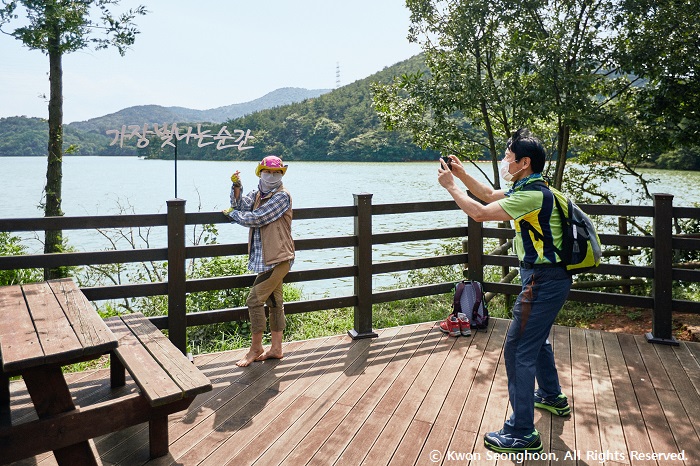 △ The Hoedong Reservoir offers opportunities for walking, taking pictures and, most importantly, getting away from Busan's daily crowds.
◆ Hoedong Reservoir
Measuring 20 kilometers, the Hoedong Reservoir is the city's largest lake, as well as a source of drinking water to millions of Busan residents. It was designated as a water supply protection zone in 1967, but residents were finally able to visit the body of water in 2010. Now, picturesque restaurants and quaint cafes nearby give visitors reason to stay even longer.
Three years after the reservoir opened to the public, Busan developed a walking trail around the it, comprising of a red clay path, a cypress forest and observation decks. The city completed an additional two-kilometer eco trail from the clay path to the Bueongsan Observatory last June, so if you haven't been to the reservoir for a while, now may be the best time to go back!
The trek on the clay path begins with a mural and photo zone depicting the myth of Hoedong, also known as Oryundae. Legend has it that Oryundae was so beautiful that five Taoist hermits with miraculous powers came down from heaven to enjoy its beautiful nature. The mural at the entrance to the walk displays the hermits, including one that symbolizes the mural's viewer.
The clay path is one kilometer long and very soft and cool if you want to walk it with no shoes on. Should you decide to walk barefoot, you'll have a chance to clean your feet at the end. You can rest along the way on the numerous seats and benches and enjoy a sunny day's breeze to make the journey as leisurely as you like.
After finishing the path, you'll come across a bamboo forest and a slope to the Bueongsan Observatory. Bueongsan is 175 meters high and gives you a view of the entire reservoir, the shape of which you'll notice is similar to that of the Korean peninsula. But you'll also be able to see some of the city's other iconic mountains from where you stand, including Geumjeongsan and Jangsan, which are both excellent hiking destinations.
Address: 121, Seon-dong, Geumjeong-gu
How to get there: Jangjeong Station (metro line 1), exit 4. Take Geumjeong-gu village bus 5, and get off at Oryunbon-dong stop.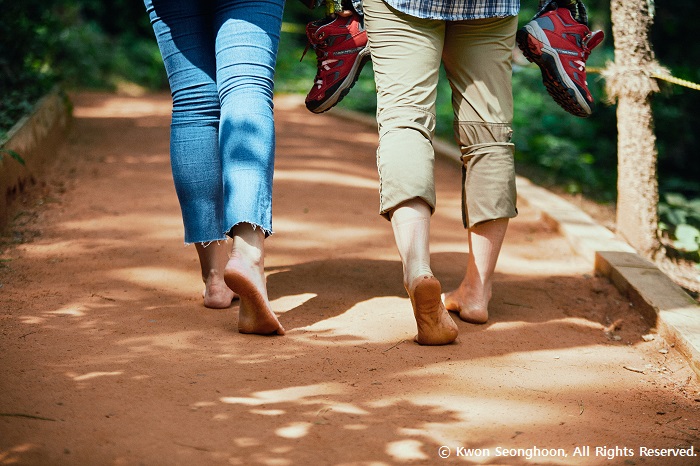 △Take off your shoes and walk along a gentle clay path.
◆ Busan Healing Forest
One of many ecological forests the national government has planted throughout the country, the Busan Healing Forest uses scents and landscapes to enhance immunity. It opened in 2017 and is over one-and-a-half million square meters in size. Its central trail is an accessible wooden deck that takes adults no more than 40 minutes to complete at a leisurely pace.
Address: 101, Cheolmacheon-ro, Cheolma-myeon, Gijang-gun
Phone: 051-976-2831~3
How to get there: Beomeosa Station (metro line 1), exit 2. Take Gijang-gun village bus 2-3, and get off at Busan Healing Forest stop.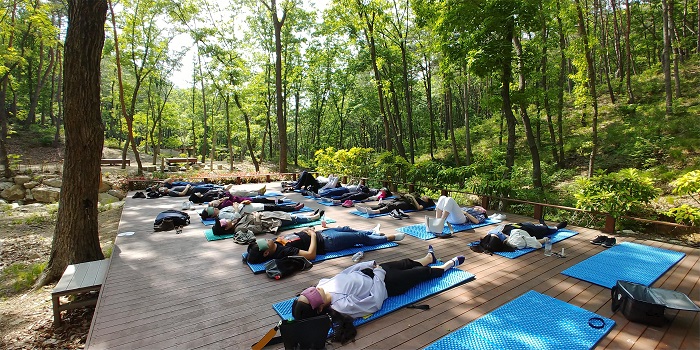 △Melt away your worries at the Busan Healing Forest.
◆ Amir Park
Busan's Amir Park was also selected as a tourist destination best suited to avoid crowds. Located next to the Korea National Maritime Museum in Yeongdo, the park is 600 meters long, 38 meters wide and was created by dredging soil from the city's northern port.
The name of Amir Park originates from the Guryong neighborhood, the old name of the area near the Korea National Maritime Museum, and is a combination of a (foal) and mir (the old Korean word for "dragon").
Trails lead from both sides of the lawn, and there are reclining chairs around the promenade for relaxation. It is well equipped with grass, lights, performance halls and lush zelkova and huckleberry trees.
Although right in the middle of the city, Amir Park is a site rarely visited, because most everyone who visits this part of town heads to the Korea National Maritime Museum. This is an unfair slight to the tourist attraction, as Amir Park's scenery and breathtaking view of the city are sights that are not to be missed.
Address: 1165, Dongsam-dong, Yeongdo-gu
How to get there: Nampo Station (metro line 1), exit 6. Take bus 66 from Yeongdodaegyo Bridge stop, and get off at Korea National Maritime Museum stop.

△Pay your respects at the UN Memorial Cemetery.
◆ UN Memorial Cemetery and Peace Park
The UN Memorial Cemetery and Peace Park near the Busan Museum are two tranquil spots to relax both body and mind. The UN Memorial Cemetery is the final resting spot of international veterans of the Korean War. It is 113,701 square meters wide and currently holds the remains of 2,309 people from 11 countries. The service members are buried according to country, which is made clear by the flags and monuments that adorn the facility's vast lawn. More than 10,000 flowers and plants of 80 species exist here, and thousands of trees were planted along the outer edge of the park to make the sounds of the city inaudible from inside.
The Peace Park, which borders the cemetery, is 32,893 square meters wide and was created during the APEC summit in Busan in November 2005. Equipped with ponds, grass fields, walking and jogging paths, ground fountains, sculptures and shelters, the park is one of Busan's most calming places, as well as one of the city's greenest; dozens of thousands of plants and trees call the park home.
Address: 93, UN pyeonghwa-ro, Nam-gu
How to get there: Motgol Station (metro line 2), exit 3. Take Nam-gu village bus 9, and get off at UN Peace Park.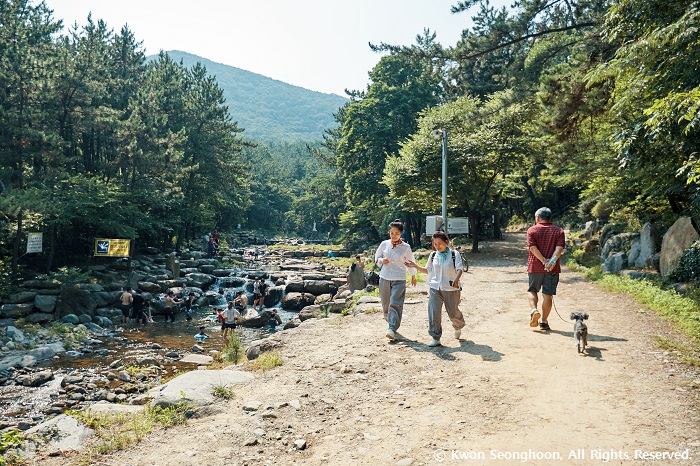 △Enjoy a brisk hike toward the top of Jangsan Mountain.