Enjoy Busan
Coast from Songjeong to Cheongsapo
Songjeong Beach is the perfect city summer getaway. Whether it's to enjoy sunbathing on its vast shore, to discover the many food options nearby or to take a surfing lesson, there are plenty of reasons to pay this beach a visit.
One of the most marvelous things to explore from Songjeong is the Dullegil trail, which sets your eyes upon blue skies, sparkling water and green forests.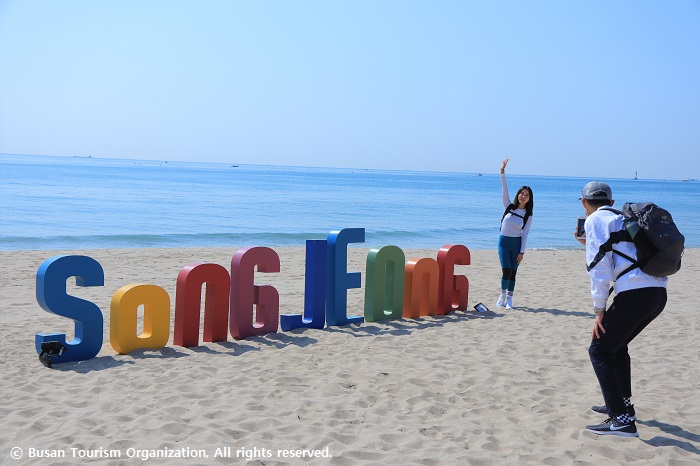 △ Songjeong beach is Busan's surfing hotspot and is very popular with families and friends alike for a great day at the beach.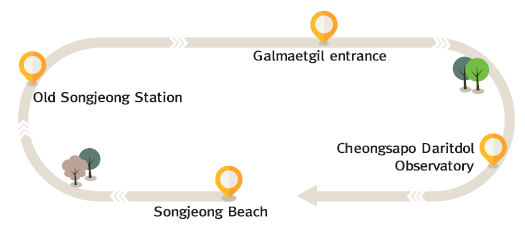 Course: Songjeong Beach, Old Songjeong Station, Galmaetgil entrance, Cheongsapo Daritdol Observatory, Songjeong Beach
Required hours: About two hours
Distance: Seven kilometers
How to get there: Walk 15 minutes from Songjeong Station (Donghae line) to Songjeong Beach.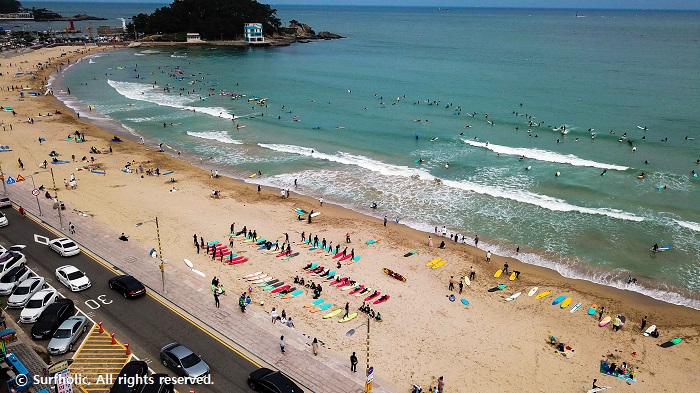 △ Whether you go surfing or swimming, Songjeong beach has everything you need for a great summer day.
Songjeong Beach is smaller than both Haeundae and Gwangalli, but it's popular with surfers and is the start of your day. The trek from Songjeong to Cheongsapo begins with a charming set of train tracks that stretch all the way to Haeundae Mipo. They set out from the old Songjeong Station, which is no longer operational, and they provide the setting for one of the best places in Busan to take fun and beautiful selfies and photos with friends.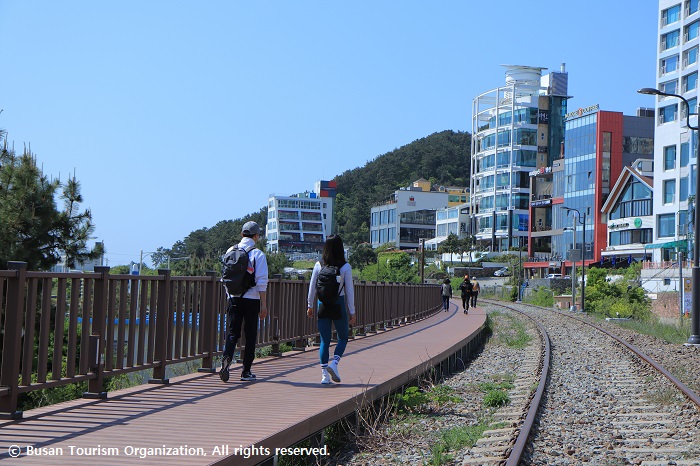 △ Scenic train tracks guide you along your way.
Speaking of the old train station, it was constructed during the Japanese colonial era to transport mineral products and seafood. It has been re-purposed into an art gallery of photographs and artwork made by local artists. Recognized and appreciated by Busan for its historical value, the train station became part of Korea's registered cultural heritage in 2006.
To begin trekking in earnest, you have to enter through a somewhat obscure location via a narrow passage left of 303 Hwadeok, which is located at the end of Songjeong Beach. Look for a sign of entry and walk into a forest paradise. With green trees to your right, blue waves to your left and summer skies above you, take in the view and fresh air and walk on.
About a half hour into your trek, you'll find an observation deck with a great view of Cheongsapo Daritdol Observatory. At 20 meters tall and 72.5 meters long with a half-moon shaped transparent bottom, you'll feel a real thrill of walking on the sea here!

△ The Cheongsapo Daritdol Observatory.
"Cheongsapo" translates to "blue snake" in English, and that'll make a lot of sense from this angle. Legend has it that the dragon king of the sea helped a woman find her husband after he failed to return from a fishing trip. The king sent a blue dragon to retrieve the husband, and the couple were reunited.
March on to the observatory itself and take a look at the water below you through the transparent floor. Sunset and sunrise are definitely peak hours where Cheongsapo's coastal scenery shines brightest.
About 20 minutes after that, you'll come across Cheongsapo Village and its iconic red and white lighthouses. To return to Songjeong Beach, walk 20 minutes along the deck, but if you want to stay in Cheongsapo, find some grilled clams and trendy cafes and enjoy yourself to the fullest!

△ Surfing at Songjeong.
◆ What to do in Songjeong
⊙ Surfing: With waves coming from the eat and south, Songjeong is Busan's go-to destination for surfing. The surfing area is separated from the general swimming area, so safety isn't an issue. For those looking to learn how to surf, there are plenty of schools around, in addition to a plethora of rental services for beginners and experts. Surfholic, one of Busan's largest and most well known surfing schools, is a good place to start for novices. The establishment is located at 50 Songjeonghaebyeon-ro, Haeundae-gu. Visit surfholic.co.kr for more information.
⊙ Cafe Street: There are many pretty cafes and Italian restaurants around Gudeokpo at the end of Songjeong Beach, and they've become a famous spot for taking pictures to post onto Facebook and Instagram. Take a break from your walk and enjoy an ice-cold latte!
⊙ Jukdo Park: Jukdo Park is located at the end of the left side of the beach. Enjoy a relaxing forest walk and take in the beauty of Song-Iljeong Pavilion.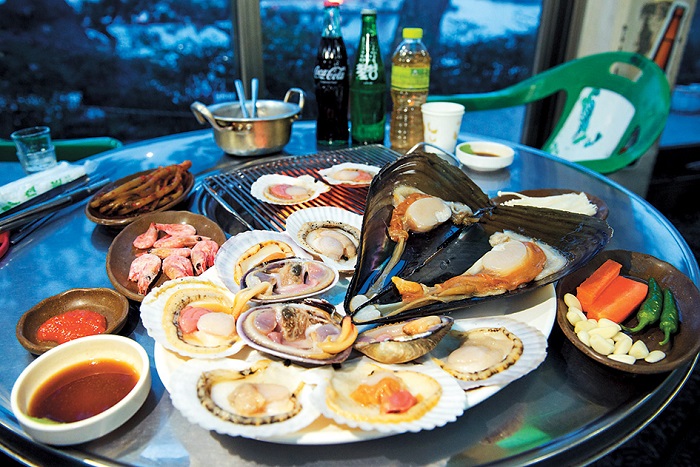 △ Chow down on the freshest seafood in the city in Cheongsapo.
◆ What to eat in Cheongsapo
⊙ Grilled Shellfish (Jogae-gui): There are more than 30 seafood restaurants waiting for you in Cheongsapo. Grill vegetables with clams and cheese and eat them together with spicy red pepper paste sauce. Add seafood ramen, beer and soju to the mix, and you have a wonderful night in store! Among the many clam joints of Cheongsapo, Suminine (수민이네) is a must-visit. It's been talked about on TV, radio, newspapers and online and gives diners the chance to grill their own clams, which run 35,000 won for two to three servings. Suminine is located at 118, Cheongsapo-ro 58beon-gil, Haeundae-gu and operates from noon to 8 a.m. the following day.
⊙ Hoe: Hoe is raw fish chopped into thin slices. As Cheongsapo is a former fishing village that is on the South and East Sea, the area is rich in high-quality raw fish at low prices. Find an outdoor spot with a sea view for a perfect evening.
⊙ Dessert Cafes: Spots for sugary drinks and bingsu (shaved ice dessert) have become more in-demand than ever before.