Enjoy Busan
Seven Busan beaches, unlimited good times
Busan is Korea's most famous coastal destination, and it's easy to see why: Seven beaches are there for the enjoyment of the city's residents and tourists, and they all offer unique experiences. So, where are the hottest spots for fun, sun and seafood? We've got the summer scoop you need!

△ Haeundae is one of the country's largest beach​es.
Haeundae
The first destination that comes to the minds of most when Busan is mentioned is Haeundae, the country's largest beach. Vacationers from all walks of life on the peninsula flock to Haeundae Beach in the summer to cool off in its refreshing waters. It's no surprise either that folks can enjoy the location at any time of day. Beachgoers can take a dip in the sea, float on tubes and toss a frisbee around with their pals. After the sun sets, diners and drinkers set their sights on the restaurants and pubs that line the shore.
Those staying overnight have the enviable position of sleeping in comfortable hotels. The Westin Chosun Busan, Paradise Hotel, Signiel Busan and Grand Joseon Busan are just some places that offer food and a great night's sleep to travelers.
How to get there: Haeundae Station (metro line 2), exit 3 or 5. Go straight for 10 minutes.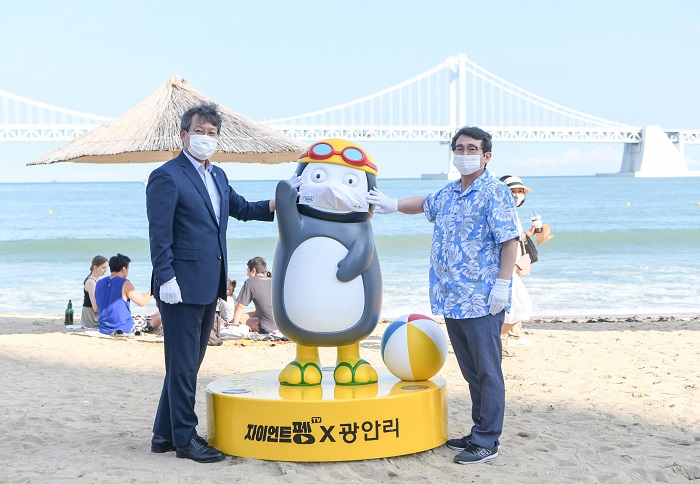 △ Busan acting mayor Byun Seongwan (left) and Suyeong-gu head Kang Sungtae (right) pose with Pengsoo in Gwangalli.
Gwangalli
Grab your best girl or guy and head to Gwangalli Beach for great fun no matter what time it is. During the day, a glut of marine sports and activities are available to you. Get in a kayak, hop on a banana boat or stand on a paddle board and take in the sun. Grab a craft beer and enjoy a burger at one of the many pubs and restaurants on the water.
Alternatively, Gwangalli is perfect for a romantic summer evening. The splendid LED lights of Gwangandaegyo Bridge bring a vibrant energy not found in other places around the city. Of course, a beach is measured by its seafood, and Millak on Gwangalli's eastern shore is chock-full of it via restaurants, fish markets and tents.
Gwangalli Beach now features appearances by Pengsoo, the giant penguin character of YouTube fame. For the months of July and August, the city has erected six structures of the character in Gwangalli and Millak to provide photo zones, deliver rules for COVID-19 prevention and tips on proper garbage disposal.
How to get there: Gwangan Station (metro line 2), exit 3 or 5. Go straight for 15 minutes.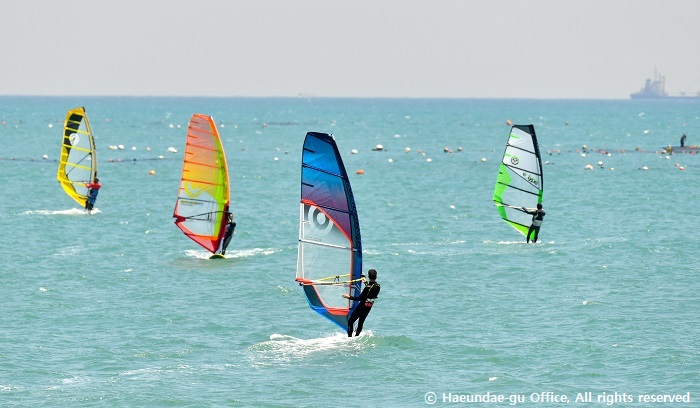 △ Windsurfing is one of many activities available in Songjeong.
Songjeong
Songjeong Beach is Busan's main surfing destination. Replete with surfing schools for beginners and shops to buy gear for pros, you'll find no shortage of people riding Songjeong's waves. The beach is also more out of town than its Haeundae and Gwangalli brethren, making it feel like a quaint beach hub outside the city.
How to get there: Centum City Station (metro line 2), exit 1. Take bus 38, 63, 100, 139, 141, 1001 or 1003 and get off at Songjeong Beach stop.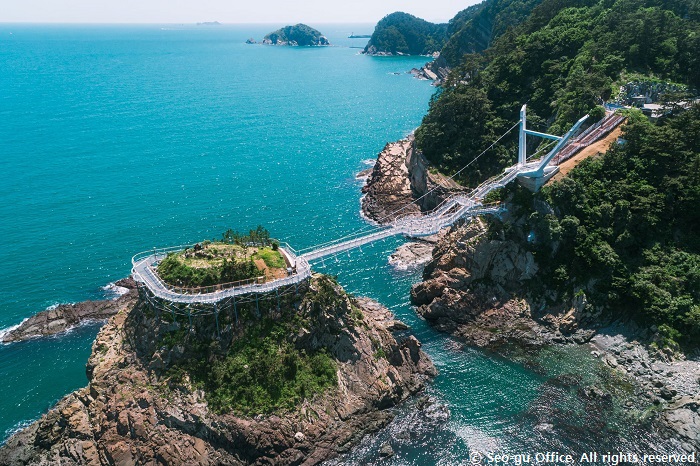 △ The Songdo Yonggung Suspension Bridge is a must-visit during your time in Songdo.
Songdo
While Songjeong is the city's sportiest beach, Songdo is the nation's oldest. The beach has welcomed visitors since its opening back in 1913 and continues to be popular today. In addition to the beach itself, beach-goers can experience a wide variety of nearby attractions.
The Songdo Yonggung Suspension Bridge, which opened in early June, offers a stunning view of the area's distinctive geological formations created over millions of years. The destination operates from 9 a.m. to 6 p.m. free of charge throughout the year, but it will charge 2,000 won beginning in 2021.
Another attraction is the Songdo skywalk, which runs from the beach to a nearby lighthouse via Geobukseom Island. At only five and a half to eight meters from the surface of the water, you're getting up close and personal with the sea.
Adding even more to an enjoyable day trip to Songdo is the Songdo Marine Cable Car, which runs over a kilometer and a half across the sea from Songnim Park in the east to Amnam Park in the west. Riders can see Songdo Beach, Yeongdo, Namhang Bridge and the Songdo coastal trail from the sky. It costs 15,000 won for adults, but the price rises to 20,000 won for cars with transparent floors. The cable car operates between 9 a.m. and 9 p.m.
How to get there: Jagalchi Station (metro line 1), exit 2. Take bus 26, 30 or 71 and get off at Songdo Beach stop.

△ Dadaepo has the monopoly on sunset.
Dadaepo
Many beaches in town are renowned for their activities and vibes day or night, but Dadaepo has the monopoly on sunset. The trail along the water, also known as "Saha Sunset Road," is the best place to take in the majestic sight. There's also Amisan Observatory, which provides visitors with a vivid view of the habitat of 100,000 migratory birds and natural formations made by the Nakdonggang River.
How to get there: Dadaepo Beach Station, (metro line 1), exit 1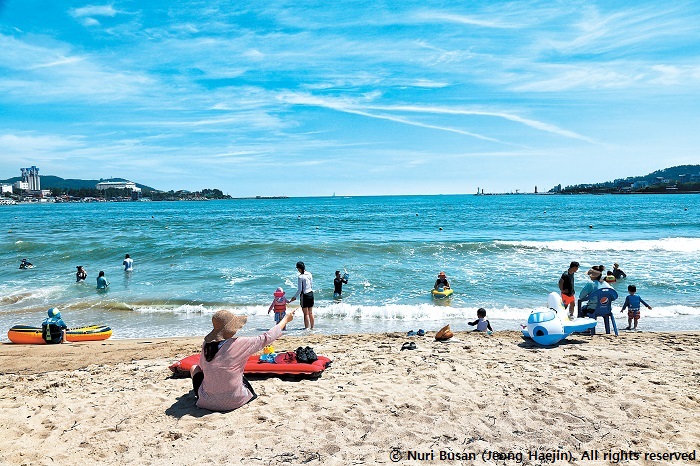 △ lgwang Beach is isolated from Busan's urban setting, which makes it less crowded, cleaner and quieter for those who visit during the height of summer.
Ilgwang and Imnang
Peace and quiet are the main draws of Gijang-gun's (county) Ilgwang and Imnang. Shallow waters and calm fishing villages bring out families who are looking for a bit of fun and solitude. Of course, you have to take advantage of the scrumptious seafood restaurants IIgwang Beach has to offer, as well!
How to get there:
Ilgwang Beach: Jangsan Station (metro line 2), exit 7. Take bus 182 and get off at Ilgwang Beach stop.
Imnang Beach: Jangsan Station (metro line 2), exit 9. Take bus 139 and get off at Cheonggang Crossroad. Take bus 188 and get off at Imnang Beach stop. For departure from Dongnae, catch subway line number 4 from Dongnae Station and get off at Anpyeong Station (exit 4). Take bus 188 and get off at Imnang Crossroad stop.