Enjoy Busan
Busan Tourism Organization names its top-five crowd-free spots
Course: Beomeosa Temple → Geumjeongsanseong Fortress (north gate) → Godangbong Peak → Geumsaem Well
Hours: About three hours
Distance: About seven kilometers
How to get there: Beomeosa Station (metro line 1). Take bus 90, and get off at Beomeosa stop.


△ Geumjeongsan Mountain is Busan's highest peak and features a lot to see on what is one of the best hikes available in the city, no matter what season it is.
The number of people avoiding crowded places has increased this year, and those who are keeping their distance are finding solace in nature. Since May, when the nation relaxed its COVID-19 regulations in favor of an everyday prevention plan, outdoor facilities have been reopening to the public.
To encourage folks to keep their distance from others, the Busan Tourism Organization hand-picked five easy-to-walk local tourist attractions that don't normally bring bustles of people: Geumjeongsan Mountain, Jeoryeong's beach trail, the Songjeong Galmaetgil trails, Jangsan Mountain and Hwangnyeongsan Mountain. These locations are all outdoors and also neighbor other major tourist sites in the city, providing spots that are safe to visit. First: Geumjeongsan Mountain!
Geumjeongsan Mountain
At 801 meters, Geumjeongsan Mountain, located between Buk-gu and Geumjeong-gu (district), is the highest mountain in the city. It also has the honor of being the only mountain in Busan to be included in a list by the Korea Forest Service as one of the nation's top-100 mountains. Although the mountain is not very large, it has gained fame in the city due to its forest, its cable car and its rugged cliffs.
Geumjeongsan is a must-visit for those who love hiking and who want to see the city from unparalleled heights. Its summit, known as Godangbong Peak, provides a splendid view of Busan, but there's plenty to see along the way, as well. In fact, you'll occasionally come across people of all ages and nationalities along the paths of Geumjeongsan, due to its reputation and relative ease of its trails. There are many different courses and ways to climb Geumjeongsan, but we recommend a trek that begins at Beomeosa Temple, goes through Geumjeongsanseong Fortress, continues through Godangbong Peak and ends at the lovely Geumsaem Well.

△ Beomeosa Temple is one of South Korea's most famous places.
Beomeosa Temple
We begin at Beomeosa Temple, Busan's most famous house of worship, as well as one of the nation's best known. Established in 678 A.D. during the Silla Dynasty, Beomeosa houses many historical Buddhist relics. The government has designated numerous sites here, including Beomeosa's Daeungjeon Hall and the three-story stone Pagoda in front of it as official national treasures. A nearby flagpole support and distinctive stone lanterns have received a similar designation from the city, making a trip to Beomeosa Temple a treasure hunt in and of itself.
Take as many pictures of the temple, its stone wall and the surrounding bamboo forest as you want, then take a leisurely hour-long stroll up the trail to reach Godangbong Peak for a great view and a big payoff.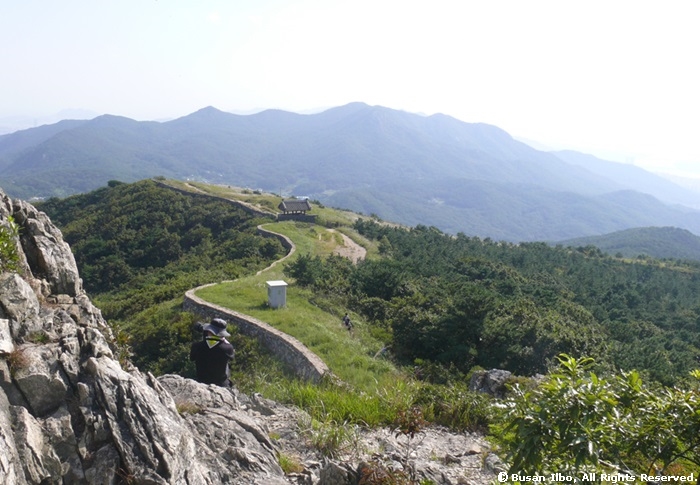 △ Geumjeongsanseong Fortress is Busan's own Great Wall.
Geumjeongsanseong Fortress
By taking the trail behind Beomeosa Temple, you'll come across stone steps that lead to Geumgangam Hermitage (금강암). The steep incline goes on for a while, around 30 minutes, so it's best to take your time at this point. On your right, you'll see a stream under a vast canopy of trees, so at least you'll be shaded and cool. At the top, you can make use of a public bathroom for a quick break before continuing onward.
From there, you'll be able to see the north gate of Geumjeongsanseong Fortress, the largest of many mountain fortresses in the country and one that is regarded as one of the definitive sites of the Joseon Dynasty, along with Dongnae Eupseong Fortress. The structure is made of stone and was strategically constructed to see Dongnae and the mouth of the Nakdonggang River. After invasions by Japan and China in 1592 and 1636 respectively, the fortress was rebuilt to strengthen national defense and to protect the sea. The walls are about 17 kilometers long with four defensive gates, one of which is the north gate you'll be standing nearby at this point.

△ Reaching Godangbong Peak is a thrill and a reward.
Godangbong Peak
Continuing on from the north gate of the fortress, you'll finally reach Godangbong Peak, which is a huge rock that offers incredible views of the other mountains that complete the Geumjong mountain range, like Janggunbong Peak, Gyemyeongbong Peak, Sineosan Mountain, Mucheoksan Mountain, and Guramsan Mountain.
A little below the peak is an observatory and telescope. Using the telescope, you'll be able to see far-away Marine City, Gwangandaegyo Bridge and the Busan International Finance Center, one of the city's newest landmarks.

△ Geumsaem Well is a registered monument of Busan.
Geumsaem Well
The historical Geumsaem Well is not far from Godangbong Peak. Go to Godangsaem Spring and follow the forest path up a big rock. You'll see a small body of water inside a large stone, which is Geumsaem Well, another registered monument of the city. "Geumsaem" translates to "golden well" in English, due to the golden hue the water possesses in the fall as it reflects the maple colors of the trees. In fact, it is from this well that the name "Geumjeong"originates.
<TIP> The National Grid Reference System has been set up to aid those in need of rescue. It is a helpful guide for calling119.

△ National Grid Reference System indicates Ma Ma 4257 0031.
Trekking Challenge Event
The Busan Tourism Organization is hosting trekking events for five tourist attractions until Oct. 31. Coffee vouchers will be given to the first 100 people to visit one of the five courses. The first 50 who visit three of the locations and take their pictures with their hands in a high-five pose will be given prizes.
Visit the official blog of the Busan Tourism Organization (blog.naver.com/busanto1115) for more information. For Geumjeongsan Mountain, take your picture at Godangbong Peak.