Enjoy Busan
Gaze upon the sea up on Busan's cliffs
Route: Oryukdo Sunrise Park, Oryukdo Skywalk, Igidae Jayeonmadang, Nongbawi and Chimabawi Rock, Igidae Oeulmadang, Igidae Dongsaengmal
Time: About three hours
Oryukdo Sunrise Park is the beginning of the 770-kilometer-long Haeparang trail that connects Busan and Goseong, Gangwon-do (province). Due to COVID-19, most museums and concert halls have temporary closed, but Haeparang always welcomes visitors. The canola flower, which nears its peak bloom, has already begun to show its colors. It's been a long winter, but spring is here at last.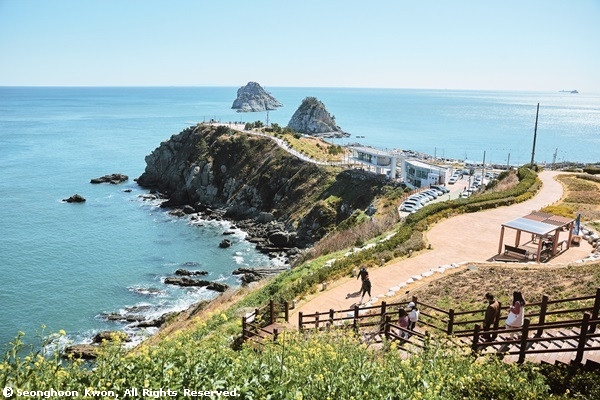 △
Oryukdo Sunrise Park is the place to begin what will be a fabulous scenic journey walking on the cliffs next to the vast expanse of Busan's East Sea.
Oryukdo Sunrise Park
There are many beautiful spots with history in Korea, but Busan's Oryukdo Sunrise Park is especially significant. The park is where Haeparang and the 1,463 kilometers of Namparang trail come together.
The Ministry of Culture, Sports and Tourism connected trails from the DMZ to all the seas surrounding Korea and designated the route as the Korea Dullegil Trail. Haeparang was the first one to open and consists of 50 courses in 10 sections that span 770 kilometers from Oryukdo Sunrise Park to Goseong Unification Observatory.
In the south, Namparang totals 1,463 kilometers from Oryukdo Sunrise Park to Heanam, Jeollanam-do. The trails diverge by the Oryukdo Islets. The Igidae coastal walk from Oryukdo Sunrise Park to Igidae Dongsaengmal takes you to Mipo through Gwangalli Beach, a total of 17.8 kilometers. For those who prefer a lighter hike, the short course that goes to Igidae Dongsaengmal is also popular.
From Sunrise Park, you'll view Oryukdo Islands, a moniker which translates to "five or six islands," so named because you should be able to count either five or six islands in front of you, depending on the tide. From the park, you can go to the first major attraction to see before you really begin the Igidae course, which is the Oryukdo Skywalk. It opened in 2013 and emerges from the ground towards the water. The skywalk is a glass bridge with a transparent bottom, and one million visitors come to the skywalk annually to get a better look at the sea and rocks beneath their feet. Unfortunately, it is temporarily closed due to the COVID-19 pandemic.
△ The walking trail winds around cliffs high and low.
Igidae: legend of the gisaeng
After a roughly 10-minute walk from Oryukdo Skywalk, you will arrive at Igidae Jayeonmadang. Located on a hill where visitors can overlook Oryukdo Islands, it is here where the history of Igidae really comes to life.
The name "Igidae" originates from the legend that during the Japanese invasion of Korea in 1592, a conflict known as the Imjin War, two gisaeng (Joseon-era dancers) led Japanese generals to the cliffs and jumped to their deaths, taking the generals with them. Today, however, these cliffs provide a stunning view of the ocean and Busan's skyline.
This would not be the last time Igidae would be associated with military figures. There are also old guard posts present, since the area was an anti-espionage military complex once upon a time. It was opened to the public in 1993 and has been a popular walking trail since 2005.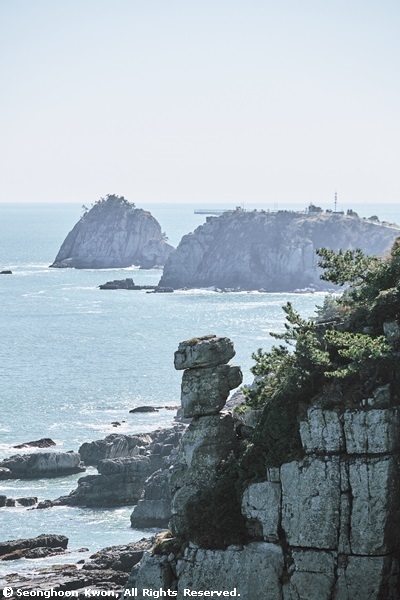 △ Nongbawi Rock balances delicately atop Igidae.
Nongbawi and Chimabawi
Being a natioanl geopark, Igidae is known for its rock formations, particularly its cliffs, which were developed over a long period of time through endless waves and winds. Further geological sights in Igidae are Nongbawi and Chimabawi.
Nongbawi Rock is distinctive in that it is a stack of two rocks that stand precariously like a giant tower of blocks. The origin of Nongbawi Rock comes from colonial-era haenyeo (female shellfish divers) who worked around Igidae and Yeongdo Island and made landmarks to communicate with each other. Nongbawi Rock is also called Buddha Rock, because it resembles a Buddha-like figure holding a child. Chimabawi Rock is named due to its appearance as an unfurled chima (skirt). Both rocks feature observatories to visit, but Chimabawi's is a little more difficult to find.
△
Gwangandaegyo Bridge and Marine City's skyscrapers in view.
Igidae Oeulmadang
Continuing on from these rock formations, you'll come across Igidae Oeulmadang. There is an observation balcony facing the sea, which provides a wonderful view of Gwangandaegyo Bridge and Haeundae Beach. Many people gather in this area for the annual Fireworks Festival and for the fireworks display that brings in the new year. Parts of the movie "Haeundae," which brought 100 million viewers to the cinema, were filmed here, and it remains a popular spot for picnics and photos.
Igidae Oeulmadang once housed five copper mines during the colonial era. Remnants of these mines can still be seen, as well as the old haenyeo storehouse where the women kept all of their gear. As recently as a few years ago, Igidae Oeulmadang visitors could taste fresh seafood caught by haenyeo, but this is no longer the case.
The final location to visit here is the Igidae Dongsaengmal Observatory, which translates to "end of the hill." From there, hikers can march onto Gwangalli Beach.
How to get there: Kyungsung University-Pukyong National University Station (metro line 2), exit 3. Take bus 24, 27 or 131. Get off at Oryukdo Skywalk stop. Between April and December, village bus 2 runs from the Dongsaengmal Observatory to Kyungsung University-Pukyong National University Station.