Enjoy Busan
5 places to visit around the festival
5 places to visit around the festival
■ Yongdusan Park

Busan Tower is one of the features of Yongdusan Park.​
Busan's time-honored urban park celebrates its 100th anniversary this year. The park, named "Yongdu," for its dragon head shape, has long been loved by Koreans. Walk from the bustling Nampo Station to the escalator leading to Yong-dusan Mountain, where high-rise Busan Tower and the Octagonal Pavilion on the small hill come into view. Take in a refreshing view of Busan Port in the distance, while walking the pathway in the camellia tree forest encircling the park.
Busan Tower, located within the park offers views of Yeongdo, Nampo-dong, Gukje Market and Busan Port from 180 meters. As lights turn on one after another at dusk, a spectacular view of the port against the backdrop of Gukje Market and Gwangbok-dong emerges. It's also a popular meeting place for New Year's Eve, where thousands meet for a celebration at 11 p.m. the last night each year. Don't miss out on it.
- How to get there: Get off at Nampo Station (Metro line 1) and go out exit 7. Walk about 5 minutes to find the escalator on the right.
■ Jagalchi Market​

Stalls in the street off of Jalgalchi Market.​
Jagalchi Market, Korea's largest fish market, includes the Dried Fisheries Market next to Yeong-do Bridge and Chungmu-dong Cooperative Fisheries Market. The market is always lively with merchants, street vendors and their customers, between clusters of small shops and stands within the market. During the Korean War, the first merchants were able to etch out a subsistence living through the first food stalls formed around the market.
The scenes created around these stalls and the rough accents of the Jagalchi ajummas (middle-aged women) have now become symbolic of the market. The market opens early each morning, full of vitality, with freshly-caught fish, abalone, octopus and sea squirt ready to be prepared on the spot.
- How to get there: Get off at Jagalchi Station (Metro line 1). It takes about 5 minutes from exit 10 of the subway station.
■ Gukje Market​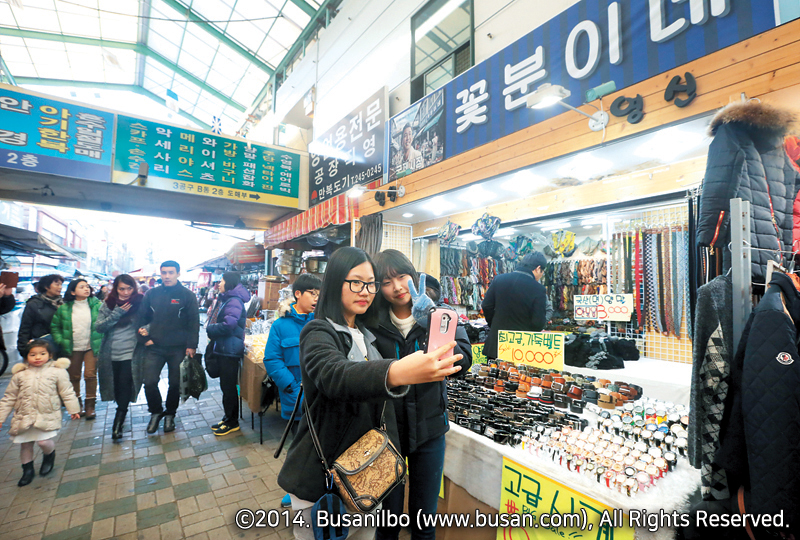 Busan's most iconic market is the subject of "Ode to My Father."​
The market that began as a distribution hub for aid following Korea's independence from Japan has now become Busan's signature market. The market formed a gigantic commercial block within Nampo-dong until the 1990s and appeared to begin declining in the 2000s. However, the block has gone through a revival since the success of the film "Ode to My Father," which features market locations. Shops sell a wider variety of goods to entertain onlookers, from vintage collectables to kitchenware, household items, CDs, hardware and antique paintings.
- How to get there: Get off at Nampo Station (Metrol line 1). Walk 10 minutes from exit 1.
■ Bupyeong Kkangtong Night Market

Eat international fare at the Bu-pyeong Night Market.​
The night market opened in October, 2013 and has since earned a reputation as a must-visit for foodies. Mobile stalls are set up along a 100-meter stretch of alleyway inside the market.
The stalls, busy from 7:30 p.m. to 12 midnight every night, offer foods from around the world. Busan's signature snack food eomuk (fish cake) and bindaettoek (mung bean pancake) among others are so popular that it sees an average of 3,000 visitors on weekdays and 7,000 on weekends to the night market. Unusual food items such as okonomiyaki (Japanese vegetable pancake), pane soup, Scotch egg barbecue and chagio (Vietnamese dumplings) are also available in the market.
- How to get there: Get off at Jagalchi Station (Metro line 1) and go out exit 5. Walk 10 minutes.
■ Bosu-dong Bookstore Alley​
Find deals on rare and used books in the Bookstore Alley.
​
​
The 50-year-old bookstore alley in Bosu-dong has no shortage of books, second-hand and new. Scores of old bookstores fill the alley. Students cro-wd the area when each semester begins to buy or sell their text books at cheap prices.
Come for an afternoon of treasure hunting, as some books no longer on the market can be found here, along with some great bargains. Grab a cup of coffee at one of book cafes around the alley and relax. The annual bookstore alley festival offers events such as free book exchanges and antique book displays.
- How to get there: Get off at Jagalchi Station (Metro line 1). Walk about 20 minutes from the subway station.