Enjoy Busan
Just steps away from your next getaway
Just steps away from your next getaway
Picnickers take advantage of the endless lawn and shady trees at Busan Citizens'Park near downtown Seomyeon. May is the perfect time for outdoor activities within one of the city's ample park areas, many located in the midst of busy commercial zones.

Blue sky, a warm breeze, shady trees and a picnic lunch in the park: there are few combinations quite so sweet and now is the prime time to enjoy it all. Explore urban parks located in and around the downtown area while chaotic city life fills the scene outside. Spread out a mat on an open lawn for a lunchtime break, bring a book and stay all day, or discover the tranquility of the sea and riverside walkways surrounding the city at any stolen moment during the day. From glassy ponds and quiet pathways to beach sunsets and hilltop lookouts, there's a special place nearby waiting to be found.
Korea's largest urban green space
- Busan Citizens' Park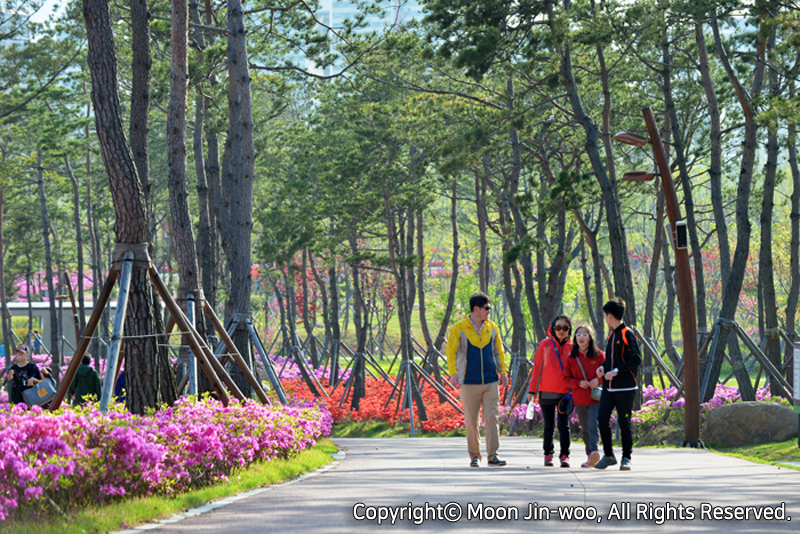 A gazebo welcomes visitors to Busan Citizens' Park.​
Dubbed the Central Park of Busan, Busan Citizens' Park has become Busan's signature park, with as many as 30,000 people visiting daily since it opened in 2014. Located near downtown Seomyeon, it's the largest urban park in the country.
The land, formerly known as Camp Hialeah, a U.S. forces camp, was converted into an expansive lawn, measuring six times the size of a soccer field. It's the perfect place for families to bring their Frisbees or badminton racquets. Admire the lush groves of platanus, zelkova, pine and ginkgo along the pathways, constructed with the elderly and people with disabilities in mind.
Experience the harmony of the golden sunset falling across the lawn or step into another world along the warm-lit pathways at night. Water and music flow from its fountains until October. Saturday afternoons see the park fill with live music, artisan vendors and outdoor movie screenings. It might just be the best place to enjoy the spring season.
- Address: 73 Simingongwon-ro, Busanjin-gu, Busan. It's located in Beomjeon-dong.
- How to get there: Take bus Nos. 33, 44, 63, 179 and get off at the Busan Citizens'Park bus stop, or take bus Nos. 54, 63, 81, 83-1, 88, 133 and get off at the Busanjin-gu office bus stop. For subway travel, get off at Bujeon Station (Metro line 1), go out exit 7 and walk about 15-20 minutes.
- Information: www.citizenpark.or.kr/eng/Main.do
Park of fountain dreams and sunsets
- Dadaepo Beach Park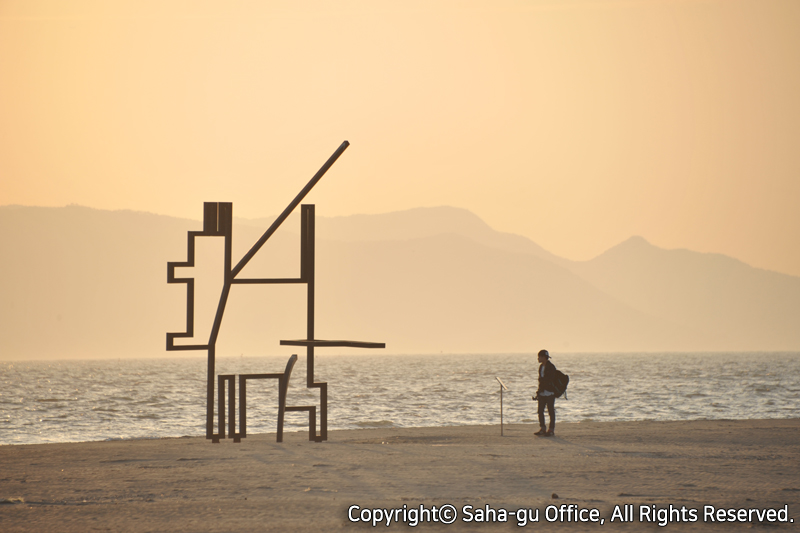 Spacious Dadaepo Beach Park is known for its sunsets and ground fountain.​
The forests and walkways of Dadeaepo Beach offer a relaxing hideaway well-worth the trip to the outskirts of town. Escape the bustle of the city along stepping stones and small suspension bridges in pine forests while nearby streams and pathways converge at the center of the park.
Each summer hordes of spectators visit Dadaepo Beach Park for the Dadaepo Sunset Fountain of Dreams, the world's largest ground fountain, measuring 60 meters in diameter and 180 meters in circumference. The fountain is a draw for visitors the world over who come to watch it project columns of water as high as 50 meters, choreographed to soft melodies. Catch the fountain show four times during the day, and once with music in the evening during the week. It runs twice daily on weekends, but not at all on Mondays.
The beach itself is well-known for its beautiful sunsets. Pull up a seat to watch the golden glow of the setting sun travel across the sand or follow the last light on a wander down the Saha Sunset Road walkway. While there, check out nearby Sunset Park on Molundae Cliff and Eulsukdo Island Ecological District.
- How to get there: Get off at Sinpyeong Station on Metro line 1 and go out exit 4. Take bus Nos. 2, 11, 96, 338 bound for Dadaepo and get off at the Daewoo Apartment or Dadaepo bus stop.
- Information: Visit fountain.saha.go.kr for more information on the Dadaepo Fountain.
Saha-gu Office
Honor war heroes, take in citywide views
- Democracy Park & Jungang Park

Densely packed trees form a forest of blossoms at Democracy Park.​
Look over the entire city at a glance from a mountaintop in Democracy Park and Jungang Park on Sanbokdoro (mountainside road) in Yeongju-dong. The parks, near Busan Station, are relatively unknown and not necessarily the most easily accessed - a level of isolation that makes these rare gems in the city all the more valuable.
Democracy Park honors of Korea's modern democratization movements, with memorial sculptures, outdoor ponds and forest gardens constructed around a central memorial hall.
Across from Democracy Park is the site that once housed Korean War refugees from 1950-53, now known as Jungang Park. Pay respects to fallen war heroes at the 70-meter-high memorial tower or simply enjoy the serenity of the blossoming hillside.
The park includes badminton courts and other sports facilities, while an observatory reveals a stellar nighttime lookout over Busan New Port, Busan Harbor Bridge and Yongdusan Park.
An evening visit to the park also brings the 20-meter-high torch lighting the inner court to its full, brilliant potential.
- How to get there: Get off at Busan Station on Metro line 1 and go out exit 7. Take bus Nos. 43 or 333 at the nearby bus stop and get off at the Democracy Park bus stop.
- Information: Visit Democracy Park online at www.demopark.or.kr, or visit the website of Jungang Park at jungangpark.bisco.or.kr.