Views
Daytrips to Allak-dong (literally) mean comfort
Daytripping in Busan 10: Allak-dong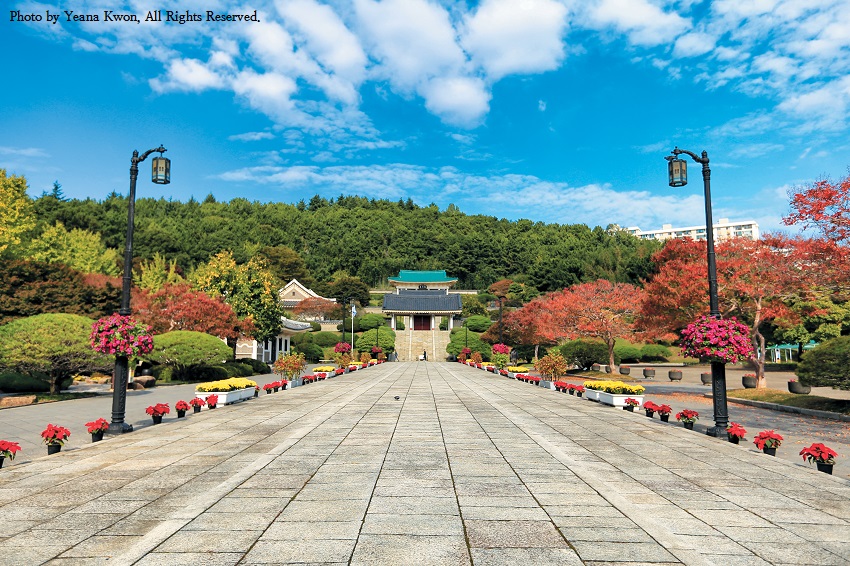 Beautiful autumn foliage has arrived at Chungnyeolsa Temple. It is great place to take a walk, breathe clean air and reflect.

Korea's beautiful fall foliage really shines in November as the leaves in Chungnyeolsa Sh-rine transform into fiery red and yellow.
Join us this month as we head to Allak-dong (neighborhood) in Dongnae-gu (district). The area features a dramatic shrine, built to honor some of Korea's bravest patriots from hundreds of years ago. There's also a lovely cafe street area near Oncheoncheon Stream where visitors can grab a bite to eat, a cup of delicious coffee or simply find a comfortable spot for an extended people watching session. Indeed, the vibe of this area is about "comfort." It is, after all, what the word allak means in Korean.
So, get comfortable and get ready for a lovely mid-autumn adventure.
Chungnyeolsa Shrine
Built in 1606, Chungnyeolsa Shrine was erected to honor more than 60 of Busan's finest patriots. These include Dongnae Magistrate Sanghyeon Song, who fought the Japanese invasion of Korea in 1592 (and, whose namesake adorns the popular Songsanghyeon Square in Busanjin-gu), Heungsin Yun, who died during the battle of Dadaejinseong Fortress, and others. A memorial service honoring their sacrifice and contributions is held at the shrine every May 25.
Originally primarily a school, Korea's longstanding practice of Confucianism was taught here. Today, a number of events continue to be conducted at the Chungnyeolsa Shrine, including traditional wedding ceremonies and sungyeonrae (similar to "Sweet 16" events in the west).
Visitors should be quiet and respectful when visiting the temple. A memorial hall located next to the main building exhibits armor, books and paintings that call to mind a very fierce war.
Besides providing an incredible source of local Korean history, Chungnyeolsa Shrine is also a great place to enjoy some rest and contemplation time. Uijungji Pond, located right in the middle of the complex, is one of the best places one can find comfort and escape from the hustle and bustle of the busy city. It offers beautiful views for every season, particularly autumn. Red-hued maple trees, yellow ginkgo trees and more dominate the landscape at this time of year.
-Hours: 9 a.m. to 6 p.m., daily (closes at 5 p.m. during winter)
-How to get there: Chungnyeolsa Station (Metro line 4), exit 1.
Oncheoncheon Cafe Street

Oncheoncheon Cafe Street, lit up pleasantly at night.

What used to be an unassuming residential area has in recent years become another popular cafe destination in Busan. Step aside, Jeonpo Cafe Street; you're not the only caffeinated game in town. Oncheoncheon Stream is a lovely place to take a long walk most of the year. In the spring the area's cherry blossom blooms are resplendent, while autumn brings beautiful fall foliage.
The stretch from Yeonsan-dong to Allak-dong is considered Oncheoncheon Cafe Street. There are more than 60 businesses here, including small and midsize cafes, bakeries, restaurants, book store, pub, gallery space and more. Businesses here feature unique interiors as much of the architecture is decades old. Enjoy tasty coffees, filling meals and sweet desserts while supporting local, independent businesses. Take a casual walk around the surrounding neighborhood and then hop back along the Oncheoncheon Stream path to casually burn off some of those delicious calories.
Oncheoncheon Cafe Street is a great area to visit both during the day and after the sun sets. While there are plenty of places to walk around the area, parking isn't always the most accessible, however, so plan accordingly. It is generally a better idea to take public transportation.
-How to get there: Allak Station (Donghae Line), exit 1. Walk straight and cross the street toward Dranche Apartment (뜨란채 아파트) at the end of a parking area. Walk straight toward Oncheoncheon Stream for 10 minutes.