Views
Hadan is a cultural, natural hidden gem
Daytripping in Busan 9: Hadan-dong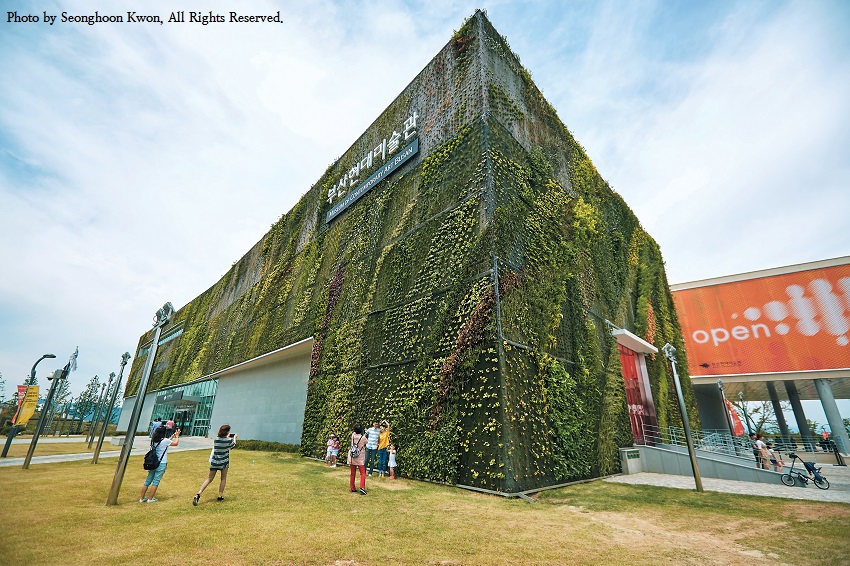 The exterior of the Museum of Contemporary Art Busan. Located on Eulsukdo Island, the new museum is holding the Busan Biennale until Nov. 11.
This Saha-gu (district) area does not get as much attention as perennially talked-about hotspots like Nampo-dong and Haeundae. In the shadow of Dadaepo Beach and its Sunset Fountain of Dream, Hadan-dong in particular has lived an anonymous existence. Not anymore. Besides serving as the southerly terminus of the mighty Nakdonggang River, Hadan is also home to a dramatic mountain that offers hours of invigorating athletic fun, the beautiful Eul-sukdo Island and the brand new Museum of Contemporary Art Busan. Have you not explored Hadan yet? Let Dynamic Busan help you realize what you've been missing.
The Museum of Contemporary Art Busan
Opened in June on Eulsukdo Island, the Museum of Contemporary Art Busan does its best to blend in botanically with the rest of the area. A lush green garden covers the whole museum. Inside, a diverse variety of exhibits brought more than 100,000 visitors its debut month and attendance has remained steady since. Some of that has to do with the Busan Bien-nale event, held every two years in the city since 1981.
This year's "Divided We Stand" theme examines how nations have addressed an influx of refugees to their borders. Notable pieces include Mina Cheon's "Eat Choco Pie Together," which features an impressive 100,000 of the sugary snacks. A common treat here in South Korea, choco pies are often known to be smuggled across the border by North Korean workers at the jointly managed Kaesong Industrial Complex. As such, it has become a symbol of hope and peace between the two nations. As a bonus, visitors to the exhibit can even grab a choco pie and eat it on the spot!
Also on display is "I Have No Words" by French artist Augustin Maurs. This citizen collaboration features participants singing three measures of a song, which were then harmonized into one complete tune.
-How to get there: Hadan Station (Metro line 1), exit 3. From the nearby bus stop, take Eulsukdo-bound buses including 58-2 or Gangseo-gu mini buses 3, 9, 9-2, 16 or 20. Get off at Museum of Contemporary Art Busan bus stop. A free shuttle bus to the museum is available via Hadan Station, exit 1, Friday through Sunday during the exhibition.
Seunghaksan Mountain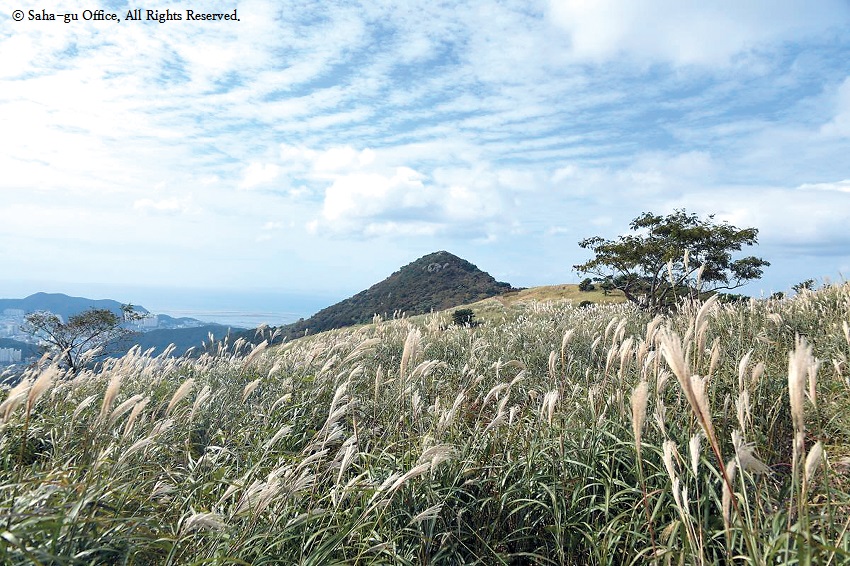 A magnificent silver grass field on Seunghaksan Mountain.

You don't need to be a student to head to Dong-A University. For many, its mountainous campus is where a grand hiking adventure begins.
Nearly 500 meters at its peak, Seunghaksan Mountain offers both an invigorating workout as well as some of Busan's best views, including stunning silver grass fields that cover more than 60,000 square meters. For a relatively stress-free route, start at the back of Dong-A University, pass through the silver grass plains, then climb down toward the Flower Village of Gudeoksan Mountain. Hikers not only get to enjoy the silver grass but also some incredible views of western Busan and the Nakdonggang Estuary. Get your cameras ready!
-How to get there: Hadan Station (Metro line 1), exit 6. Take mini bus 10 and get off at the entrance to Dong-A University. Face the entrance and walk bearing left for two minutes. The trail entrance can be found at the back parking lot.
Nakdong Estuary Eco Center
After checking out the Museum of Contemporary Art Busan, cross the big bridge over the highway and check out the Nakdong Estuary Eco Center. This experiential museum allows visitors to enjoy exhibitions, training programs and more.
Everything is about Eulsukdo Island, which was designated a natural monument for habitat for migratory birds. The eco center's exhibition for wetlands and migratory birds is a particular highlight. Observation opportunities of the Nakdonggang Estuary and migratory birds are available through the glass window on the second floor. A diverse variety of migratory birds including Bewick's swan, Bean goose and more can be observed here from the end of October.
-Hours: 9 a.m. through 6 p.m. Closed Mondays and public holidays.
-How to get there: Hadan Station (Metro line 1), exit 3. Take buses 58, 58-1, 58-2 or Gangseo-gu mini buses 1 through 20. Get off at Eulsukdo Island, then cross the wooden pedestrian bridge to the other side. Walk another five minutes.