Views
Daeyeon is a delightful destination to discover
Daytripping in Busan: Daeyeon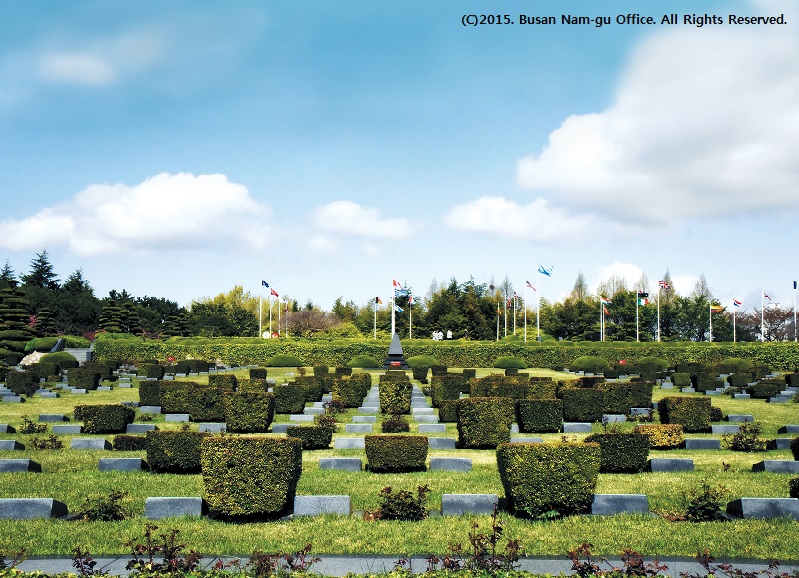 The United Nations Memorial Cemetery in Korea, in Daeyeon-dong, was opened in 1951 as a way to honor the United Nations soldiers who lost their lives fighting in the Korean War.
 There are so many places in Busan one can enjoy a morning, an afternoon, an evening or an entire day of fun activities.
 Daeyeon-dong (neighborhood), located on Busan's Metro line 2, offers a lot of options for a fun and interesting day trip. Which is why Dynamic Busan is highlighting this section of town in our new ongoing series where we look at places and things to do right here in our favorite city.
■ Busan Museum
 Opened in 1978, Busan Museum has seven exhibition areas, including Busan Hall, which reopened last year after several years of renovations. Admission is free.
 The museum's first new exhibit of 2018, the Joseon Tongsinsa Documents, features artifacts related to 12 diplomatic missions from Korea to Japan between 1607 and 1811. It's on exhibit until May 7.
 The "Busan Museum Guide" app gives explanations in English, Japanese and Chinese from the Android Google Play store. An iOS version is also available for download by searching "부산박물관(in Korean)" in the Apple Store.
- Hours: 9 a.m. to 6 p.m. Closed Mondays.
- Information: museum.busan.go.kr
■ Busan Cultural Center
Just minutes past Busan Museum you will find the Busan Cultural Center, which has for 30 years provided an attractive venue for art exhibits, Classical concerts and more across three theaters. Its main theater seats more than 1,400 patrons.
 Until April 8, the Busan Cultural Center is showcasing 130 reproduced photographs and originals at its "Life" exhibition, celebrating the work of the iconic 20th century photojournalism ma-gazine. Much of the exhibit is in Korean, but the moments on display definitely transcend langu-age.
 While there, take a walk around the Busan Cultural Center grounds. A lovely nature path provides a great view of both its campus as well as the city. For those interested in music, Busan Cultural Center holds world-class Classical concerts, from both renowned Korean musicians as well as international stars.
- Exhibit Hours: 10 a.m. to 7 p.m., Tuesday and Thursday open until 9 p.m.
- Exhibit tickets: 13,000 won for adults, 11,000 won for teens (middle to high school students), 9,000 won for children, free for children under four years old
- Information: bscc.or.kr (English available); seelife.co.kr (Korean only)
■ U.N. Memorial Cemetery in Korea, Daeyeon Arboretum
 Not far from either the Busan Museum or Busan Cultural Center is the expansive United Nations Memorial Cemetery in Korea and lush Daeyeon Arboretum.
 Some 600 species of plants dot the more than 53,000 square meters that comprise the Daeyeon Arboretum, which surrounds much of the cemetery grounds. With various nooks and pathways to discover, the arboretum allows visitors a spectacular opportunity to slow down.
 Beyond the arboretum is the vast United Nations Memorial Cemetery in Korea, which includes the cemetery, memorial hall, Peace Park and Sculpture Park.
 Opened in 1951, the cemetery was established to honor the service and sacrifice of United Nations soldiers who died during the Korean War. Today, there are 2,300 graves on the site, the majority of which are for British, Turkish, Canadian and Dutch sol-diers. The cemetery is a place that provides quiet reflection, whether one has a connection to the war or not. A memorial hall provides a video presentation in several languages, including English.
 The cemetery is far from the only thing to experience at the United Nations Memorial Cemetery in Korea. The U.N. Sculpture Park, opened in 2001, contains 29 pieces created and donated by artists from a number of United Nations countries. Peace Park,
opened in 2005 in the southeast section of the cemetery grounds, is true to its name, offering a peaceful respite.
- How to get there: Daeyeon Station (Metro line 2), exit 3. Turn left at the intersection and walk about 10 minutes until you reach the museum. Walk five minutes past the museum to reach the Busan Cultural Center. The United Nations Cemetery in Korea is located minutes from both the museum and cultural center, via the tunnel on UN Pyeonghwa-ro (street). Or, buses 51 or 138 near exit 5 and get off at Busan Cultural Center.