Views
Busan waves wand, pulls family fun out of a hat
- Whether you're in elementary school or you're an adult, you're never too young or too old to enjoy a magic show.
By Seonghoon Kwon
The Magic Circus makes magic shows an everyday event that's fun for people of all ages
Busan is a magical city. Yes, it is possible to say this figuratively, since, through nature, sports, festivals and culture, there is no shortage of things to do. But, Busan is also a magical city, literally. Since 2006, City Hall has held the Busan International Magic Festival (BIMF), which is home to magic shows from around the world. Now, for the first time in Korea, a regular magic show entitled the Magic Circus has opened at the Lotte Premium Outlet in Gijang-gun (county).

The Magic Circus opened on April 12 and is organized by City Hall and the Busan International Magic Festival Organizing Committee. It opened at a dome-shaped outdoor stage reminiscent of something from a carnival, or circus. There are four programs in the Magic Circus, with each performance running 40 minutes. These programs involve Busan in some way, shape or form and are enjoyable for families and people of all ages. In addition to regular performances, visitors can have fun with a photo zone and may purchase their own magic items to learn about the craft and maybe even amaze their friends!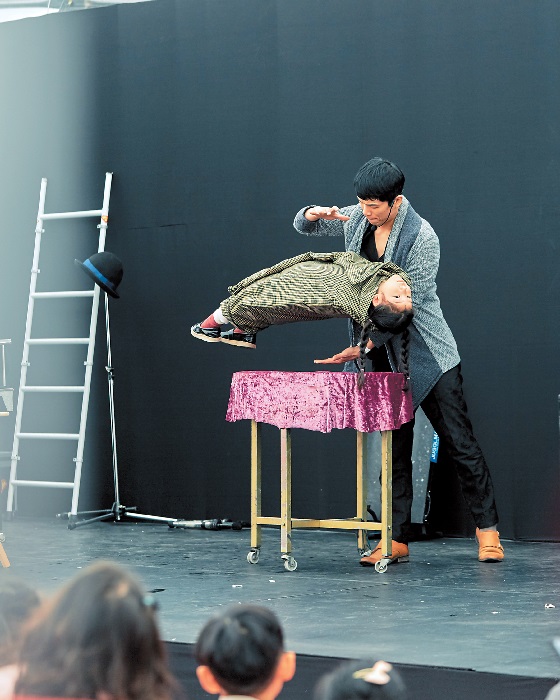 - Amazing work is everywhere at the Magic Circus, either through the employees (left) or through the magicians themselves (right).
By Seonghoon Kwon
Busan has an impressive association with magic. Last year, the city hosted the 27th FISM World Championships of Magic, a giant event which takes place every three years. The Busan International Magic Festival will be held from June 25 to June 30.

The Magic Circus is being held every Friday, Saturday and Sunday until Dec. 29. Friday shows begin at 10:30 and 11:50 a.m. and go into the afternoon, at 2 and 3:30 p,m. Saturday and Sunday performances are running all afternoon at 1:10, 2:30, 3:50 and 5:10 p.m.
Tickets can be purchased at the ticket office. Entrance fees are 9,000 won for those under 15 years old and 7,000 won for adults.
How to get there: Haeundae Station (Metro line 2), exit 7. Take bus 181 or 100 and get off at the East Busan Tourism Complex (동부산관광단지) stop.
Information: 051-626-7002