Views
You will know Yongho is the best place to go
Daytripping in Busan 14: Yongho-dong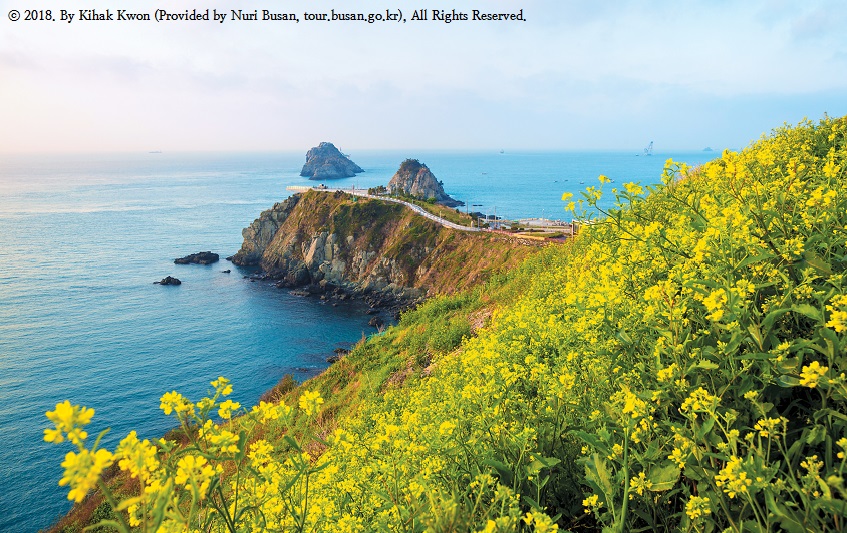 Magnificent views can be found around the Oryukdo Islands throughout the year. But, springtime is really its time to shine.
Spring is springing and it is now time to begin the next chapter. While a chill remains, in March we can finally begin to shed some of this winter wear and open our doors to the outside world once more! How do you want to spend your March days? Head to Yongho-dong (neighborhood). A formerly sleepy portion of Nam-gu (district), the area began to bustle when several larger apartment complexes were built in the early 2000s. The population has grown as more folks became interested in living in the area. Thankfully, much of Yongho-dong's charm remains intact.
What brings daytrippers here is its nature. From a seaside skywalk can visitors check out Oryukdo Island rising from the sea. Or, traverse the Igidae Coastal Walk where you can walk along the forest on one side, the beach on the other. It's surf and turf within reach!
​
Oryukdo Island
Oryukdo Island is located just beyond Yongho-dong. Depending on the day and tide, it may appear to be five islands or six, hence its name ("o" means five and "yuk" means six in Korean). Designated a "National Cultural Heritage" spot, all five islands, except the one with the lighthouse, are uninhabited. These islands include Usakdo, Surido, Gonggotdo, Guldo and Deungdaedo. Because the upper part of Usakdo divides into two segments, that island is sometimes known as Bangpaedo Island and Sol Island, as well, depending on the level of the water. Because many ships coming to Busan Port pass by Oryukdo Island, it also serves as a symbol of Busan's cultural heritage.
While March is a great time to visit, Oryukdo is especially excellent come April, as rape flower blossoms begin to open up, creating a wonderful landscape. Visitors can enjoy beautiful scenery overflowing with colorful harmony of the blue sea and sky, green grass and yellow rape flowers all in one place. It is a cornucopia of flowery nature that will become your favorite spring destination.
-Tips: Before going to the islands, check out the nearby observatory, souvenir shop or several cafes, which offer Oryukdo Island guides in English. Visitors can experience the delicious seafood caught and sold by haenyeo (women sea divers). These hard-working women sell sea squirts, sea cucumbers and turban shells among other tasty treats from the water.
In addition, visitors can ride a cruise ship around the islands, which also includes a visit to the lighthouse. Cruises are available hourly for 10,000 won.
-How to get there: Kyungsung University/Pukyong National University Station (Metro line 2), exit 3. Cross the street and take buses 24 or 27 at the bus stop near Paris Baguette. Get off at the Oryukdo Skywalk (오륙도 스카이워크) stop and walk down for a while. The Oryukdo Park and its tourist information center are ahead.
​
Oryukdo Skywalk
Oryukdo Skywalk is a walkway of steel and tempered glass across a 35-meter coastal cliff. It has a "U" shape that is installed at the end of the land stretching forward to the Oryukdo Islands and is a great place to get a grand view of them from the mainland. The skywalk has enjoyed consistent popularity among social media tastemakers, families and pretty much everyone who steps upon it.
-Hours: 9 a.m. to 6 p.m. (the skywalk closes when there is snow, rain or strong winds)
​
Igidae Coastal Walk
​
Take a walk along the Igidae coastline.
The Igidae Coastal Walk features 4.7 kilometers stretching from Igidae Dongsaengmal to Oryukdo Sunrise Park. The course takes roughly one hour to complete at a leisurely pace. Just relax and walk along the beautiful landscape with a bottle of cool water and enjoy the forest on one side, the sea on the other. It is a great place where trekkers of various skill levels can find a path that best meets their abilities.
Take a well-deserved break at the jagalma-dang (pebble beach) or at the observation area along the way. As a welcome bonus, the Igidae Coastal Walk is a wonderful alternative destination to view the annual fireworks that light up the night sky every late October over beautiful Gwangalli Beach and the surrounding environment.
-How to get there: Kyungsung University/Pukyong National University Station (Metro line 2), exit 3. Cross the street and take buses 22, 24 or 27 at the stop near Paris Baguette. Get off at the Igidae entrance (이기대입구) stop. Walk ahead through the entrance or enter the Igidae Coastal Walk from the Oruykdo Islands stop.