Views
Be awash in history with a Daecheong daytrip
Daytripping in Busan 13: Daecheong-dong
So much can be seen at a glance from the Daechung Sky Observatory, including Yongdusan Mountain Park, Busan Tower, Yeongju-dong and Busan Port.
This month, Dynamic Busan is daytripping in Daecheong-dong (neighborhood), the location of the famous Choryang Waegwan (trading platform for the Japanese) banquet hall, built during the Japanese occupation of Korea (1910-1945). Road improvements, the opening of city hall (which has since moved to Yeonsan-dong), port facilities and commercial facilities after liberation have greatly contributed to this section of Busan becoming one of its biggest and busiest.
To honor and reflect upon this past, one must simply head to places like Yongdusan Mountain Park and the Busan Modern History Museum. Delve deep into Busan's rich history and be rewarded with an excellent afternoon of exploration.
​
Yongdusan Mountain Park
This historic park offers various entertaining attractions including Busan Tower, the Octagonal Pavilion, the Flower Clock and the Citizen's Bell, which rings at midnight to start the new year every New Years Eve. Yongdusan stands as one of Busan's most iconic landmarks, having opened here more than 100 years ago in 1916. The park was built on a low mountain resembling a dragon's head (hence the reason it was affectionately dubbed "yong-du-san," which means "dragon-head-mountain") and has been loved as a picnic spot for many people over many years. Popular among both tourists and locals, Yongdusan Mountain Park is an excellent place for exquisite seaside views.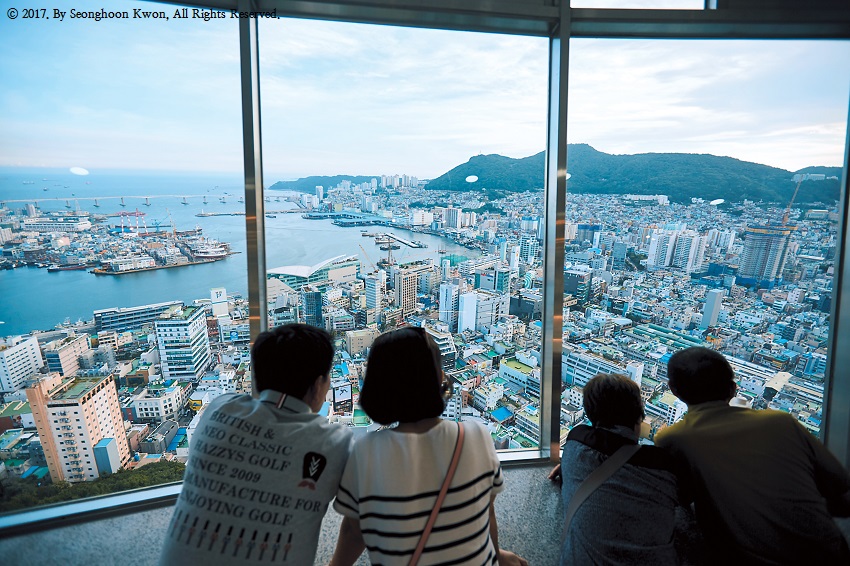 A family enjoys the view from Busan Tower Observatory.
Head into the park and check out Busan Tower, which received extensive renovations in 2017. Constructed in 1973, Busan Tower features a 120-meter, five-story tower that provides a grand view of Nampo-dong and nearby Yeongdo-gu (district) from its observation deck. The view is especially impressive at night. If it's possible you should definitely enjoy a casual stroll along the nearby woods, as you breathe deep the fragrant air provided by passing camellia flowers.
-How to get there: Nampo Station (Metro line 1), exit 7. Go straight for five minutes and find the escalator entrance.
-Information: busantower.net/eng

Busan Modern History Museum
Busan Modern History Museum was originally established in 1929, during the Japanese colonial rule that ended nearly two decades later in 1945. The building had been used as the Busan branch of the Oriental Development Company, which had plundered Korean re-sources for the colonial exploitation policy.
After the independence from Japanese colonial rule, the building became the Busan cultural center for the United States overseas bulletin. This was not good enough for Busan citizens, who constantly demanded the return of the building until that was achieved in 1999. The building changed yet again, in 2003, into the museum it is today.
With more than 200 pieces of modern history artifacts, videos and sculptures, the Busan Modern History Museum makes a very strong case for Busan's place on history. The museum hosts various exhibitions regarding the Japanese Colonial exploitation policy as well as the transition process of Busan Port.
-Hours: 9 a.m. to 6 p.m., daily (closed on Mondays and national holidays)
-Admission: Free
-How to get there: Jungang Station (Metro line 1), exit 5. Go straight about 400 meters.
​
Saekchae Maeul/Sky Observatory
Busan Tower is indeed a great place to check out the city from on high. But, there might be an even better spot to look down upon Busan on Sanbokdoro (mountainside road). For some awesome views, head to Saekchae Maeul (colorful village) where bright, beautiful colors can be found among the alleyways and then hop over to the Daechung Sky Observatory to get another excellent view of the city.
Daechung-dong is a residential neighborhood where merchants from Gukje Market and Jagalchi Market historically lived. As such, many small and cute houses were concentrated there. The neighborhood has evolved into a new tourism village as part of an urban restoration project. It's complete with colorful paintings and sculptures of flamingos, giraffes, Spider-Man, Iron-Man and more.
Start off walking along the colorful alleys and then go up to the rooftop of the Daechung public parking lot by elevator. Here, you will finally reach the Daechung Sky Observatory where you can drink in such city landmarks as Busan Harbor Bridge on the left and Namhang Bridge on the right.
-How to get there: Jungang Station (Metro line 1), exit 15 or 17. Take buses 40 or 81 and get off at the Bosu four-way intersection (보수사거리) stop. Cross the street opposite the GS25 convenience store and take mini bus 15 to Jung-gu general social welfare center (중구종합사회복지관) stop. Walk up to the village from here to find the entrance of Saekchae Maeul.