Views
More than just the beach awaits in Dadaepo
Daytripping in Busan 12: Dadaepo Beach


The sunsets on Dadaepo Beach are legendary, which is why so many folks love to view them in person.

Dadaepo Beach is arguably the best place to enjoy the finest sunset views in Busan. Located in Saha-gu (district) in the estuary of the Nakdonggang River, this large and largely natural beach is the perfect spot to watch as the sun dramatically transforms from blinding white light to a warm orange as it dips below the horizon.
While Dadaepo Beach might be far from much of Busan's more famous downtown spots, its proximity to the metro station makes it super easy to get to. If you want to get away from hectic daily life, Dadaepo Beach is the place to visit.
-How to get there: Dadaepo Beach Station (Metro line 1), exit 4. Walk toward the beach.
Dadaepo Beach Park
The pathway past the awesome Sunset Fountain of Dreams that leads to Dadaepo Beach has been transformed into an expansive, beautiful park over the last several years. Trails on both sides of an artificial stream at the center are a great place for a calm evening stroll. The park meets the beach on a lovely wooden walkway nearby, as well as a small, young forested walking area. The wetland where river and sea waters meet is a natural habitat for various flora.
The Gouni Ecological Trail is located on the right side of the beach. This 650-meter wooden path runs above the shallow part of the sea. Saha-gu has planted thousands of trees in this area since 2008 with the purpose of restoring the mud flat's ecosystem by forming a forest. Thanks to these efforts, visitors now can enjoy even more nature here.
Molundae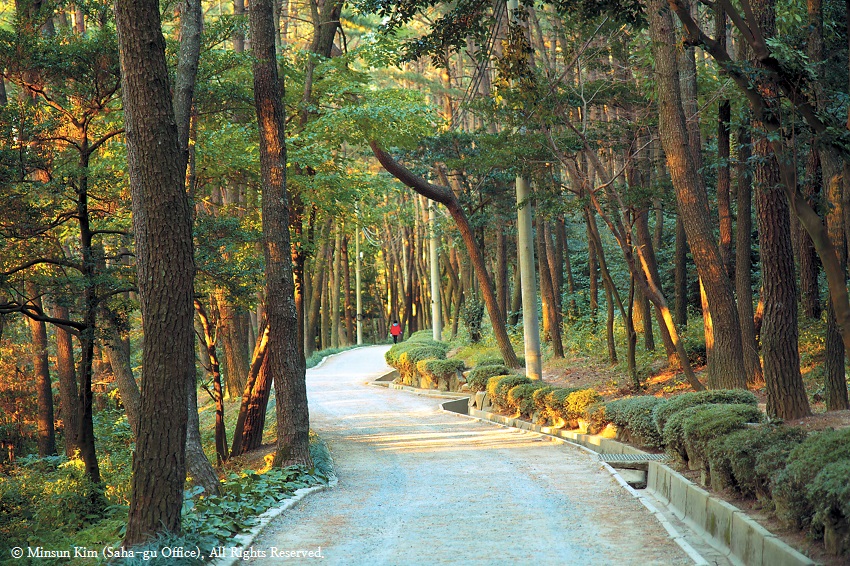 Molundae is great for light and peaceful exercise.

Looking for a little exercise but not interested in climbing a huge mountain? Head to Molundae.
Located toward the left side of Dadaepo Beach, this modest hillside area offers both a little exercise and a lot of natural beauty. Once an island, sedimentation eventually connected it to the main land.
 The smell of dense pine trees and the salty ocean will envelop all who explore Molundae's charming courses. Anyone can easily complete a circuit around the former island in around one hour to 90 minutes. The most attractive part in Molundae that you should not miss is Sunset Observation deck. This observation area has been set up along the western seashore cliff of Molundae. More than 300 meters of a wooden path is a fantastic place to appreciate the area's legendary sunsets.
■ Dadaepo Gaeksa
Dadaepo Gaeksa (guesthouse), found in the middle of the Molundae hiking course, was used for local government officials to express their respect toward royalty during the Joseon Dynasty era. Only the guesthouse's pillars and roof remained until the structure's restoration in 1970.
■ Hwasondae
Walk along the coastal walkway to reach the eastern part of Molundae where Hwasondae can be found. Jwiseom Island, Dongseom Island and more can be seen from the Hwasondae observatory platform. Keep walking along the steep downhill and you're likely to see a number of fishermen out and about.
■ Sunset Observation Area
This observation area has been set up along the western seashore cliff of Molundae. More than 300 meters of a wooden path is a fantastic place to appreciate the area's legendary sunsets.
Amisan Mountain Observatory Park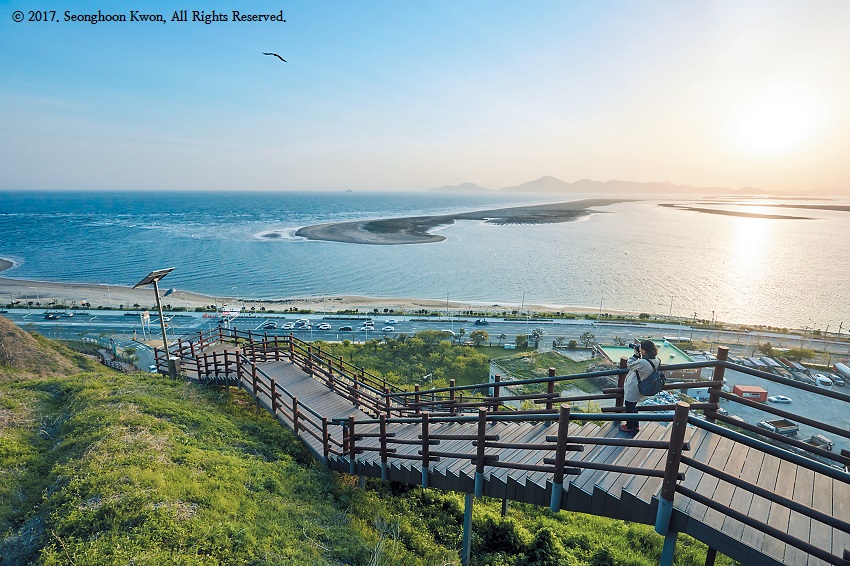 Enjoy a sunset at Amisan Observatory Park.

Some of Busan's finest, most awe-inspiring nature including deltas, rivers and migratory birds can be found along the Nakdong Estuary Delta. Amisan Mountain Observatory Park is the perfect place to check it all out.
Dadaepo's famous sunsets can be thoroughly enjoyed through Amisan's glass window, which is sure to put almost everyone in a peaceful state of mind. The panorama view of the Nakdonggang River from Amisan's rooftop is a particular highlight not to be missed. To get to Amisan Mountain Observatory Park, walk straight from Dadaepo Station, exit 1. It is opposite Gouni Ecological Trail.
-Hours: 9 a.m. to 6 p.m. Entry available until 5 p.m. Closed Mondays.