Views
The first beach, a fantastic park and much more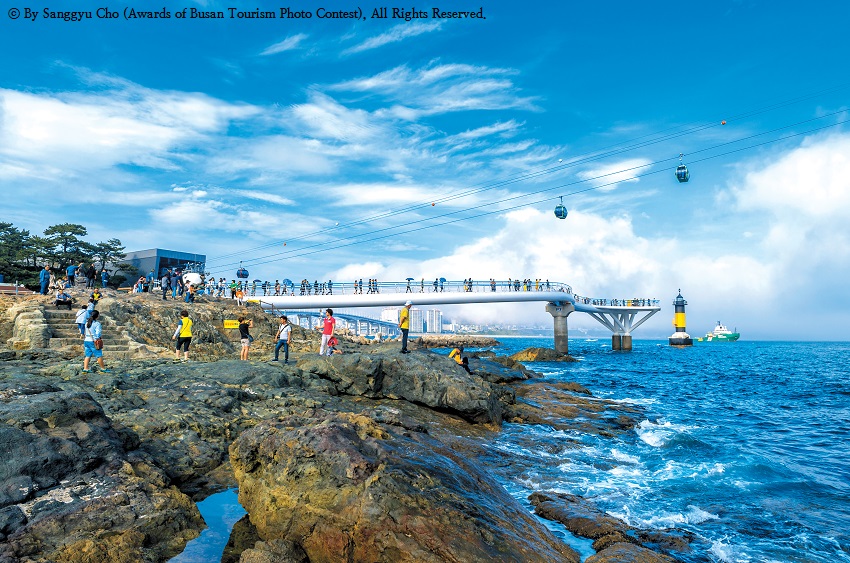 Songdo Beach is beautiful during the day, with the dramatic skywalk and cable cars offering more ways to take in the stunning scene.

While Amnam-dong (neighborhood) might be the official name for this area, most people know it better as Songdo.
Situated along the coast of the southern part of the city, this Seo-gu (district) neighborhood offers several wonderful ways to enjoy Busan outdoors in the summer. Of course, there's Songdo Beach. But, there's also Amnam Park, with its dense forest and resplendent views of both mountain and sea. Enjoy them both during a long day trip sometime this month.
Songdo Beach
Songdo Beach might not be as bustling as some of Busan's more famous beaches. But, it's no less excellent. Songdo was Korea's first public beach, officially opening in 1913. Its name means "pine island" for the many pine trees that surrounded the beach. The water is not too deep or shallow, allowing water lovers of many levels of bravery a chance to hop in. Although no metro trains travel to Songdo Beach, access is easy by bus from Busan Station, Jagalchi Market and Nampo-dong.
Many nearby restaurants are also worth a visit. Clusters of raw fish restaurants can be found along the seaside road. Also, several shops up the alley next to the beach side 7-Eleven offering unique menu items like mackerel sushi and fun mackerel-shaped breads.
-How to get there: Nampo Station (Metro line 1), exit 8. Take buses 7, 9, 30 or 71 and get off at Songdo Beach stop. Walk toward the beach.
■ Cable car
The cable cars travel from Songnim Park at the east end of the beach to Amnam Park in the west. Running high above the sea for eight minutes, they offer an excellent and different way to see the area. The clear floor of the select "crystal cabins" offer another rather unique view.
-Price: 15,000 won for regular cabins, 20,000 won for crystal cabins
-Hours: 9 a.m. to 10 p.m., daily (may be changed on select days)
■ Skywalk
A dramatic skywalk has been built above the sea. At 365 meters, it is the longest in the country. The Songdo Beach skywalk is built of reinforced glass and steel and creates the illusion of walking on the sea. It is open to the public until 11 p.m. daily.
Amnam Park, coastal walkway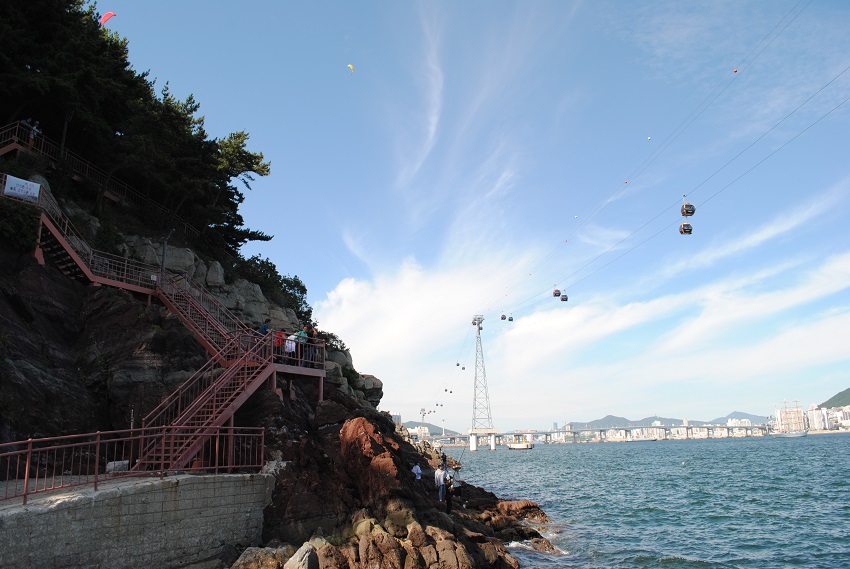 Amnam Park was not made available to the public until the 1990s. Through forested canopies can one find lovely ocean views, where small floating boats along the horizon make for some brilliant photographs.
Take the cable cars to Sky Park, located at the top Amnam Park. Here, one can write a message to loved ones and enjoy snacks with friends. A 1.3 km coastal hiking course beginning from the park also offers a magnificent view. A convenient and plentiful public parking lot often serves as a meeting point for various casual and professional fishing folk looking to catch the big one.
-How to get there: Nampo Station (Metro line 1), exit 8. Take bus 71 and get off at Amnam Park stop. Walk along the beach until reaching the park entrance. The coastal trail begins at the tip of the western part of Songdo Beach. Walk along the trail to reach Amnam Park.
Cheonmasan Mountain Observatory

Cheonmasan Mountain Observatory has stunning views.

Come here if you want to feel like you can touch the sky.
Cheonmasan Mountain is located near Amnam-dong at an altitude of 324 meters. The park and observatory, built on the summit of Cheonmasan Mountain, offers a great place to feel one with the sky and to see much of Busan, especially at night. Besides the stunning views, dozens of artworks can be enjoyed as well as public sports facilities.
-How to get there: Jagalchi Station (Metro line 1), exit 5. Take bus 134 and get off at Daewonsa Temple. Go up the stairs to the observatory, about five-to-10 minutes.