Views
Go west: Outdoor activities abound in Samnak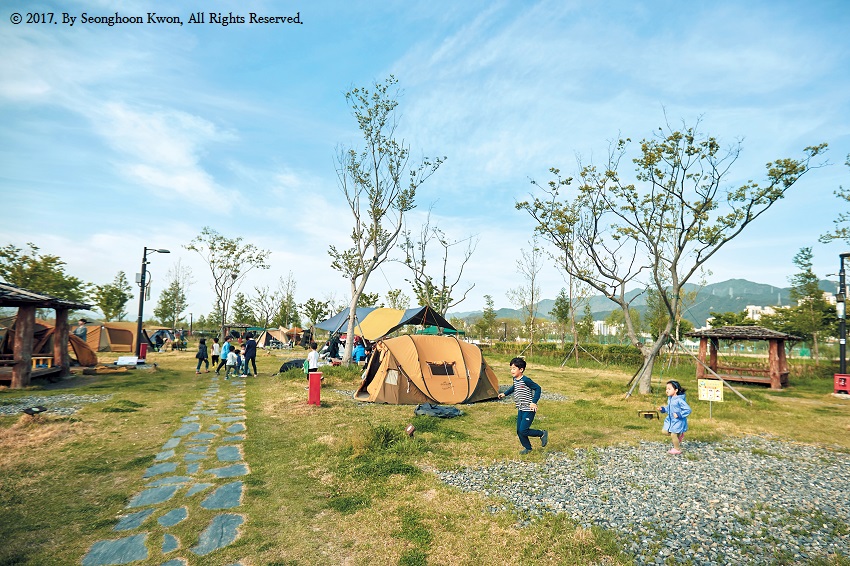 Samnak Ecological Park's auto camping site means families can get a taste of the great outdoors without being too far from home.

Samnak, located in the western Busan Sasang-gu district, is mostly comprised of the excellent Samnak Ecological Park, along the Nakdonggang River. Visitors have many options here. Enjoy a lovely walk by the water, a casual bicycle ride through copious green spaces or settle down somewhere cozy for that aforementioned picnic. Why not spend the night? Sometimes, one day is not enough.
Samnak Ecological Park
■ Auto camping site
Camping in Korea is more popular than ever. With more interest comes more demand. In Samnak Ecological Park, a campsite made specially for automobiles means those looking for the great outdoor experience can do so without having to travel too far from home.
Park along the river and set up your tent. While it feels removed from busy city life, campers here are never too far from expected daily conveniences such as public shower facilities and bathrooms, as well as available electricity (who said "roughing it" had to be rough?). A camp site store even has a number of camping essentials, including food and firewood, grills and more for sale or rent.
-How to get there: Sasang Station (Metro line 2), exit 3, or Gwaebeop Renecite Station (Busan-Gimhae Light Rail Transit), exit 1. Walk straight toward the park. Then, follow signboards toward the auto camping site from the park's entrance. The camp site can be seen online at naver.me/GrY4uHQi.
-Reservation: nakdongcamping.com (Korean only). Fee is 25,000 won per night.
■ Lotus complex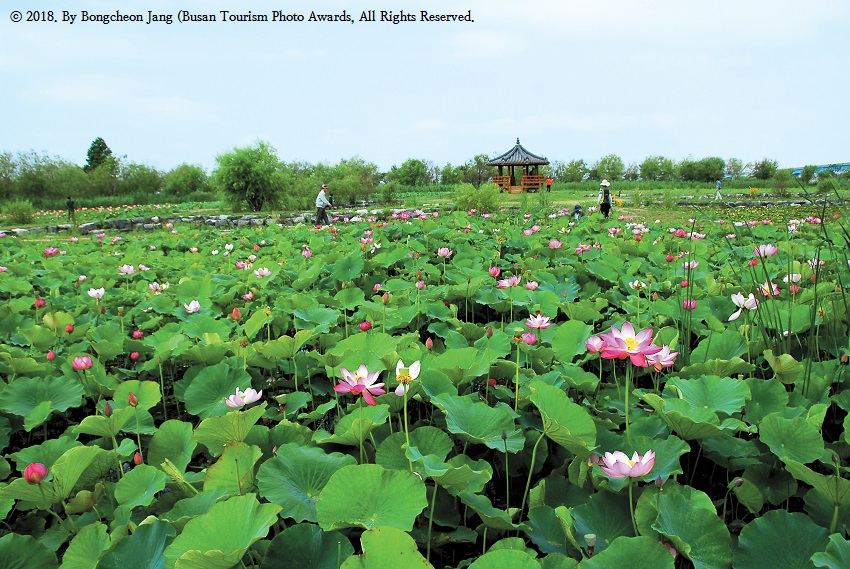 The lotuses at Samnak Ecological Park peak in July.

The park's name gives away the game. Samnak Ecological Park has been created with ecological interests in mind. There are lovely wild flowers, wetlands, ponds, habitat for migratory birds and more within easy reach. Walk toward the cycling arena in the middle of the park to find the marsh ecological area. The lotuses found here are in full bloom during summer. The beautiful lotus pond can be seen from both the "P8" and "P10" parking lots, where many photos are taken during the season, from June through July. Also be sure to come back in mid-August, when sunflowers will be in their full bloom.
■ Bike rental
Anyone with proper identification can rent a bike from the park's bike rental shop, located in the Car Park 1 area next to the inline skating rink. A variety of sizes are available for adults and children, including tandem two-seaters. Rentals range from 3,000 to 6,000 won per hour and are available from 9 a.m. to 6 p.m. March through October, 9 a.m. to 5 p.m. November through February. The bicycle rental service is unavailable on Mondays and rainy days.
■ Outdoor swimming
Samnak Ecological Park offers a 1300-square-meter outdoor swimming complex for those who want a little surf with their turf. The complex has a lazy river, adults pool, wading pool for children, ground fountain and more. It's open 9:30 a.m. to 5 p.m. July 7, 8, 14, 15 and from July 20 through Aug. 26. Rain closes.
-Admission: 4,000 won for adults; 2,000 won for children six-to-12 years old; free for children under six.
Marsh Clam Street (재첩거리)
Marsh Clam Street is a living piece of history in Samnak-dong. Restaurants here welcome guests with the simple but delicious and nutritious jaecheop guk (marsh clam soup) to prepare them for the meal. While jaecheop guk can be found elsewhere in the city, it's here that it developed its reputation. Marsh Clam Street was established in 1970 as harvesting the little marsh clams was still possible in the Nakdonggang River. While these clams can no longer be found in the Nakdonggang River, restaurants remain as plentiful marsh clams are delivered daily from the Seomjingang River in Jeollanam-do (province). So, before or after an afternoon exploring the nature of Samnak Ecological Park, fill up with some fantastic food.
-How to get there: Mora Station (Metro line 2), exit 3. Walk two minutes along Sasang-ro. After one block, follow 531 Sasang-ro and turn left. Continue walking straight, then cross the bridge above Samnakcheon Stream to find many marsh clam restaurants.