Views
Plan a trip to one of Busan's most famous places
Daytripping in Busan 5: U-dong

The sun sets upon the Nurimaru APEC House on Dongbaekseom Island.
Welcome to Busan's signature destination.
When people think of U-dong (neighbor-hood), the Suyeonggang River that runs th-rough Haeundae Beach, Centum City and Marine City comes to mind. Skyscrapers, as well, which rise dominantly in clusters around the Korea's most famous beach. Amid some of Busan's most impressive high rises, a traditional market is also here, not far from Haeundae Station. U-dong also has Jangsan Mountain, an excellent library and even more reasons many residents here find any excuse to not travel far.
For our latest daytrip, Dynamic Busan is heading out to Haeundae and U-dong. Take a nice walk on Dongbaekseom Island or an energizing bicycle ride on the Suyeonggang River. Catch a great movie at the Busan Cinema Center during its summertime outdoor movie screenings. Or, how about visiting fancy coffee shops or restaurants along the back street of the old Haeundae train station? There's more than a day's worth of fun activities to dis-cover.
■ Dongbaekseom Island
Named after the camellia flower that occupies much of the place, Dongbaekseom Island today is actually attached to the mainland. Its lovely flowers and excellent walking paths are a perfect place to get some exercise and appreciate the ocean.
There is a nice promenade here, which attracts visitors day and night. Be sure to check out the Nurimaru APEC House and observatory while visiting. Tours of where the APEC (Asia-Pacific Economic Cooperation) leaders meeting was held in 2005 should be on the agenda, as well as a stop into the observatory, which offers a beautiful and expansive view of the Gwangandaegyo Bridge.
The Bay 101, located at the Dongbaekseom Island entrance, is another popular tourist attraction in an area that is full of them. Many enjoy taking pictures of the area at night, when the lights from the many skyscrapers in nearby Marine City create some pretty dramatic images.
-How to get there: Dongbaek Station (Metro line 2), exit 1. Walk straight along Dongbaek-ro. Cross the street at Dongbaek intersection and walk straight toward Westin Chosun Hotel.
■ Suyeonggang River
The majestic Suyeonggang River flows between Millak and Haeundae and is the second longest river in Busan. A lovely walking and bicycling trail on both sides of the river encourage outdoor activities, while installed lights along the promenade create beautiful reflected night views along the water. Kayaking is recommended and is available at a booth situated in front of Hyundai apartment building 103. Kayaks are available until October every day except Mondays. Online registration in advance is available on sek.or.kr (only in Korean) or those interested can register on the spot.
Densely-packed high-rise buildings behind anchored yachts where the river and ocean meet make for a unique view. Yacht tour programs are available from here.
-How to get there: Millak Station (Metro line 2), exit 2 or Centum City Station (Busan metro line 2), exit 12. Connect to the Su-yeonggang River in five-to-10 minutes.
■ Busan Cinema Center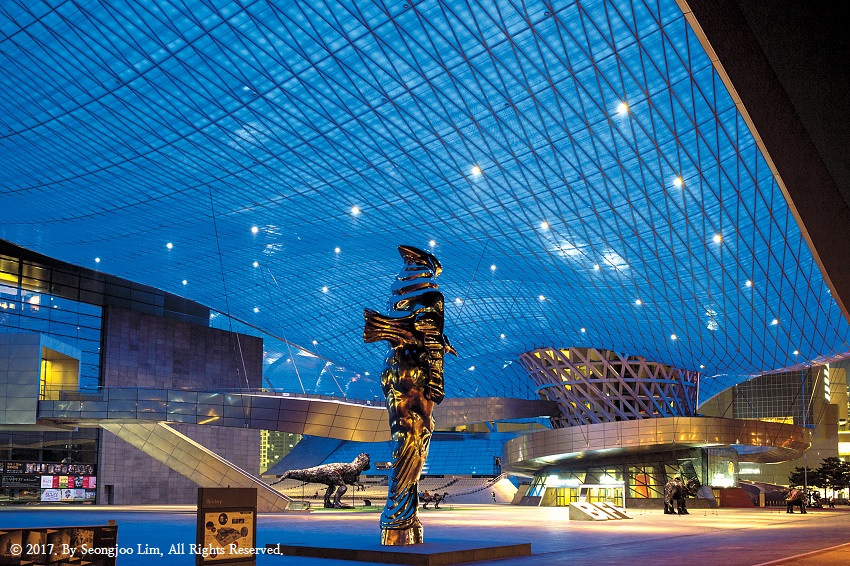 Busan Cinema Center, with its arresting architecture and dramatic lights, illuminate the Centum City sky and makes for some beautiful nighttime scenery along the Suyeonggang River. Visitors can enjoy a variety of films across genres, from independent movies to popular blockbusters.
Busan Cinema Center also hosts music performances such as musicals and other con-certs. It conducts film-related lectures on how to produce films, write scenarios, edit images and more. The center also has a film resource room for film buffs and the rest of the public who want to go even deeper into film appreciation.
Be sure to check out Busan Cinema Cen-ter's outdoor theater, which can accommodate nearly 4,000 people. Films can be enjoyed outside at night at 8 p.m. Wednesdays from June to September.
-How to get there: Centum City Station (Metro line 2), exit 12. Walk to the corner and turn right. Walk for 10 minutes. Busan Cinema Center is located shortly past Shinsegae Department Store.
*Schedule of Movie screenings
June
Tue. June 12: Hacksaw Ridge
Wed. June 20: Neerja
Wed. June 27: Platoon
July
Wed. July 4: Still Walking
Wed. July 11: Guzaarish
Wed. July 18: Earth: One Amazing Day
Wed. July 25: Nutcracker
August
Wed. August 1: Cirque du Soleil Worlds Away
Wed. August 8: The Shower
Tue. August 14: Dead Poets Society
September
Wed. September 19: Spotlight