Views
Buddha and a beautiful park: perfect together
The Seongjigok Reservoir, once a vital source of drinking water for Busan, is now an essential place for people to escape the chaos of city life for the peace and beauty of nature.
 Spring 2018 has reached middle age. The trees have all bloomed and the city is awash in green. So, it's a great time to enjoy all the lush foliage the season has to offer with a daytrip to Choeup-dong (neighborhood) in Busanjin-gu (district), home to Busan Children's Grand Park, the walking trails of Seongjigok Reservoir and the amazing annual Lotus Lantern Festival at Samgwangsa Temple.
■ Busan Children's Grand Park
 Busan Children's Grand Park is the most popular destination for picnics for elementary school students in Busan. No surprise, considering its name.
 The park is built along the Baegyangsan Mountain slope, which further affords the place some stunning views. Coupled with well-maintained walking trails, Busan Children's Grand Park attracts many more than just kids. Visitors can also check out the Seongjigok Reservoir, an ecological experiential center and forest trails inside of the park.
 In particular, the retinispora forest is a must visit destination. This area is packed with retinisporas, an East Asian variety of ornamental dwarf shrubs. Retinispora trees produce large amounts of phytoncide, which results in a pleasant scent and clean, fresh air for visitors. Busan's only zoo, Samjung the Park, is also located in Busan Children's Grand Park. Visitors to the zoo can see more than 1,000 kinds of reptiles and animals like penguins, otters, wild cats, ostriches and more.
-How to get there: Seomyeon Station (Metro lines 1 and 2), exit 13. Walk straight toward Bujeon Market for about five minutes. Take bus 54, 81 or 133 and get off at Busan Children's Grand Park stop. Or, Centum City Station (Metro line 2), exit 2. Take bus 63 and get off at Busan Children's Grand Park stop.
■ Seongjigok Reservoir
 This beautiful reservoir area is registered in Korea as a cultural asset for good reason.
 Built in 1909 to provide clean drinking water to residents, Seongjigok Reservoir has been an invaluable asset to Busan residents for over a century. While the reservoir no longer serves in its original role as a drinking water provider, it remains well-loved by locals due to its incomparable beauty. There is a beautiful wooden deck pathway along the reservoir area, where visitors can experience the changing seasons.
-How to get there: Follow the signpost from the entrance of Busan Children's Grand Park. Walk up along the mountain slope for 20 minutes.
■ Samgwangsa Temple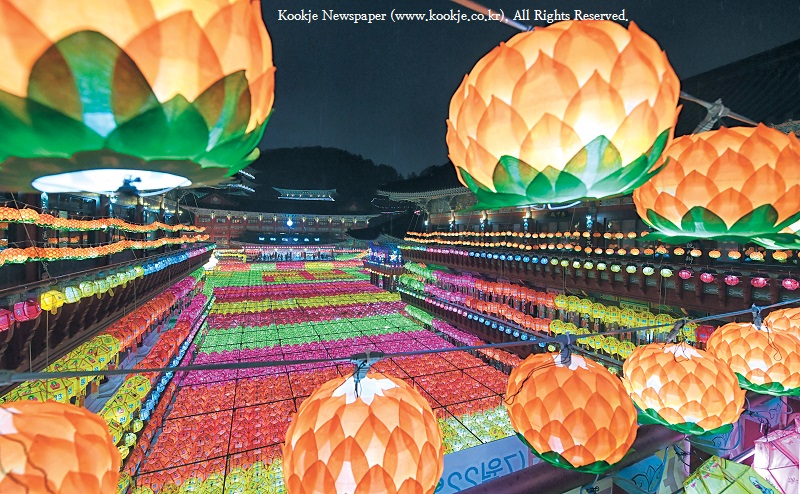 For many Buddhists, Buddha's Birthday and the celebrations surrounding it can be compared in importance to Christmas for Chris-tians. This year, the holiday is on May 22 and Samgwangsa Temple will once again be lit up in grand fashion for the occasion.
 Samgwangsa Temple, located halfway up Baegyangsan Mountain, is a 120,000 square-meter behemoth. Its extensive grounds contain lanterns that create immense wonder after the sun goes down. In 2012, Samgwangsa Temple was recognized internationally by CNN as one of Korea's most beautiful places.
 Approximately 50,000 lotus lanterns are lit every night at the temple from the end of April through May 22. Built in 1986, Samgwangsa Temple is a representative of the Cheontae Order, one of Korea's mainstream Buddhist denominations. Its nine-story, 30 meter-high Dabotap Tower is notable as the largest stone pagoda in Asia.
-Address: 29-7, Choeupcheon-ro 33beon-gil, Busanjin-gu
-How to get there: Take mini bus 15 in front of the medical center across from Lotte Department Store in Seomyeon and get off at Samgwangsa Temple stop.