Views
Ancient tombs a modern way to spend a day
Wide Busan: Bokcheondong Ancient Tombs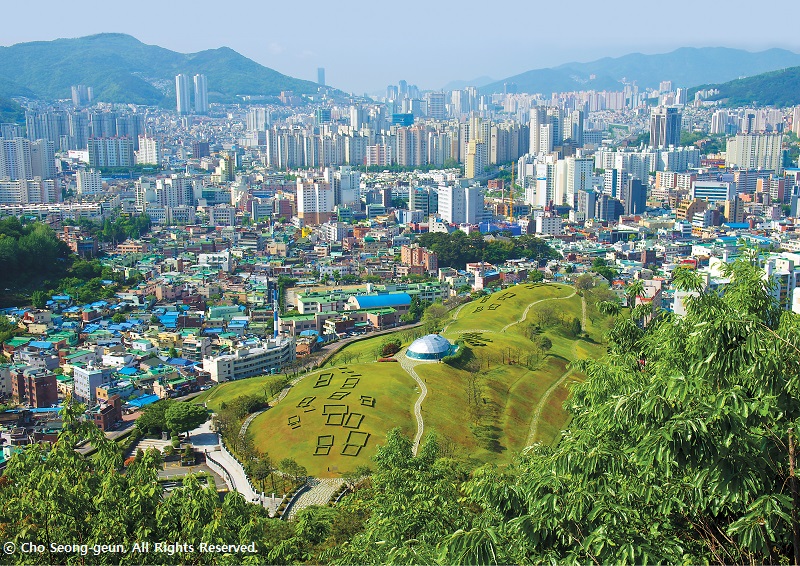 The Bokcheondong Ancient Tombs site, in Bokcheon-dong (neighborhood), Dongnae-gu (district), provides visitors an opportunity to experience Korea's Iron Age.
A unique landscape can be found if you visit Bokcheon-dong (neighborhood).
Seen between apartment blocks, the graves of people from the Gaya period (42-532 AD) are clustered at the Bokcheondong Ancient Tombs site. Old relics like gilt-bronze crowns, armor and helmets have been excavated from here.
The ancient tombs site, a discovered treasure in Busan, is a great place to experience something unique under the azure skies this autumn.
■ Meanings
Dongnae was a very important location in Busan until the end of the Joseon Dynasty. To that end, Dongnae has many historical remains all across the district that reflect this history. This cluster of tombs is representative of the Gaya period and is a well-preserved example of some deep history in the middle of a modern downtown area.
How the site was discovered is also inter-esting. While digging in 1969 for a housing construction project, some residents spotted earthenwares at the site. As a result, this hilly area was designated a national historic site and nearby universities and museums carried out excavations there until 1995. In total, 169 tombs and about 10,000 pieces of relics have been excavated from the Bokcheondong Ancient Tombs site.
A well-maintained lawn and pathway can be seen in the area near the tomb site. At the outdoor exhibition hall, the original excavation site as it was when the tombs were discovered has been preserved for visitors.
-Information: dongnae.go.kr/english
-How to get there: Suan Station (Metro line 4), exit 7. Walk 15 minutes. It is located at the back of Naeseong Elementary School and Dongnae Office of Education. Or, Dongnae Station (Metro line 1), exit 4. Take mini bus 6 and get off at the Bokcheon Museum bus stop, or take mini bus 6-1 and get off at the Hanguk Sangsa bus stop.
Recommended places
■ Bokcheon Museum
About 10,000 historical relics are preserved and exhibited at Bokcheon Museum. Kept in good condition, these relics of the Iron Age provide a very unique opportunity to get a glance at the lives of descendants of the Gaya period.
Earthenwares, iron armor, ornaments and gilt-bronze crowns excavated from the tombs of the ruling class before the sixth century can tell so much about the circumstances and culture of that time in this region's history.
In addition, various kinds of pots, earthen-wares, miniatures of tombs, ornaments and farming tools are on display that show vestiges of exchange with neighboring areas of the city.
-Hours: 9 a.m. to 6 p.m. daily (entry until 5 p.m.), 9 a.m. to 9 p.m. on Saturday. Closed Mondays.