News
Busan leads South Korea's push up north
Busan is setting its sights higher and higher. In addition to being on the way to establishing itself as Northeast Asia's maritime capital, the city is also aiming to become the region's Arctic gateway.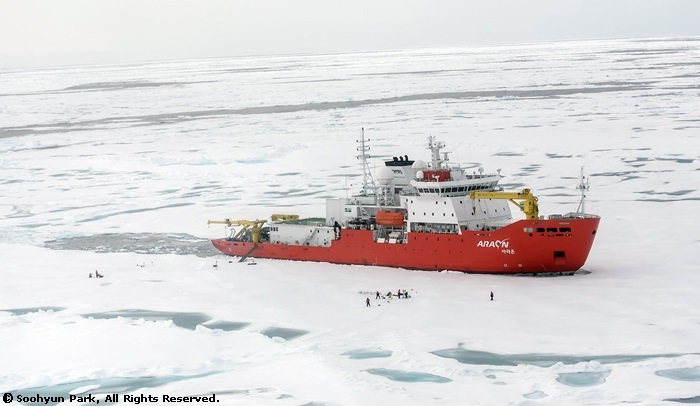 △ South Korea's first icebreaker vessel, the Araon, in action in the Arctic.
In a time of climate change and melting ice, routes through the arctic are growing shorter, opening up a wide window of opportunity to take advantage of the area's huge amounts of natural gas, oil and other sources of minerals and energy. Busan is in a positive position to achieve its goals due to its possession of the world's second-largest transshipment port and because of its optimal marine logistics hub that connects to East Asia, Europe and the Americas.

△ A reindeer eats grass in a changing climate.
Accordingly, the national government announced a plan, known as the "2050 Polar Vision," which envisions a future where South Korea is one of the seven leading nations in polar development by the year 2050. As part of these efforts, Busan has strengthened exchanges and cooperation with cities in polar regions by signing an MOU with Christchurch City, New Zealand, in 2017, and an MOU with Magellan Province, Chile, in January this year. As for the Arctic, Busan is preparing an exchange agreement with Tromso, Norway, in the second half of this year.
This initiative is based on becoming a polar gateway city in Northeast Asia through business agreements with polar countries. Busan plans to create a "polar town" on a 23,000-square-meter site in Yongho Bay, Nam-gu (district). The polar town will have search and experience centers, as well as research infrastructure facilities to help Busan achieve its goals.
The city is additionally bringing the latest in maritime technology to its ports and is aiming to advance into the areas of port development and energy transportation. Busan will also develop its marine biology sector by fusing fisheries and polar technologies. To spread the word of its goals, Busan is planning to hold polar-related events, including the Penguin Parade, later this year.