News
Annual festivals postponed, canceled for safety
Annual festivals around town have been postponed or canceled, in order to further contain the spread of COVID-19.
The Busan Cultural Foundation, under advisement from the go-vernment, postponed the 2020 Joseon Tongshinsa Festival, which was scheduled to be held May 1 to 3 in Yongdusan Park and Gwangbok-ro (street), to the end of October. Traditionally a spring festival, it celebrates Joseon-era diplomatic delegations between Korea and Japan that took place centuries ago. The annual event is usually held every May in Nampo-dong (neighborhood), with 3,000 citizens coming together to take part in festivities involving dancing, history and culture.
According to an official from the Busan Cultural Foundation, "2020 marks the 70th anniversary of Korea's entry into UNESCO and the third year of the Joseon Tongshinsa being granted UNESCO World Heritage status, so we want to make this year's event as special as possible."

△ Bare-hand fishing at the Eobang Festival.
Both the Busan Gwangalli Eobang Fishing Village Festival and the Gamcheon Culture Village Festival have been postponed to October. The former refers to a fishing business between naval forces and fishermen from the Joseon era; the Gamcheon Culture Village Festival celebrates the art of Busan's most famous mountain village.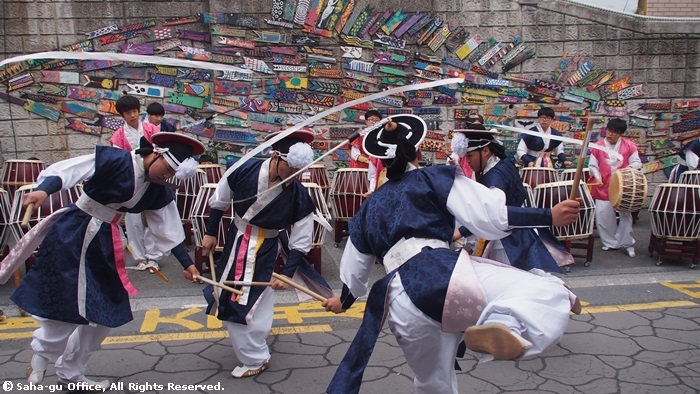 △ The Gamcheon Culture Village Festival will be held in October.