News
Busan swiftly flattening COVID-19 curve
Busan is overcoming the novel coronavirus.
The city saw 15 new cases of the virus in the month of April (as of April 27), most of which came from abroad. Busan's cumulative number of cases totals 134. Among them, 114 have been cured. Busan, however, is still paying close attention to the virus and is vigilantly putting those suspected of infection in quarantine.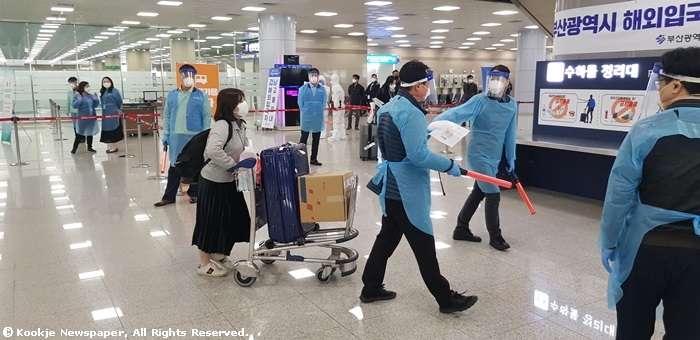 △ Medical officials safely guide travelers at airports and train stations to where they need to go.
To minimize distress among residents, the city is providing real-time updates and movement information through its official web page, social media and the websites of BeFM radio and the Busan Foundation for International Cooperation. With the cooperation of health centers, the city is doing everything in its power to contain the spread of the virus by disinfecting multiple-use facilities and places known to have been visited by confirmed patients.
Since the middle of March, most confirmed cases have been from overseas entrants. As a result, Busan has been thoroughly inspecting, guiding and managing those entering airports at Incheon and Gimhae, as well as Busan Station. All inbound pa-ssengers, regardless of nationality, automatically go into mandatory quarantine for two weeks.

△ Sound pressure booths are the new tech in testing.
State-of-the-art technology
The country, including Busan, is running mobile sound pressure booths to collect samples from potential patients within 15 minutes. These booths are the first of their kind in the world and provide efficiency and safety for the medical staff performing examinations and for the patients receiving them. The booths isolate the examiner, which results in minimal protective gear being needed to undertake the procedure.
Korea Kiyon, the manufacturer of the booths, signed a memorandum of understanding with a private hospital in Washington, D.C., United States, to export two booths. The company also exported three booths to a private hospital in Kobe, Japan, and 30 booths to Thailand. Two booths will be donated to the Red Cross in Italy, which is deeply struggling with the virus.
What comes next
Busan is preparing for a new way of life, whatever that may be, following the pandemic.
In preparation for a potential economic crisis, the country will prepare special measures to stabilize the lives of residents and re-vitalize the local economy. The government also launched an emergency financial countermeasure department in April and prepared a system that comprehensively manages and responds to issues of quarantine, economy and finance. Furthermore, an emergency financial strategy meeting is being planned to investigate and address what a post-pandemic economy may look like.
Financial preparation
The national government has been lauded for the quick measures it has taken, including its decision to set up an emergency disaster fund to aid those suffering losses during the pandemic. The government is pushing for three major burden reduction measures and is undertaking projects to support vulnerable groups by raising 250.5 billion won in funds. The city has also been paying one million won to 186,000 people in need, including small business owners and those who are self-employed.
Special measures
To conquer this crisis, Busan will continue to monitor and respond to developments in the local economy. The city will strengthen its status as an international city of tourism by investing 150 billion won into state and municipal funds through 2024 with the aim of attracting 10 million international travelers a year. Busan will launch a marketing campaign to promote the city globally.