News
City Hall doing best to manage COVID-19
"Busan Metropolitan City Hall will excessively take all-out measures for the safety of residents and tourists. We ask everyone to trust City Hall and to cooperate with us."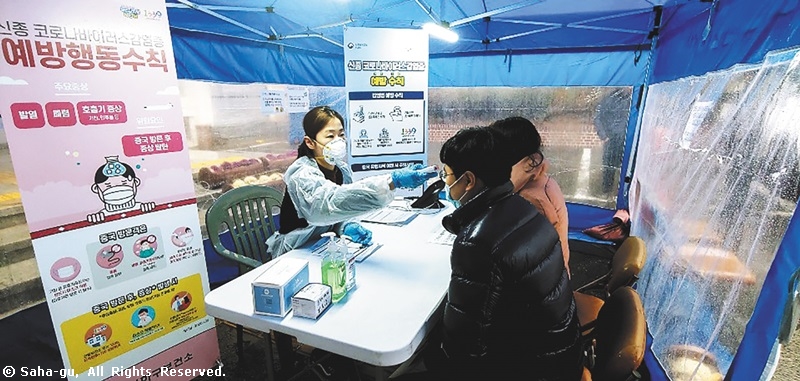 △ Temperature checks and disinfections are taking place at medical centers and places of business across the city to contain COVID-19.
The city is making the best of efforts to contain the spread of a novel coronavirus named COVID-19 by quickly disclosing the routes and visited locations of patients. City Hall is also operating an emergency response system by mobilizing all of its administrative power to minimize civil fear.
As of 8 p.m. on Feb. 25, 51 patients have tested positive for the new coronavirus in Busan after a 57-year-old woman and a 19-year-old man were the first to be confirmed on Feb. 21. City Hall quickly disclosed the routes and the locations these patients visited via its official social media page and has been doing so for additional victims as quickly as possible.
Busan is also stepping up efforts to contain infections by supporting neighborhood health centers, tightening disinfection management of public facilities and aiding volunteers who wish to help in disinfection. The local government has urged medical institutions to comply with anti-infection rules and regulations and has asked that all medical staff wear masks. The city has also strengthened management of hospital visitors through temperature checks and thermal cameras.
The city government is particularly seeking cooperation in keeping patients with respiratory issues separated from patients without any such symptoms, to make sure citizens are able to receive the care they need with minimal anxiety. City Hall also held an emergency meeting with 16 heads of district and county offices and hospitals, where they prepared a manual for responding to COVID-19.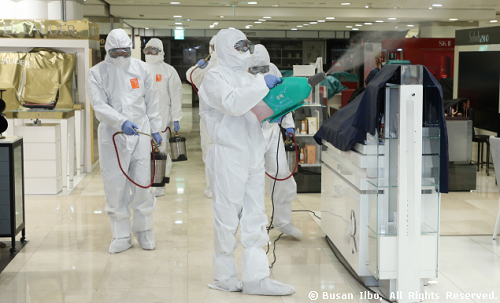 △ A group of workers disinfect a public area.
Additionally, the city is doing its best to manage Chinese students who are expected to return to the country for the new school year in March. The local government is working with Busan universities in sharing information on the health status of students entering Korea from China and on conducting systematic and active quarantines in nearby dormitories and school cafeterias.
"Although there may be difficulties in terms of manpower, equipment and facilities, we ask for your cooperation in overcoming this national disaster," Busan Mayor Oh said. The mayor also asked citizens to call the Centers for Disease Control and Prevention at 1399 or the immigration office at 1345 before visiting medical institutions if they have fevers, coughs and other symptoms that do not improve.
Meanwhile, City Hall decided to postpone Independence Movement Day events, scheduled all over Busan for March 1, as well as the Hana Bank 2020 World Team Table Tennis Championships Busan, which will now run from June 21 to June 28.