News
City Hall managing coronavirus
Since January, cases of illness caused by a novel coronavirus have been reported coming out of the Chinese city of Wuhan. Major symptoms are fever and respiratory symptoms, including coughing, sore throat and difficulty breathing. Severe cases can lead to pneumonia, renal insufficiency and even death. Those who visited Wuhan within the past 14 days should be on alert for any of these symptoms. Citizens and residents are advised to cover coughs and sneezes with their upper sleeves and wash their hands with soap thoroughly and frequently.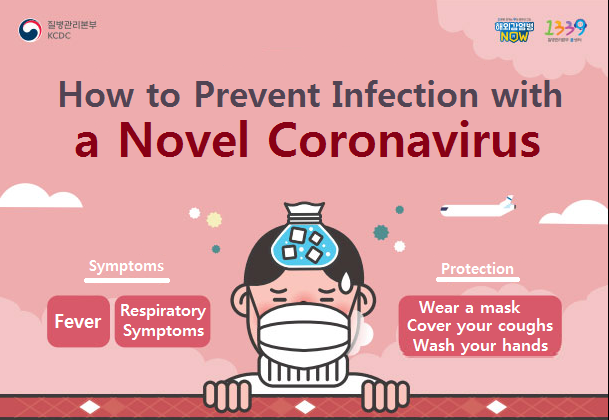 △ How to prevent infection with a novel coronavirus; symptoms are fever and respiratory symptoms; for protection, wear a mask, cover your coughs, and wash your hands.
If you develop a fever or any respiratory symptoms, call the KCDC at 1339 (Koreans) or 1345 (foreigners). If you have any respiratory symptoms, wear a mask when you go outside or visit a medical clinic or a hospital and wash your hands with running water for at least 30 seconds. When you visit a medical clinic or a hospital, tell your doctor your overseas travel history, including your stopovers, especially if you have visited Wuhan within 14 days of any symptoms.
City Hall has launched a 24-hour emergency response system through new specialized clinics at health and emergency medical centers to manage the virus. It is updating information on the virus on its social media and other outlets. City Hall will also strengthen management of tourists entering the country through Gim-hae International Airport.
Local medical centers operating the new clinics are in the table below. For more information, visit facebook.com/dynamicbusan.
■ Clinics for symptoms of coronavirus
District

Hospital

Contact No.

Seo-gu

Dong-a University Hospital

051-240-2400

Pusan National University Hospital

051-240-7000

Dong-gu

Bongseng Hospital

051-664-4000

Busanjin-gu

Inje University Pusan Paik Hospital

051-890-6114

Dongnae-gu

Daedong Hospital

051-554-1233

Nam-gu

Busan St. Mary's Hospital

051-933-7114

Haeundae-gu

Inje University Haeundae Hospital

051-797-0100

Gangseo-gu

Kabul Noksan Hospital

051-974-8449

Yeonje-gu

Busan Medical Center

051-607-2033

Suyeong-gu

BHS Hanseo Hospital

051-756-0081

Good Gangan Hospital

051-610-9119

Sasang-gu

Good Samsun Hospital

051-322-0900

Gijang-gun

Dongnam Inst. of Radiological & Medical Sciences

051-720-5114