News
Busan runs, marathons race through autumn
Runners will have many runs and races to choose from throughout 2020.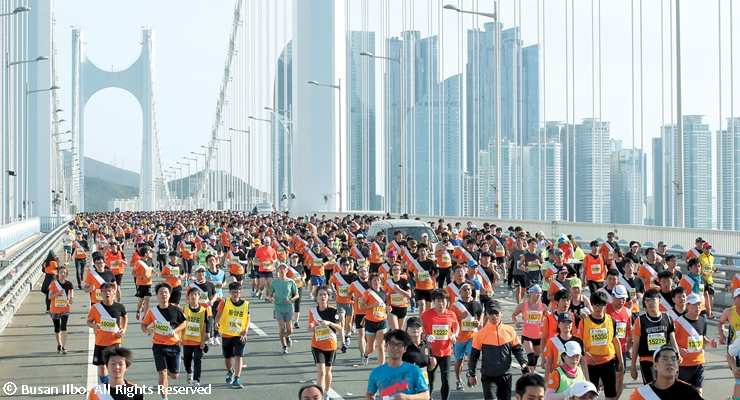 △ Thousands of people take part in running across Gwangandaeygo Bridge every year.
Beginning in the spring, the 20th Pink Run will be held at the Suyeongman Yachting Center on March 15. The event is part of the Pink Ribbon Campaign, which is aimed to promote women's breast health, and is held in five regions around the country. With about 370,000 participants from 2001 to 2019, the event has delivered a total of over four billion won in donations to the Korea Breast Cancer Foun-dation. The cost to participate in the event goes towards the prevention of breast cancer and supporting patients currently struggling with the disease. The race begins at the yachting center at 9 a.m. and follows a route through Haeundae Beach before turning back. Participation is a flat rate of 10,000 won.
On Saturday, March 21, the 18th KNN Eco-Friendly Marathon will be held. Participants can choose to run 10 kilometers competitively or non-competitively. Alternatively, runners may also choose a shorter, non-competitive course. The course goes through Millak Waterfront Park and Gwangalli before turning back to BEXCO from Samick Beach apartment.
On April 26, two marathons will be held. The first one, the third Gijang Bada Marathon, takes place along Gijang's coast. On the same day will be the 19th Busan Marathon, held at Samnak Riverside Sports Park in Sasang-gu (district). All participants will be provided with plenty of food, events and other spectacles.
Additional runs include the Busan Half Marathon on Dadaepo Beach on May 17 and three chances to run on Gwangandaegyo Bridge: the Adidas Mirun Busan event in April, the Busan Night Race in August and the Busan Ocean Marathon in October. The events on Gwangandaegyo Bridge are some of the year's most popular.
■ 2020 Busan runs (Schedule subject to change)
| | | | |
| --- | --- | --- | --- |
| Date | Event | Course | Website |
| March 15 | Pink Run | Haeundae Beach | pinkcampaign.com |
| March 21 | KNN Eco-Friendly Marathon | Gwangalli Beach | marathon.knn.co.kr |
| April 26 | Gijang Bada Marathon | Gijang coast | badarun.co.kr |
| April 26 | Busan Marathon | Samnak Wetland Ecology Park | bsrun.co.kr |
| April | Adidas Mirun Busan | Gwangandaegyo Bridge | busanmbcrun.com |
| May 17 | Busan Half Marathon | Dadaepo Beach | kookjemarathon.com |
| August | Busan Night Race | Gwangandaegyo Bridge | nightracebusan.com |
| October | Busan Ocean Marathon | Gwangandaegyo Bridge | busan.wizrun.com |