News
EAFF E-1 brings out the best of Asian football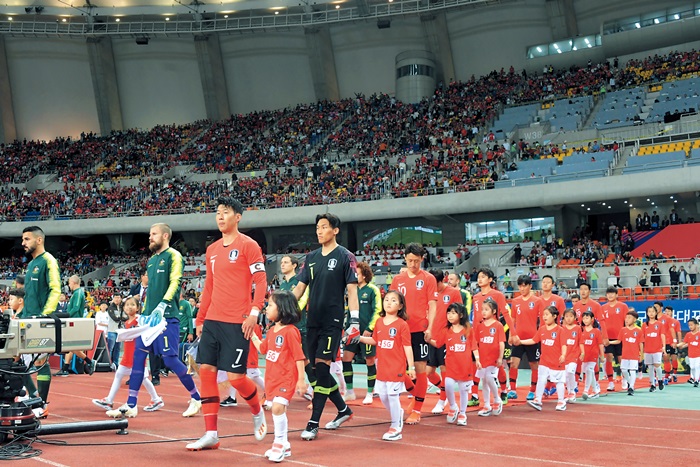 ▷ Son Heungmin walks onto the pitch before a game against Australia in June 2019 at Asiad Main Stadium.
The EAFF E-1 Football Cham-pionship, formerly known as the East Asian Football Championship, will be held at Asiad Main Stadium and Gudeok Stadium from Dec. 10 to 18.
The championship, held by the East Asian Football Federation, is a biennial soccer tournament held between East Asian nations. South Korea, China, Japan and Hong Kong will participate in the men's cham-pionship. Hong Kong will not participate in the women's tournament, but Taiwan will.
The South Korean men's team is the tournament's biggest winner throughout the years, winning the title in 2003, 2008, 2015 and 2017. The men's most recent victory came with a 4-1 win over Japan. The women's team, one-time winners in 2005, fell 3-1 to China in the third-place game at 2017's tournament. The most successful team in the women's tournament is North Korea, which has won at three consecutive tournaments. The team will not participate this year, however.
Also not participating, since the EAFF E-1 Football Championship is not sanctioned by FIFA, is Son Heungmin. The event, however, still promises exciting action, including a rivalry game between South Korea and Japan and the debut of former player Colin Bell as manager of the South Korean women's team.
Tickets can be purchased through Interpark. They cost 90,000 won for premium seats and between 20,000 and 50,000 won for economy seats. A table seat for Busan Asiad Main Stadium costs 60,000 won.
How to get there: Sports Complex Station (metro line 3), exit 9. Follow World Cup-daero until you reach the stadium.
Tickets: tickets.interpark.com