News
2019 GStar to be largest event yet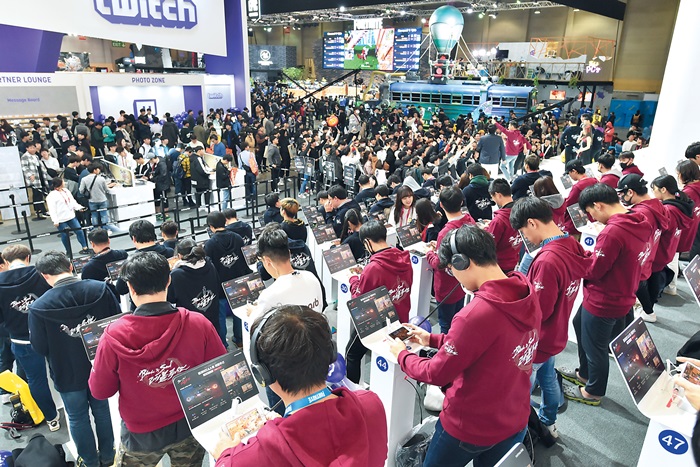 ▷ GStar is a chance for gamers to try new titles.
GStar, the country's largest video game exhibition, will be held at BEXCO from Nov. 14 through 17.
Visitors to the event will be able to play games currently in development and titles set to be released next year. Some of 2019's biggest releases will also be on display, as will the elaborate costumes of cosplayers.
GStar has been growing since its inaugural exhibition in 2005. Last year's was the largest yet, with 689 game companies from 36 countries opening 2,966 booths for a total of 232,964 visitors. This year's GStar is expected to be even larger. The organizing committee announced that around 700 companies from 40 countries would set up 2,894 booths this year.
Mobile games are the main attraction of GStar. Supercell, a mobile gaming company that gained fame for its titles "Brawl Stars" and "Clash Royale," is the event's top sponsor. The game developer will participate in the festival with 100 booths and plans to hold the "Brawl Stars" World Final. The championship will be held at BEXCO's auditorium on Nov. 15 and 16. Eight teams that passed regional qualifiers around the world will compete for $250,000 (over 294 million Korean won).
Pearl Abyss, the developer of "Black Desert Online," will set up the largest number of booths with 200. The online game company will present three new titles at GStar during the festival Project CD, an RPG game, Project K, a shooting game and Project V, a casual game. Netmarble will also be present at the exhibition. The Korean game company will let visitors play the upcoming MMORPG games "Seven Knights 2" and "A3 Still Alive."
GStar has prepared an application for Android phones that provides location and notice services. The official website (gstar.or.kr) will announce more information in the coming weeks. Busan Metropolitan City Hall is operating GStation at Centum City subway station between exits 12 and 13 in order to promote the event. There, visitors can play around eleven VR, PC, mobile and PlayStation games.