News
Busan Christmas festivities to light up earlier

▷ Gunamro in Haeundae will get into the Christmas spirit with more than one Christmas tree.
Busan is beginning to prepare for the Christmas season as it always does Christmas trees and countless lights. This year, however, the decorations will turn on earlier than usual. Beginning on Nov. 16, Nampo, Seomyeon and Haeundae will be adorned with holiday decorations that will launch over a month of festive cheer.
The Seomyeon Christmas Tree Festival will be held in Seomyeon from Nov. 16 to Jan. 5. The grand Christmas tree will be set up on the field of the Norimaru Youth Center, with fabulous LED illuminations that will light up the area. Jeonpo Cafe Street will join in on the fun with a 3Dmedia photo zone.
There will be three themes in Seomyeon. The first, from Nov. 16 to 29, will be in celebration of the the ASEANROK Commemorative Summit, which is to be held on Nov. 25 and 26. During the first period, the festival will operate a special area around the Avenue of Youth called ASEAN Street, which will exhibit media art using the national flags of ASEAN nations. Every day at 8 p.m., volunteers dressed in the traditional clothing of Southeast Asian cultures will march down the street. There will be street performances on Nov. 23 and 24.
After that, the City's Light will run from Nov. 30 to Dec. 20. During this period, there will be lights and decorations using imagery of the Milky Way galaxy. The final theme, from Dec. 21 to Jan. 5, will be Christmas and the New Year. There will be a Christmas concert on Dec. 24 and a New Year's party on Dec. 31.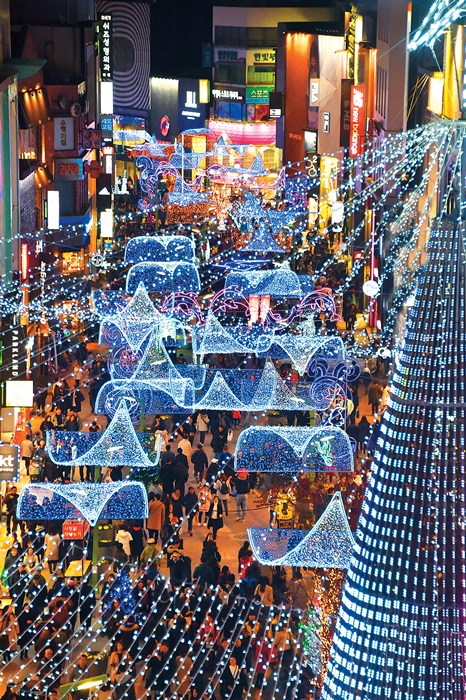 ▷ Fashion Street's decor holds nothing back.

Since 2009, the Busan Christmas Tree Culture Festival has been a Nampodong (neighborhood) staple. Celebrating its 11th event this year, the festival will start on Nov. 16 and will be held along Gwangbokro (street), which links Nampo to Gukje Market. There will be additional lights at Yongdusan Park. The main attraction is the large Christmas tree in the center of the threeway Gwangbokro intersection. Performances will be held every night in front of the Christmas tree during the festival.
The sixth Haeundae Lighting Festival will be held around Haeundae Beach for 72 days from Nov. 16 to Jan. 26. A Christmas tree, as well as many spectacular lights, will brighten up the shore by the beach. There will also be lights, photo zones, illuminated tunnels and other Christmas decorations on Haeundae's Gunamro.