News
Gwangandaegyo Bridge opens to walkers again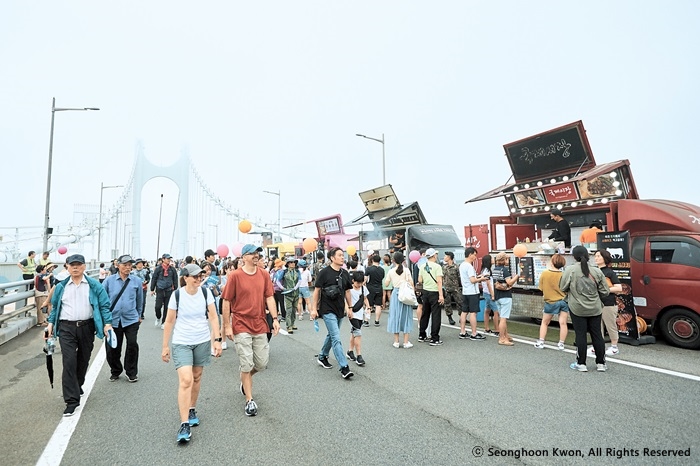 Gwangandaegyo Bridge is Busan's landmark attraction. At 7,420 meters long, it opened with great fanfare on Jan. 6, 2003. It is appropriately nicknamed Diamond Bridge, due to how brilliant it becomes at night. Unfortunately, the bridge is almost always seen from afar, but that recently changed.
The bridge last opened to the public on the morning of July 27, when people were able to enjoy themselves by walking, watching performances and eating great food. The day kicked off at 730 a.m. with a pre-show by the Busking Again team from the TV show "Gag Concert."
Following that, there was a parade made up of walking clubs, citizens and a military band. Further highlights of the morning included performances from magicians, acoustic bands, K-Pop acts, juggling and miming. There were also photo zones for visitors who wanted to take pictures of themselves with Marine City and Gwangalli Beach in the background, as well as food trucks to prevent pedestrians from going hungry.
In total, the day took place over 4.9 kilometers of the upper section of the bridge from Bexco station to Megamart in Namcheon-dong (neighborhood). For those who missed the recent event, Busan Metropolitan City Hall is opening the bridge to the public once more on Sept. 22.
The upcoming opening of the bridge promises to provide even more fun and amusement for people of all ages. It will again run from 730 to 1030 a.m. on the same stretch of bridge as the previous event. Be sure to show up at least before 9 a.m. to make the most of the morning. For drivers' reference, this means that the top of the bridge will be closed from 630 to 11 a.m.
The opening of the bridge to pedestrians appears to be quite popular. If the event continues to give people the chance to see the bridge up close and keeps featuring performances, then there's no reason why City Hall shouldn't at least think about once again opening it up to citizens in the future.
More information will be announced in the coming days and weeks on the official Facebook of City Hall (facebook.com/DynamicBusan).