News
Korean tradition found in Yongdusan Park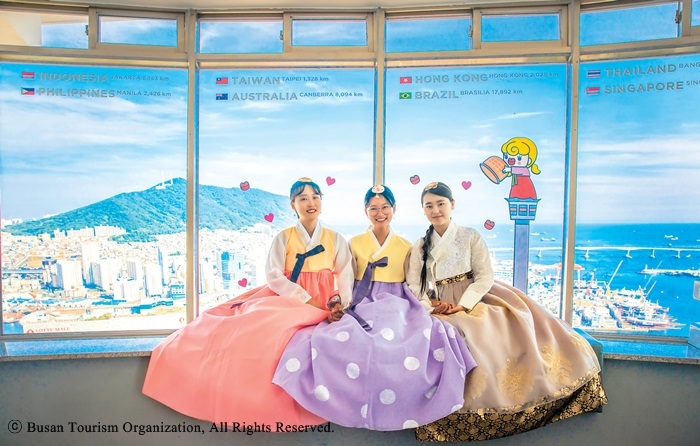 A visit to Yongdusan Park could be a chance to glimpse people enjoying a summer day dressed in hanbok, Korean traditional dress. This is all thanks to Adam (아담), a hanbok experience center located in the park. The name of the establishment is Korean for "embodying beauty."
The Busan Tourism Organization has started to run hanbok experience centers in places like Yongdusan Park, Busan Harbor and Nampo-dong (neighborhood) to revitalize the tourism industry of the area. The center offers customers a wide variety of choices, such as the sort of clothing that kings of the Joseon Dynasty wore, or the dresses of the gisaeng, entertainers of the same period similar to the geisha of Japan. Visitors can also wear the traditional dress of soldiers from the era. Whatever patrons choose, they may wear up to two choices during their time, with or without jewelry.
One official from the Busan Tourism Organization said, "Hanbok is a unique part of Korean culture that both domestic and foreign tourists enjoy, so we want to continue developing activities centered around wearing hanbok." Indeed, with 150 pieces of hanbok for men, women and children, the organization hopes to eventually grow that number to 400.
The hanbok rental fee is 10,000 won per hour until the end of August and will increase to 20,000 won per 90 minutes in September. Those who wear the hanbok may also visit Busan Tower at a 20% discounted rate (6,400 won) if they want to see a commanding view of the harbor and city. In the future, visitors will also be able to get reduced rates to the Busan Museum of Movies. Other locations that are worth a visit in and around Yongdusan Park are a duty-free shop, the trendy Fashion Street and the delicious Kookje Market food alley.
▶ Hours: 10 a.m. to 6 p.m.
▶ How to get there: Nampo Station (Metro line 1), exit 1. Go straight down Fashion Street and take the escalator up to Yongdusan Park. The center is on the right side of the statue of Admiral Yi Sunshin.