News
Kang Daniel selected as ambassador to Busan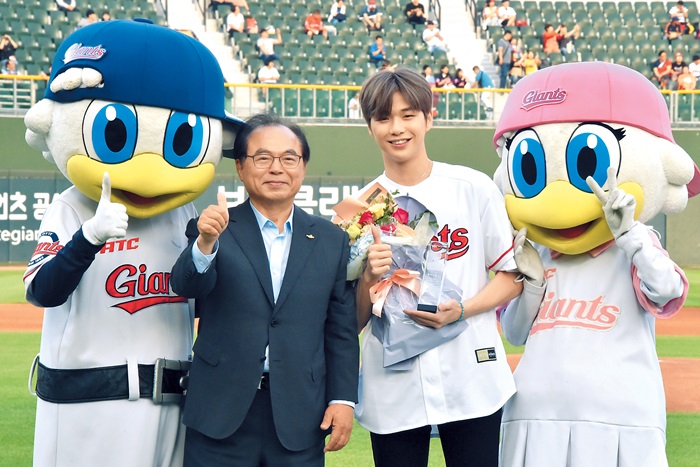 K-pop star Kang Daniel has been selected as an honorary ambassador for Busan, in order to promote the city at home and abroad. Kang was selected as an ambassador along with model Bae Jeongnam and comedian Lee Kyungkyu.
A ceremony honoring the celebrity's selection was held at Sajik Stadium on July 9, which was also hosting a Lotte Giants game that day. Fans stood in line for hours before the ceremony and game, where Kang had the honor of throwing the first pitch.
"I always wanted to do something for Busan, the city I was born in and where I grew up," said Kang. "I feel happy and honored. I think [Busan] is the best, and I'll try to do what I can to make it even better by promoting the city abroad with every performance I give."
Kang also gave an interview for Busan's official Facebook and YouTube pages and recommended restaurant Nampo Sujebi (남포수제비) to his fans. Sujebi is the name given to a dish of hand-pulled dough soup. Regarding parts of town to visit, Kang continued, "There are many places I want to visit, as it's been a year since my last trip to Busan, but I especially like Haeundae, Gwangallii and Taejongdae."
Kang grew up on Yeongdo Island and attended Cheonghak Elementary School, Shinseon Middle School and Peniel High School of the Arts. In 2017, he made his debut as a member of Wanna One after placing first on the second season of TV series "Produce 101." Since his debut, he has been gaining national and international popularity, particularly in China.
An official from City Hall said, "We will continue to carry out various publicity activities with honorary ambassador Kang Daniel, and we express our sincere gratitude to the singer and his fans for their interest in our city."
You can see Kang's interview on Busan's official YouTube channel (붓싼뉴스) and Facebook page (face-book.com/BusanCity).