News
Gwangalli in summer is Busan at its very best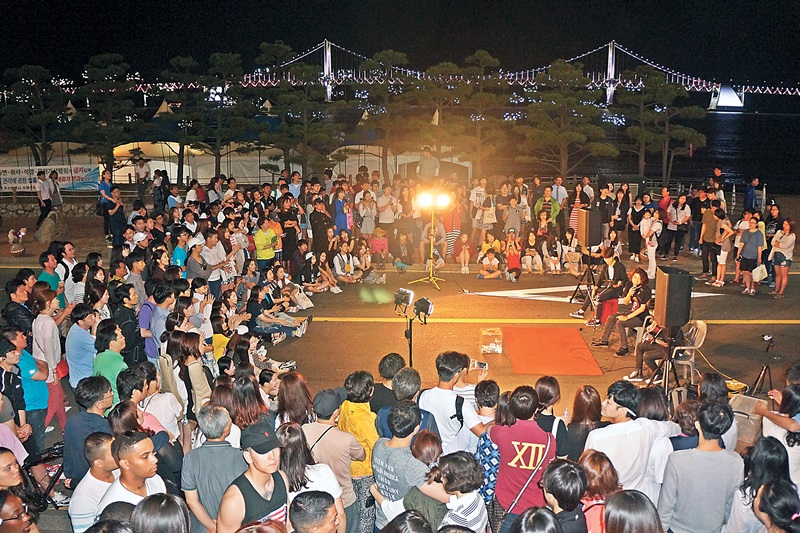 - 출처 및 제공 : 수영구청
Summer on Gwangalli Beach turns into a special place. Although the biggest traditional attraction in the hottest time of the year is Haeundae Beach, Gwangalli has been enjoying increasingly high popularity among young people with its unique freedom and trendiness.
Adorned with numerous cafes and bars, the boardwalk next to the sands of Gwangalli give you many options for sitting down with a drink and enjoying the view of Gwangandaegyo Bridge. On weekends, a number of buskers take out their guitars and microphones to serenade passersby. The beach gets even more fun when it closes its seaside road to vehicles and lets pedestrians roam freely, a program named "Cultural Street Without Cars."
Cultural Street Without Cars will be held from 9 p.m. to 12:30 a.m. on Saturday evenings in July and August. During this period, City Hall controls about 800 meters of the road, turning the street into innumerable platforms for buskers, puppeteers, magicians, singers, dancers and other performers.
● How to get there: Geumnyeonsan Station (Metro line 2) exit 3 or Gwangan Station (Metro line 2) exit 5. In both cases, turn around after walking out of the exit and take the first right. Follow the road to the beach.