News
Beach season's return already making waves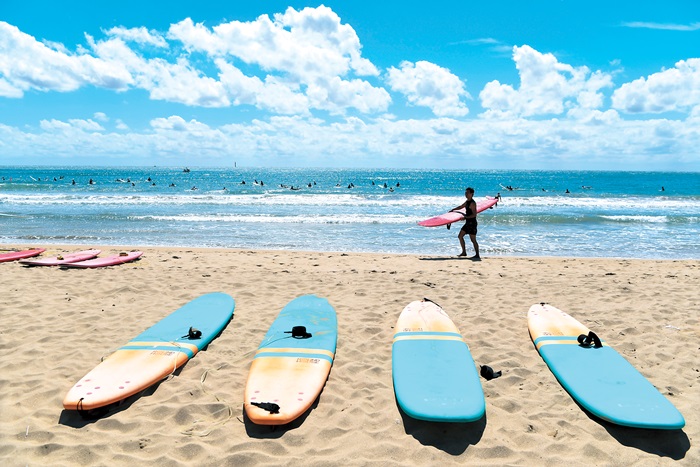 - 출처 및 제공 : Haeundae-gu Office
The sun is out and the weather is soon going to be too hot to bear. That means that beach season is here!
June 1 marked the beginning of three glorious months of swimming and sunbathing. The sixth month of the year sees Haeundae, Songdo and Songjeong opening their shores, with Gwangalli, Dadaepo, Ilgwang and Imrang Beach allowing swimmers into the water on July 1. As usual, all of the city's beaches will close Aug. 31.
All seven beaches will attract summer vacationers by providing more than just sand and water. Haeundae, the nation's most popular beach, plans to provide various programs for visitors to enjoy day and night. Gunam-ro (street) from Haeundae subway station to the beach will feature entertaining busking performances and fun magic shows every weekend evening. A fountain installed on the street will provide nightly sound and light shows. Haeundae Beach will also run night swimming from July 26 to Aug. 11, which will extend swimming hours all the way up to 9 p.m.
Gwangalli Beach will additionally turn into a popular spot as it rids its beach-side street of all automobiles during weekend evenings. With total freedom to wander the seaside street from 9 p.m. to midnight, pedestrians can watch performances such as concerts, plays, dance shows and busking.
The action continues out west, too, where vacationers can marvel at the colorful fountain shows of the Dadaepo Sunset Fountain of Dreams. The fountain is the largest ground fountain in the world and displays water and laser shows with musical accompaniment every night from May through October. Every beach will host the Busan Sea Festival, which is one of the largest festivals in Busan, from Aug. 2 to 6.