News
Yongdusan Park shows off some old and lots of new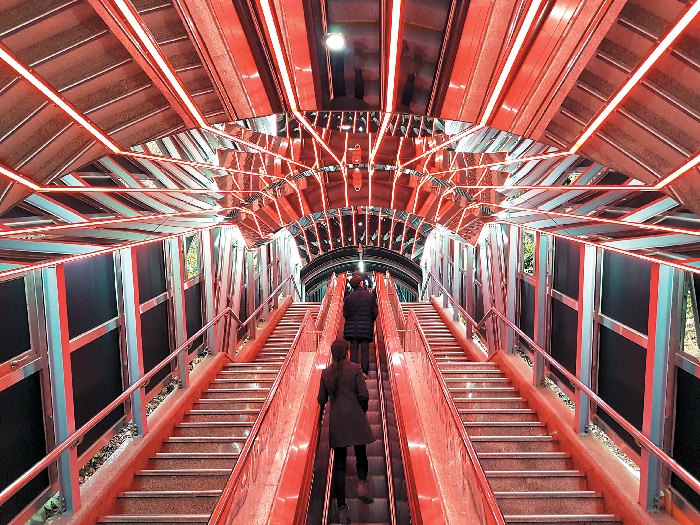 The Yongdusan Park escalator has been totally renovated and is now a sight to behold.
Yongdusan Park is one of Busan's most recognizable landmarks, as well as one of the city's most enjoyable. For decades, the park has provided a space for serenity, nature and family outings. Yongdusan Park has seen numerous changes and abundant growth throughout the years, including Busan Tower's opening in 1973 and the recent remodeling of both the tower and park itself. The park continues to evolve and grow, and this year is no exception.

The most significant change is the new media display that now permeates the escalator people take to the park. In the past, the escalator ascended and descended through translucent green tubes. Since February, however, the trip to and from Yongdusan Park has become a visual feast. First, visitors can take photographs of two new city mascots, realized via augmented reality. At the next stage, people can see a video overview of all the tourist attractions Jung-gu (district) has to offer. Finally, wonderful LED illuminations and mirrors let residents and tourists alike get a glimpse of themselves in brand new ways. All in all, the escalator to and from Yongdusan Park are now filled with videos, images and vivid colors.

While some things change, others stay the same. The park will continue other known activities, such as the traditional Korean performances the Busan Cultural Foundation has been holding since 2009. These shows feature traditional songs, dances, acting and music and are held every Saturday, except during July and August. Performances of art originating from locations all over the city will be featured. In addition, the park is scheduled to set a hanbok (Korean traditional clothing) event beginning in May for those who wish to wear the garments.